35-year-old paraglider Jonathan Bishop was about to stick a nearly perfect landing when he was met by what he thought were a couple of curious kangaroos.
Bishop was coming in to land at Orroral Valley Space Tracking Station near Canberra, Australia's capital city, when he looked over and saw a couple of kangaroos hopping toward his landing point.
Assuming they were just curious, Bishop can be heard saying "Hey what's up, Skip?" in his GoPro helmet cam video, which was uploaded to YouTube.
However, as he landed, he quickly realized that they weren't just being curious. As one of the kangaroos attacks him twice, he can be heard yelling:
"Hey f--k off, ahh f--k off! Go away!"
The video can be seen below (profanity warning):
Curious Kangaroo Charges Paraglider || ViralHogwww.youtube.com
Bishop explained the situation in the video's description:
"I had been paragliding cross country for two hours near Canberra and had reached a position where I had to land. I was concentrating on the landing and didn't notice the kangaroo until after I landed."
"As it ran towards me I thought it was being friendly so I said, 'What's up, Skip?' It then attacked me twice before hopping away."
"I packed up my paraglider and had to walk several kilometers to get phone reception and call a friend to come and collect me."
Some Twitter users reacted with a more sarcastic response.
@SBSNews Welcome to Australia

— Andrew (@Andrew) 1552101011.0
@SBSNews @iamstu08 Australia sounds fun

— Daniel (@Daniel) 1552135318.0
@SBSNews @bmariemarty kangaroos are great

— Cory Glover (@Cory Glover) 1552159954.0
@SBSNews C'mon! I'll ave ya!! In memoriam, apparently Roger has died. Probably tried to squash a backpacker van an… https://t.co/3d8XAbY2Gv

— same same but different (@same same but different) 1552172937.0
@SBSNews @RebelWilson This is how I picture your life daily @denisevaughan

— Nick S (@Nick S) 1552161266.0
@SBSNews "DROP FROM THE SKY IN FRONT OF ME, WILL YA? I'LL HAVE YOU!" 😂

— Abel Undercity (@Abel Undercity) 1552089449.0
One recalled an episode of The Mighty Boosh.
@SBSNews @phessler Need proper training to fight a roo. https://t.co/HkJJvJUEKY

— Daryl Turner (@Daryl Turner) 1552130990.0
One person had a rather pragmatic view.
@SBSNews @DramaticSu Well! I'm glad I don't have THAT problem! 🙄

— Deb T X❤️ (@Deb T X❤️) 1552144772.0
Others just enjoyed the show.
@SBSNews @MtbHi I laughed & laughed! 🤣❣

— KnightHawk2017💗🇺🇸💒🇮🇱🐱🐶⛵⛳VGK🏒LGM⚾️ (@KnightHawk2017💗🇺🇸💒🇮🇱🐱🐶⛵⛳VGK🏒LGM⚾️) 1552151412.0
@SBSNews @eevblog haha thanks australia. brightened my day.

— pepe le vamp (@pepe le vamp) 1552093794.0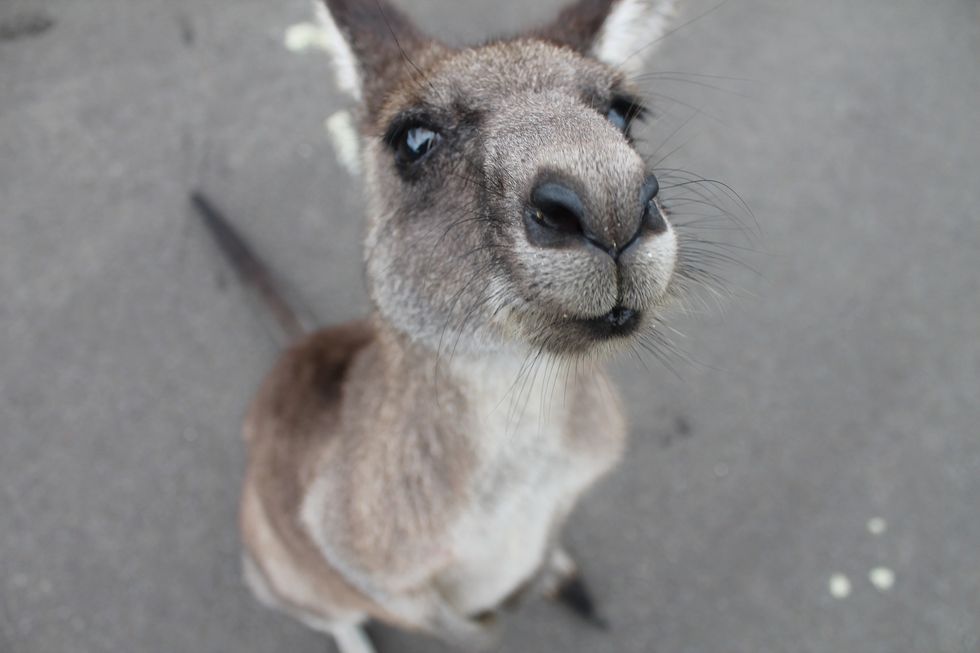 Free-Photos/Pixabay
Kangaroos are undoubtedly cute, but despite their cute appearance, they are still definitely wild animals. They have sharp claws and extremely powerful tails and hind legs, and they will even box with each other in the wild, which you can see in this documentary clip from BBC Earth's YouTube page:

Kangaroo Boxing Fight | Life Story | BBC Earthwww.youtube.com
They may look cute and cuddly, but it's probably best to admire them from afar.