Damon Lindelof, the writer and producer best known as the creator and showrunner of numerous critically acclaimed television series including Lost and The Leftovers, criticized Pennsylvania Republican Senate candidate Mehmet Oz for using Lost's logo to mock his Democratic rival John Fetterman.
Earlier, Oz—who has drawn criticism for running in Pennsylvania despite spending the majority of his time at his home in New Jersey—said he is "Still looking" for John Fetterman and advised his followers to "Let us know if you see him" in a Twitter post accompanied by a meme of Fetterman alongside the Lost logo.
The tweet quickly caught the attention of Lindelof.
The Lost creator uploaded a screenshot of the tweet to his Instagram account along with the caption:
"He had a stroke, DOCTOR. And the island is healing him as we speak."
"If you actually WATCHED Lost, you'd know not to f**k with the bald guy."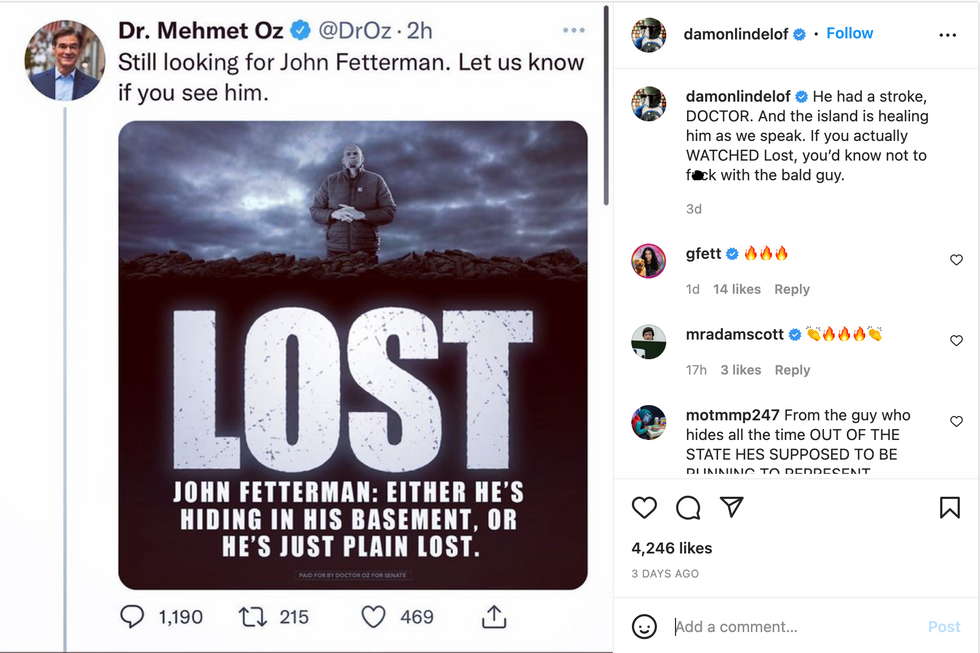 @damonlindelof/Instagram
Fetterman, who suffered a near-fatal stroke in May, generated support in his time off the campaign trail by launching social media campaigns emphasizing Oz's ties to New Jersey and minimal ties to Pennsylvania.

Lindelof's reference to "the bald guy" is a nod to actor Terry O'Quinn who won an Emmy for playing the character John Locke on Lost and whose storyline often demonstrated how a mysterious, intellectual and stoic character often defied odds with his penchant for living in the wild and hunting and tracking.
Many joined Lindelof in criticizing Oz for his tasteless tweet.


deathbytoys/Instagram

superginormous/Instagram

natey_kal/Instagram

tasseomancer//Instagram

jesseshortmusic//Instagram

lawant/Instagram

origamibyfrasco/Instagram
Oz, best known for pushing conspiracy theories and endorsing unproven products and non-scientific advice on his TV show, is trailing behind Fetterman in the polls.
According to a new AARP poll, Fetterman is currently leading Oz by six points in Pennsylvania's Senate race. Fetterman enjoys 50 percent support among likely voters compared with Oz's 44 percent.