A GOP candidate has dropped a bomb on his voting base in the most bizarre way.
Mayor of Sandy, Oregon and Republican gubernatorial candidate Stan Pulliam made headlines this week for assuring his voting base he is, in fact, heterosexual.
Yes, you read that right.
Pulliam has been the topic of controversy ever since it was publicly revealed he and his wife MacKensey Pulliam had been part of a Facebook group for swingers in the Oregon area.
Swinging when married couples "switch partners" for sexual activity. While far more socially acceptable, it's still very publicly taboo among conservatives and Evangelical Christians.
Pulliam and his wife were outed as swingers when a screenshot of his introduction post in the Facebook group resurfaced and was subsequently spread to the media.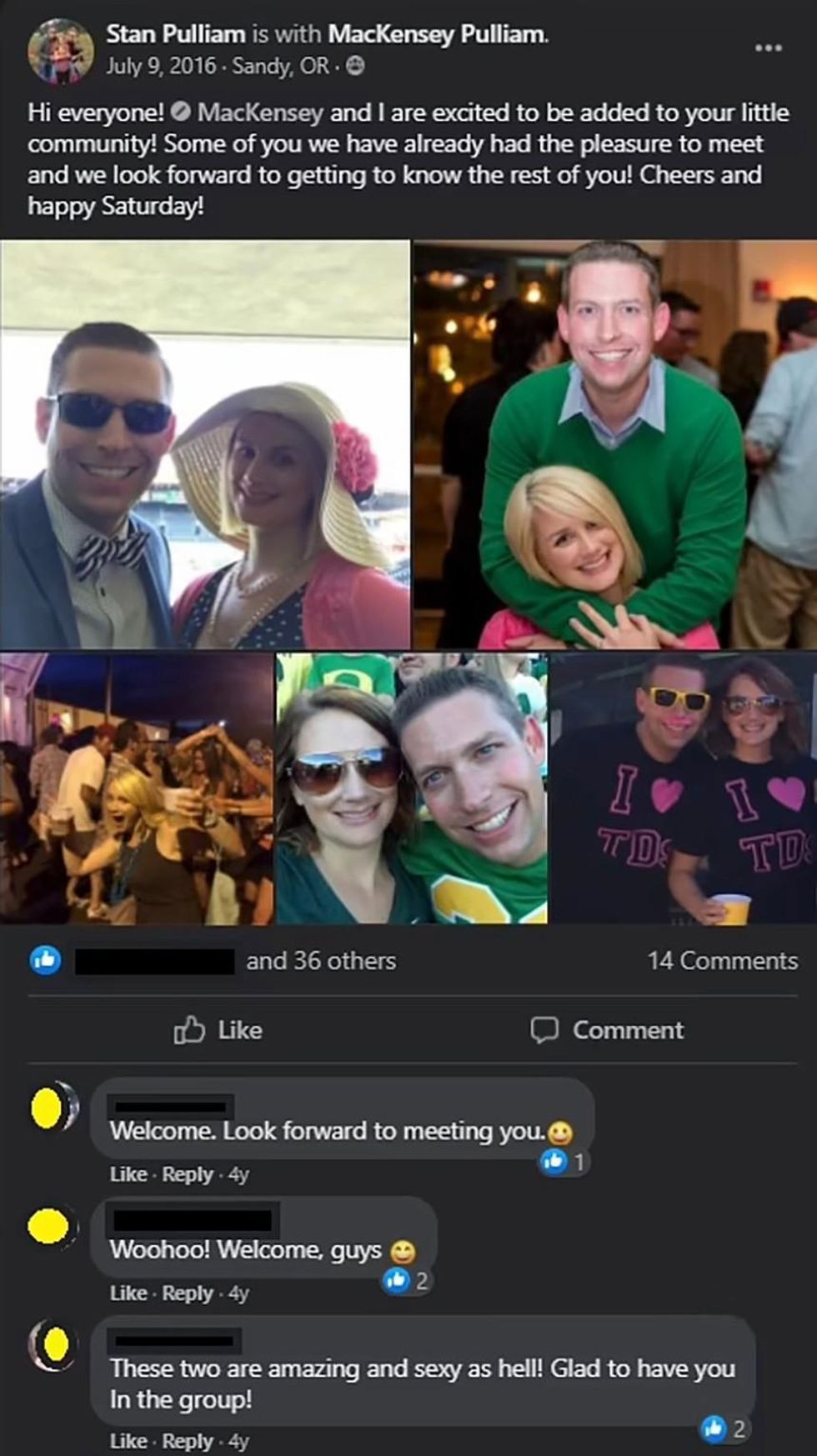 Stan Pulliam/Facebook
The post, dating back to 2016, read:
"Hi Everyone! MacKensey and I are excited to be added to your little community. Some of you we have already had the pleasure to meet and we look forward to getting to know the rest of you!"
After the screenshot surfaced and was passed around the political news media, Pulliam decided to make a statement about it to Williamet Week, stating he and his wife "explored relationships, mutual relationships with other couples, for a brief period of time before ultimately deciding that it wasn't for us."
He added:
"I think people can relate from all different parts of the state who have been involved in marriages."
"There are different stages of marriage and different ebbs and flows. This is something that was for a brief period in our past and is in the past."
Pulliam also insisted while he and his wife decided the swinger's life wasn't for them, he was in no way ashamed of their experiences.
He said:
"The decisions that we made were for MacKensey and I to make in the privacy of our own homes. We're certainly not asking anybody to participate or practice or do any of the things that we have decided to do in the past."
"But we're also certainly not ashamed of decisions that we've made in the past either, as they've made us stronger."
However, being a GOP candidate as well as an avid supporter of the Evangelical Christian endorsed former Republican President Donald Trump, many of Pulliam's voting base began speculating Pulliam had engaged in sexual experiences with other men during his swinging days.
Thus, Pulliam decided to assure his voters he was 100% heterosexual.
He said:
"I'm a heterosexual male."
"And I've only personally engaged in heterosexual activity."
Twitter users are watching the way events are unfolding.
Pulliam has not announced any plans to pull out of the Oregon gubernatorial race.