Two driving forces in the pop music industry got together for an interview with BBC Music's The Biggest Weekend event in Swansea, Wales, on May 27 that left people head over heels over the singers' affection for each other.
Almost as if the two musicians coordinated their wardrobe attire beforehand, Niall Horan and Shawn Mendes showed up in their best denim and engaged in some very friendly chatter. The borderline flirting was too big for the camera frame but left viewers wanting more of their irresistible bromance.
---
Mendes reminisced about his first time meeting the former One Direction singer at the American Music Awards. "We were DM-ing super flirtsy back and forth," he said, as Horan gave his best 'aww-shucks' chuckle.
After the AMAs we went back to your house and we just watched a movie.
All I needed today was a video of Niall and Shawn Mendes describing their flirty DMs and how that led to a night of… https://t.co/cgbjPtfMMd

— OpinionatedBish, PhD (@OpinionatedBish, PhD) 1527451022.0
"And then we got this mad friendship and we watched the Grammys together," added Horan as Mendes remembered, "Yeah, we watched the Grammys together."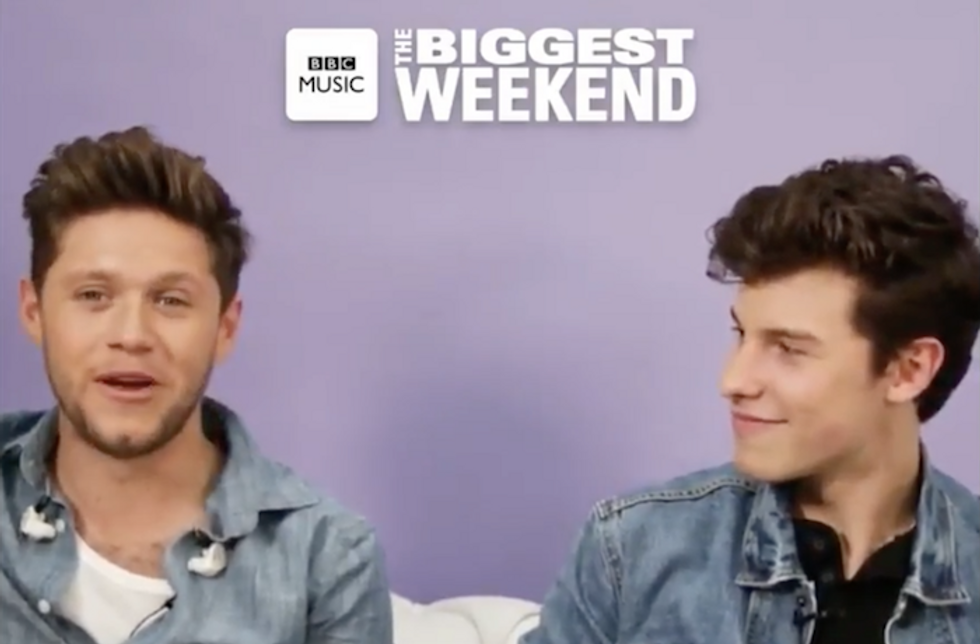 Good memories.(King Mendes/YouTube)
Adoring fans have always wanted the two to collaborate together and frequently asked either if there's anything in the works now. Horan confirmed they are not. "We might one day," chimed Mendes.
We certainly hope so.
When asked about first impressions, Horan described Mendes as "tall," "The essence of innocence," and "Extremely Canadian."
but have you seen the way shawn and niall look at each other https://t.co/oi5l3VlYXx

— karo (@karo) 1527451200.0
But Horan's next description of his buddy was positively genuine and sweet.
Just a very, very sweet guy. Can sing like an angel as we know.
Mendes is bewitched by Horan as well. The "Stitches" singer admitted that when it comes to performance anxiety, his fellow musician would help calm him.
But those wishing their friendship was something more interpreted the following comment from Mendes' accordingly.
I was always a nervous wreck all the time. Every time he would see me I would be like, 'I'm nervous today.' And he was really good at helping me calm down about everything and made everything feel a lot more chilled which was really helpful for me.
The hand on the thigh is a physical extension of bros expressing their gratitude.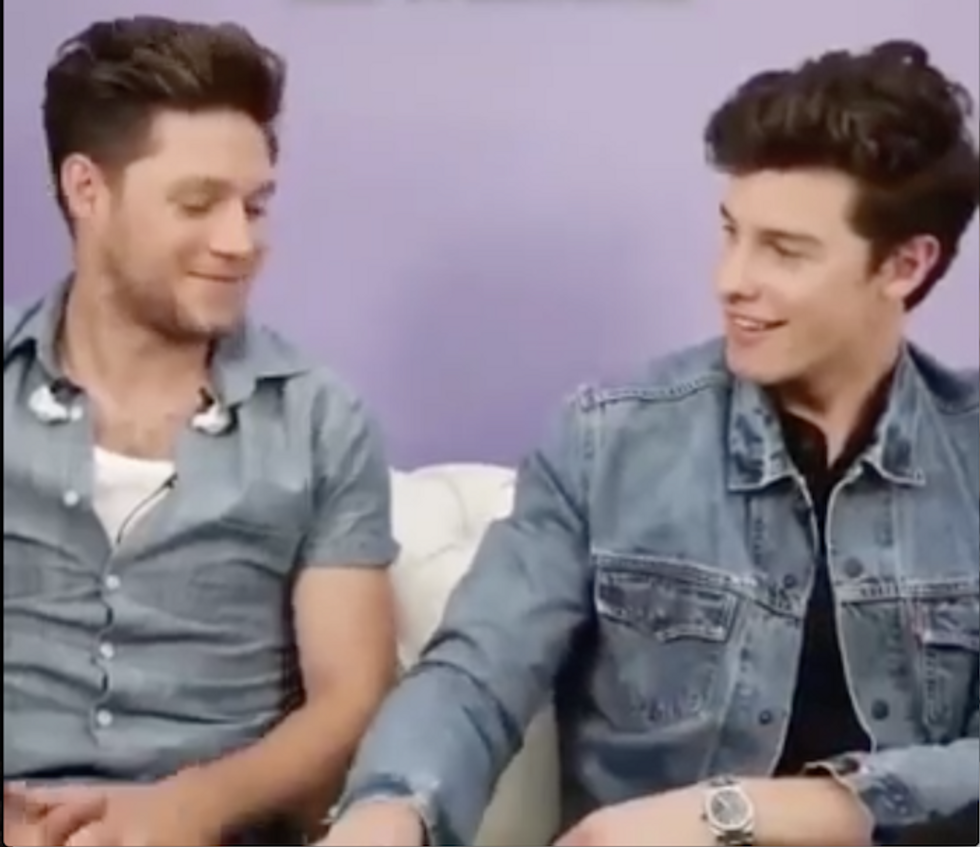 "That was wholesome" (King Mendes/YouTube)
Mendes also praised one of Horan's big hits, "This Town."
He got on stage at a show and you just played it electric. Just you and the electric guitar. It was crazy. It was what I wanted to do on stage. It just completely captivated the audience with one guitar and a beautiful song. I'm obsessed with that song!
Horan responded to the compliment with an affectionate pat on Mendes' arm, who reacted by saying, "This is so sweet."
"We never do this," gushed Horan. "I love you, Shawn!"
The way these guys looked at each other throughout the interview was absolutely charming.
@zaynhotline Can you not?! I'll never get over how cute Niall and Shawn look together

— pascale loves lexie🌻 (@pascale loves lexie🌻) 1527477282.0
There's no doubt these two talented musicians would make some sweet music together, at least on stage. We hope it's not too long until we see these talented bros share a couch together for another interview.