Reality TV personality Nene Leakes responded to rumors about her son's sexual identity after he appeared to come out of the closet in a TikTok video.
On Monday, The Real Housewives of Atlanta star spilled the tea on Power 105.1 FM's gossip segment The Breakfast Club.

Leakes was thrown for a loop when she started getting texts from her friends responding to her 23-year-old son Brentt coming out as gay while she was out of town.

She set the record straight, so to speak.

"Brentt is not gay."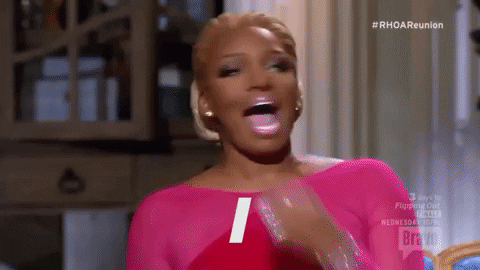 Giphy
Leakes explained Brentt participated in a "popular TikTok trend."
She was then suddenly barraged with messages asking her to verify if he was gay or not.
The viral TikTok challenge involves the participant tossing a random object into any receptacle.
Their TikTok of the toss has an accompanying text overaly saying:
"If I miss, I'm gay."
In his video, Brentt tossed a wadded piece of paper toward a trash can and missed.
He subsequently snapped his fingers while beveling his hip before walking away.
You can see Brentt doing the challenge here.
When asked to clarify if Brentt didn't actually come out, Leakes replied:
"Not to my knowledge."
She shared the conversation she had with her son immediately following the gossip frenzy.

If the rumor was true, she also assured him she had his back.

"He called me up and was like, 'Mom, everybody is asking if I'm gay because I did this TikTok thing'."
"And I said, 'It's OK if you are gay. It's fine with me'."
"And he was like, 'OK, Mom, I'm not gay'."
She added:
"I don't need to ask him, 'Are you gay?' What I like to say to people is … 'Whatever makes you happy'."
"If my son today says he's gay, I'm 100 percent OK with it."
You can watch the interview here.
Those who initially were fooled by the clip expressed their support.
But Brentt posted a follow-up clip admitting the whole thing was a joke and said he was not gay.
People weighed in with their thoughts.

The coming out challenge has been scrutinized by some members of the LGBTQ+ community taking offense to its exploitative nature.

Some TikTokers participating in the viral trend have been accused of queerbaiting–the act in which high-profile individuals perceived as heterosexual suggest they are gay to gain more followers.
Last year, Madonna participated in the trend but didn't fool longtime fans who were familiar with her sexual fluidity and previously disclosed bisexuality.