Tag
Anna Moneymaker/Getty Images
Earlier this month, Caroline Cruz, the daughter of Texas Republican Senator Ted Cruz, posted on her TikTok some of the downsides to being related to her father.
The 13-year-old also expressed she "really disagrees" with most of his views.
Some people also noticed Caroline Cruz's profile information said "she/her bi."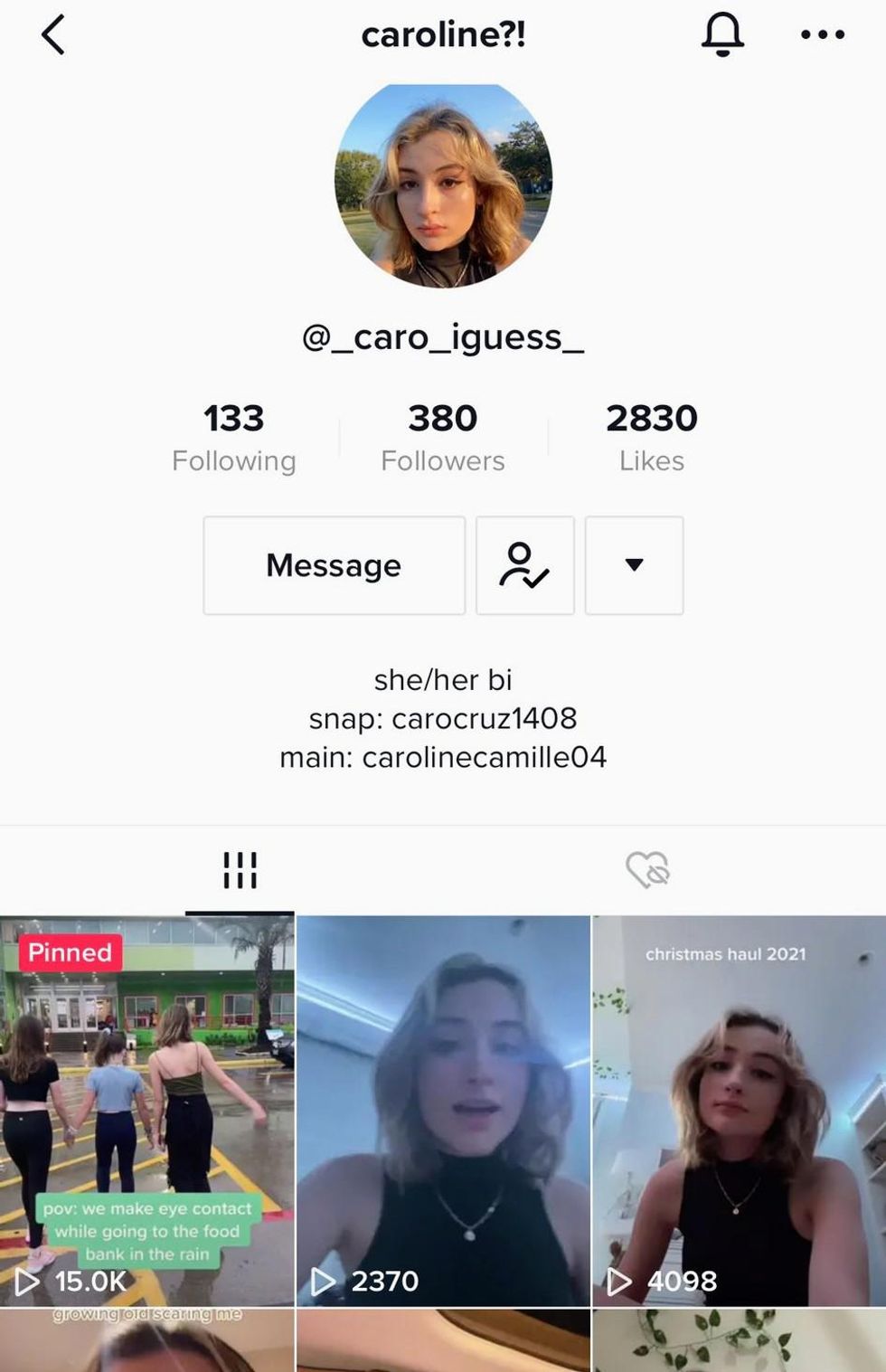 @_caro_iguess_/TikTok
When asked about it, she confirmed it was true.
But she added she hadn't told her father yet.
However, she didn't believe he would be mad about it.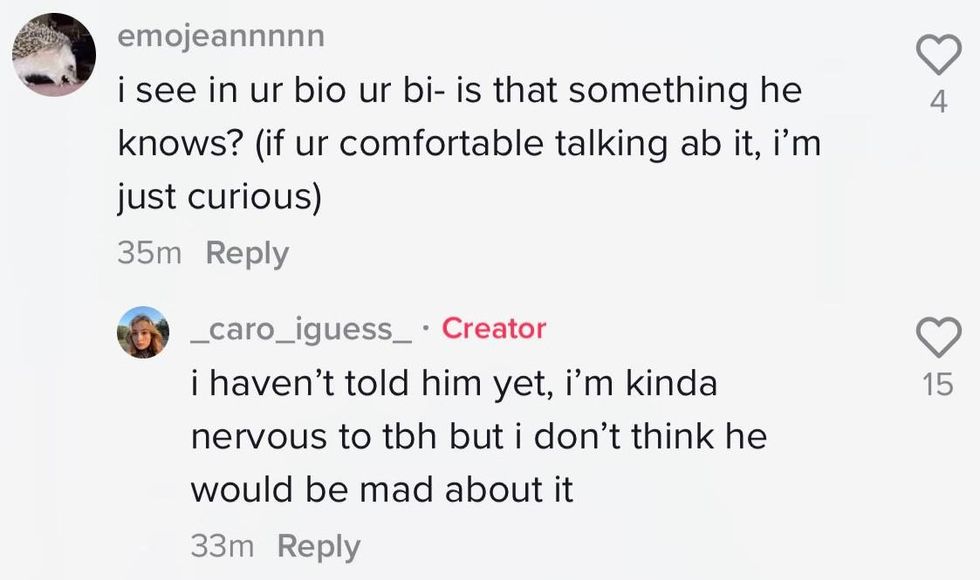 @_caro_iguess_/TikTok
Caroline Cruz's TikTok has since been made private.
Given Senator Cruz's track record on LGBTQ+ rights, people expressed concern for his daughter from both ends of the political spectrum.
While conservatives claimed her age precluded her from having a sexuality—an argument not raised with cisgender, heterosexual teens—LGBTQ+ allies and advocates expressed concern about the attitudes of conservatives.
Like, I know I was precocious, but if I knew I wanted to kiss girls at eight, Ted Cruz's daughter can jolly well know she's bi at 13.pic.twitter.com/n3uGBrntG3

— rhea (@rhea) 1641983454
Just remember, if you attack LGBT youth, you may find you are attacking your own kids. Our youth are listening!https://twitter.com/TheAdvocateMag/status/1480933108673232896\u00a0\u2026

— Sue Robbins (@Sue Robbins) 1641921166
We seriously hope that she is protected from her father.https://news.yahoo.com/ted-cruz-teenage-daughter-says-202705013.html\u00a0\u2026

— Black Lives Matter 860 (@Black Lives Matter 860) 1641915976
I know everyone\u2019s laughing that Ted Cruz once again looks like the lamest fuck on earth bc his daughter is bi but like, please also remember this child has spent her entire life hearing her father state publicly that he doesn\u2019t think she should exist. It\u2019s just\u2026reprehensibly sad

— kilgore clout (@kilgore clout) 1642007263
Straighties acting like Ted cruz's 13 year-old daughter being bi is absurd like they didn't, 2-3 weeks ago, ask their 7 year-old nephew/grandson if the girl from school he mentioned once is his girlfriend.

— Marcy wants more holidays \ud83c\udff3\ufe0f\u200d\u26a7\ufe0f (@Marcy wants more holidays \ud83c\udff3\ufe0f\u200d\u26a7\ufe0f) 1641936660
Maybe this will soften Senator Cruz's stance on LGBTQ+ issues.
Over the course of his career, Cruz has made his opposition to gay rights well known. In 2015, he said at a fundraiser fighting same-sex marriage would be at the forefront of his 2016 presidential campaign.
More recently, when the United States Army released an ad featuring a soldier brought up by two moms, Cruz insulted the video by claiming it was turning the military into "pansies."
The internet felt Caroline Cruz may need protection from her father's conservative cronies.
Ted Cruz\u2019s daughter just came out as bi on Tik Tok and said she disagrees with literally every political opinion he has. Good morning xpic.twitter.com/kaMbhDquMv

— Cameron Kelly \ud83c\uddf5\ud83c\uddf8 (@Cameron Kelly \ud83c\uddf5\ud83c\uddf8) 1641989632
Ted Cruz\u2019s daughter is 13 and might be bi. Right wing media is in a frenzy to say that evil \u201cDemoncrats\u201d have done this and are \u201ccreeps\u201d and that it\u2019s disgusting that a 13-year-old is exploring their identity.\n\nThis is just another part of queer erasure and cishet narcissism.

— Jaiyka Tepkel (@Jaiyka Tepkel) 1641934556
Hearing that Ted Cruz\u2019s daughter came out as bi and disagrees with her dad on most things just makes me think of this campaign trail video from way back whenpic.twitter.com/1G66LQ1Xqd

— Pretty much a Yellowjacket (@Pretty much a Yellowjacket) 1641917141
Last thing I'm going to say about this and then I'm done on the subject...It amazes me that there's more pearl-clutching from because it's going around that Ted Cruz's daughter is bi and "she's 13" than there was about Matt Gaetz sleeping with a child...pic.twitter.com/TbtbLMWb5p

— \ud83e\udd8bJaxolotl is #Mothman\ud83e\udd8b (@\ud83e\udd8bJaxolotl is #Mothman\ud83e\udd8b) 1641914246
She knows who she is far better than you do. She chose to out herself. Stop this. Leave her alone.

— Why won't it just DIE?! (@Why won't it just DIE?!) 1641919236
Cruz's track record defending his family is unfortunately poor.
During the 2016 presidential campaign, then candidate Donald Trump made derogatory comments about Cruz's wife and father, yet Cruz still defended Trump.
Hopefully he'll do better when the conservative Evangelical Christian base Trump courted attack Cruz's daughter.