coming out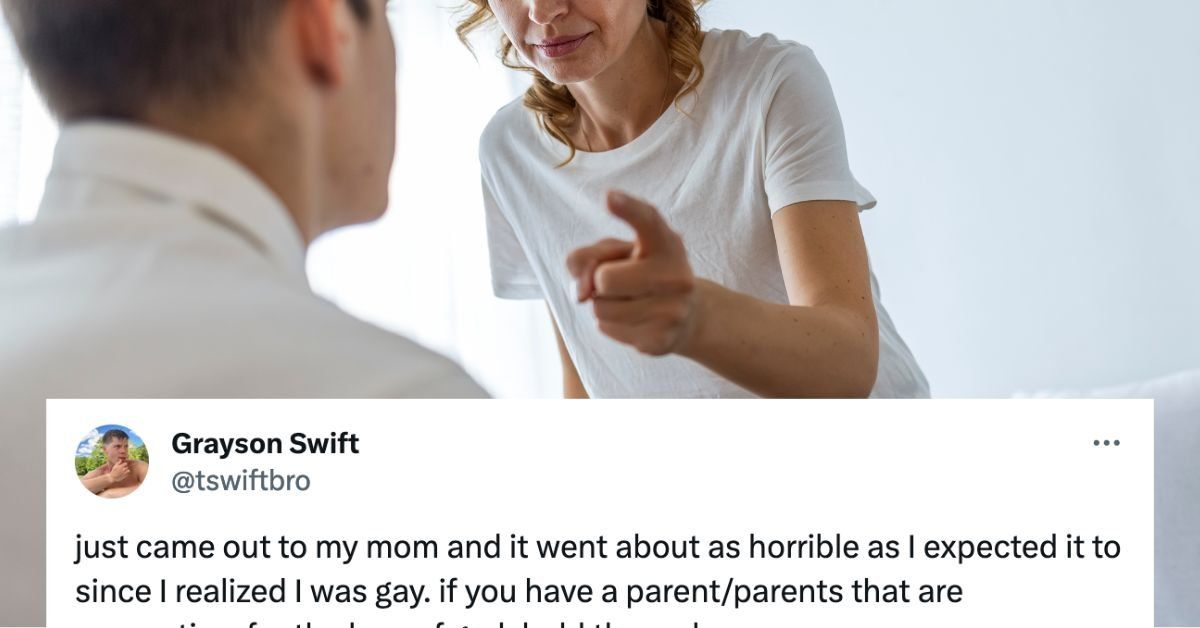 ljubaphotoljubaphoto/GettyImages, @tswiftbro/X
With so many advances in the LGBTQ+ community, and with more prominent queer role models than ever before, coming out has never felt more safe and welcoming for gay youth.
However, every LGBTQ+ person's coming out journey is different, and the proclamation of one's authentic self is not always met with support.
A social media user by the name of Grayson who came out to his mother recently discovered that she was not accepting of his lifestyle.
Fortunately, he found an abundance of love and support online.

Grayson took to X (formerly Twitter) and shared:
"Just came out to my mom and it went about as horrible as I expected it to since I realized I was gay."
He offered a reminder for others in the community who've experienced a better turnout after opening up to their parents.

He wrote:
"If you have a parent/parents that are supportive, for the love of god, hold them close."
Despite the disappointing outcome at home, Grayson found himself being welcomed by the online community of LGBTQ+ people and their allies on the internet.
According to GLAAD's recent Accelerating Acceptance report, 75% of non-LGBTQ adults are comfortable learning a family member is gay, lesbian, or bisexual.
The study also found that a 91% supermajority of non-LGBTQ+ Americans believe that queer people:

"Should have the freedom to live their life and not be discriminated against."
However, there's still a population in conservative states like South Carolina, where Grayson says he's from, that continues to discriminate against LGBTQ+ people who don't have access to protective laws.

Many shared their own coming out stories and suggested that Grayson hang in there, as most parents eventually come around.

After Grayson's post was met with affirmation and tons of support, he expressed his gratitude.
"Words can't express how much y'all's support means to me. I can't thank you enough."

A 2013 study by the Pew Research Center found that 39% of LGBTQ+ adults were rejected by family members and close friends after coming out.

Queerty noted that especially during the holiday season, Grayson's situation serves as a reminder that finding connection through bonds with LGBTQ+ people and allies after facing rejection from the people closest to them is of utmost importance.
Strangers continued posting encouraging words.

According to the Human Rights Campaign:

"Coming out in order to live openly isn't something you do once, or even for one year."
"It's a decision that we make every single day of our lives."
Many queer people like Grayson are not alone in this situation.
If you are closeted and ready to come out on your own terms and live as your authentic self, know there is a huge community of loving individuals ready to welcome you with open arms.
There are plenty of programs and resources available online like the LGBT National Help Center, Trans Lifeline, TrevorLifeline, and many others that offer the support you need at any time.
Kudos to your coming out, Grayson.
Hang in there and know you are loved, and you are enough.

Keep reading...Show less