Sang Su is an adorable little dog who didn't have an easy go of things. When the little fur ball arrived at the Trio Animal Foundation, he had been so badly neglected they couldn't tell what breed he was.
---
With long, matted, urine-soaked fur covering his body, it was even difficult to spot his face among the mess.
TAF now has this horribly neglected and abused boy in our care. It is hard to decipher where his face and ears are in parts of this video. This video doesn't even do just justice as to how disgusting someone treated this poor dog.Tomorrow will be a life changer for him… I guess today was, too.We will keep you posted. Thanks again to Kimberly who saw our plea for help, dropped everything and went down to the southside to pick this poor dog up… truly a standup human being.
--Posted by Trio Animal Foundation on Wednesday, September 26, 2018
Facebook users were horrified at the state of Sang Su: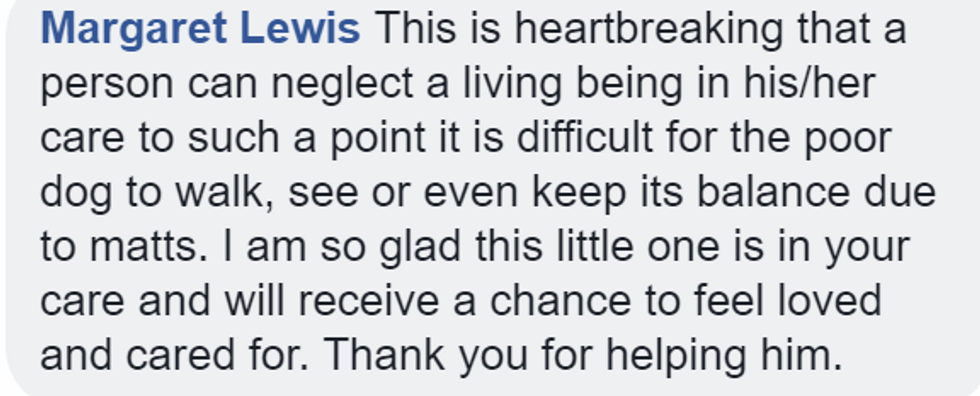 TAF Facebook

TAF Facebook
TAF Facebook
TAF Facebook
And they were furious at Sang Su's previous, abusive owners:


TAF Facebook

TAF Facebook
TAF Facebook
Luckily, Sang Su, who got his name by staff at the foundation in Chicago, was getting taken care of. He had to be anesthetized so that the medical staff could work to remove the fur and assess his condition.

Underneath it all they found a beautiful, if very poorly treated, cocker spaniel mix.
Look at the beautiful big boy we found under all of that matted fur! Sang Su is actually a Cocker Spaniel mix with a little nubbin for a tail and long ears… holy cow!It took anesthesia, 4 medical staff and two hours to get through all it Sang Su's urine soaked fur.His ears are a mess right now as they are infected, have sores and are starting to form hematomas from shaking his head. Hence, the wrapping around his face to keep his ears from moving. Sang Su has a secondary skin infection, infected eyes and major inflammation in the areas that his fur was pulling so tightly next to his skin.Sang Su was still a bit groggy when we picked him up and now is resting comfortably. He finally started to eat and all he wants to do is be held.We will make sure to post an album tomorrow! Thank you to the caring staff at Wicker Park Veterinary Clinic for taking such amazing care of our boy today!
--Posted by Trio Animal Foundation on Thursday, September 27, 2018
Facebook users were in love with the beautiful and groomed Sang Su:
TAF Facebook

TAF Facebook

TAF Facebook
TAF Facebook
Sang Su emerged from the neglect with infections in his ears, skin, and eyes, as well as a number of other medical issues.
He has to wear a wrap round his ears to stop him shaking his head – having had all that fur weighing down his ears, he was starting to develop haematomas, a severe and painful swelling caused by blood loss.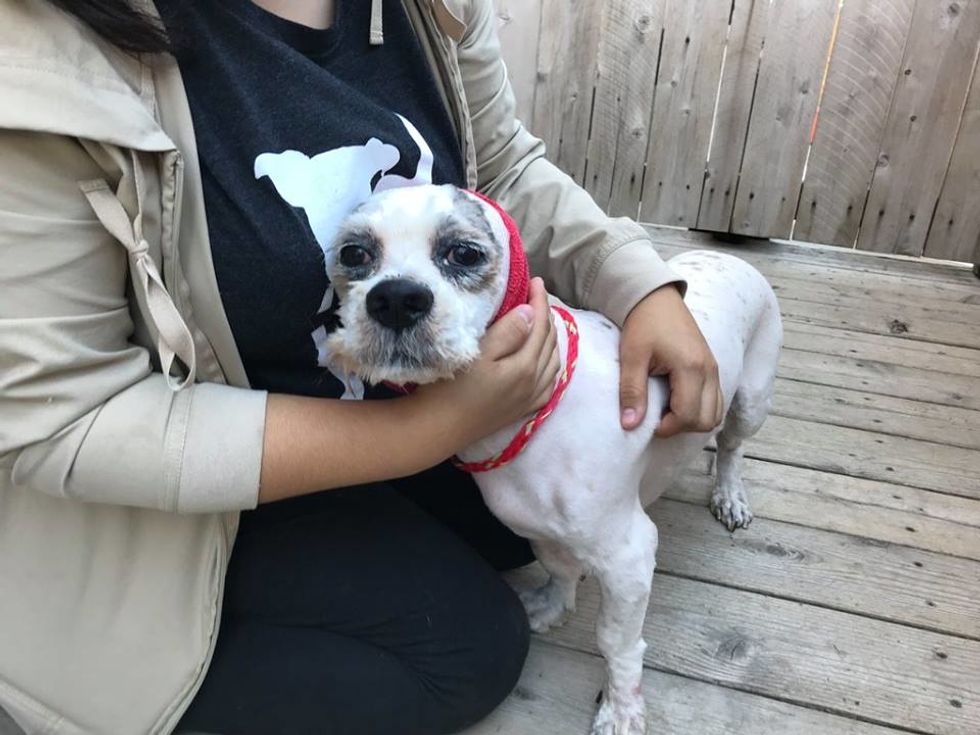 (Sue Naiden/Trio Animal Foundation)
In a post on Thursday, the foundation wrote: "Emotionally, Sang Su is very unsure and just wants to be held. His eyes look vacant and he has yet to show happiness.

"One can only imagine what this poor dog has been through and the loss that he has endured."
To help in the recovery process, Sang Su has been spending time with a therapy dog called Hazel Grace and a puppy named Eeyore – with whom he immediately hit it off.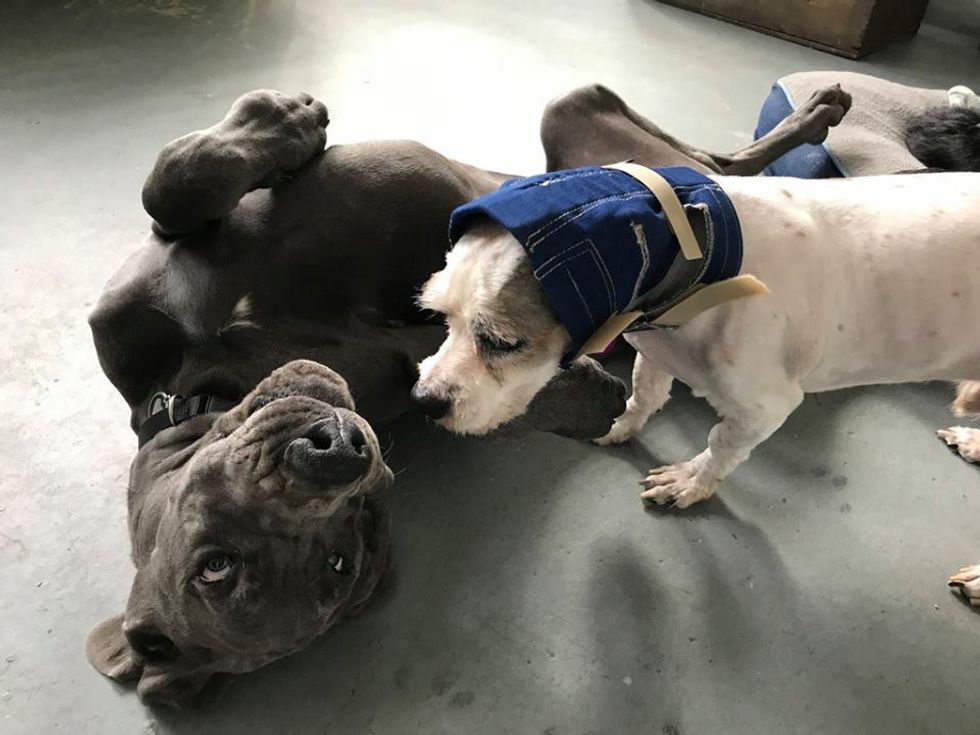 (Sue Naiden/Trio Animal Foundation)
The foundation posted another video of Sang Su over the weekend, showing the progress he had made in the space of a week or two.

They wrote: "Trembling and unsure of what is going on, the need to be loved far outweighs his memories of abuse.
"Sang Su's eyes tell a story of past horrors but his willingness to trust shows that it is not too late to make a difference in his life.
"Slowly but surely we will get there."
Facebook users who were followng Sand Su's story were overjoyed with the update and wished him all the best:

TAF Facebook
TAF Facebook

TAF Facebook
TAF Facebook

TAF Facebook

TAF Facebook
TAF Facebook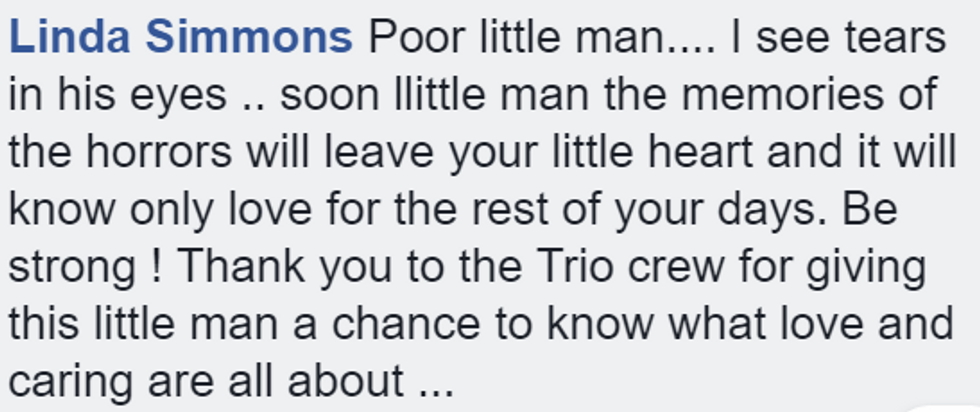 TAF Facebook
TAF Facebook
We also wish Sang Su the best as he recovers.

A version of this article originally appeared on Press Association.