There's an ongoing pattern of major news outlets not being able to tell Black men apart. It's kind of an ongoing social joke, but when it happens it still surprises people—especially given that it's 2020 and it doesn't take much effort to Google someone's image and confirm.
Well get ready to be "surprised" yet again.
NBC news created a social media post discussing the fact that Usain Bolt, superstar athlete, had tested positive for COVID-19. Unfortunately, the image used on the now-corrected Facebook post was not of Bolt, but of comedian Kevin Hart.
Bolt is a 6'5" Jamaican man. He is over a full foot taller than Hart, who stands at 5'4".
Just for fun, here is an image of the two men together.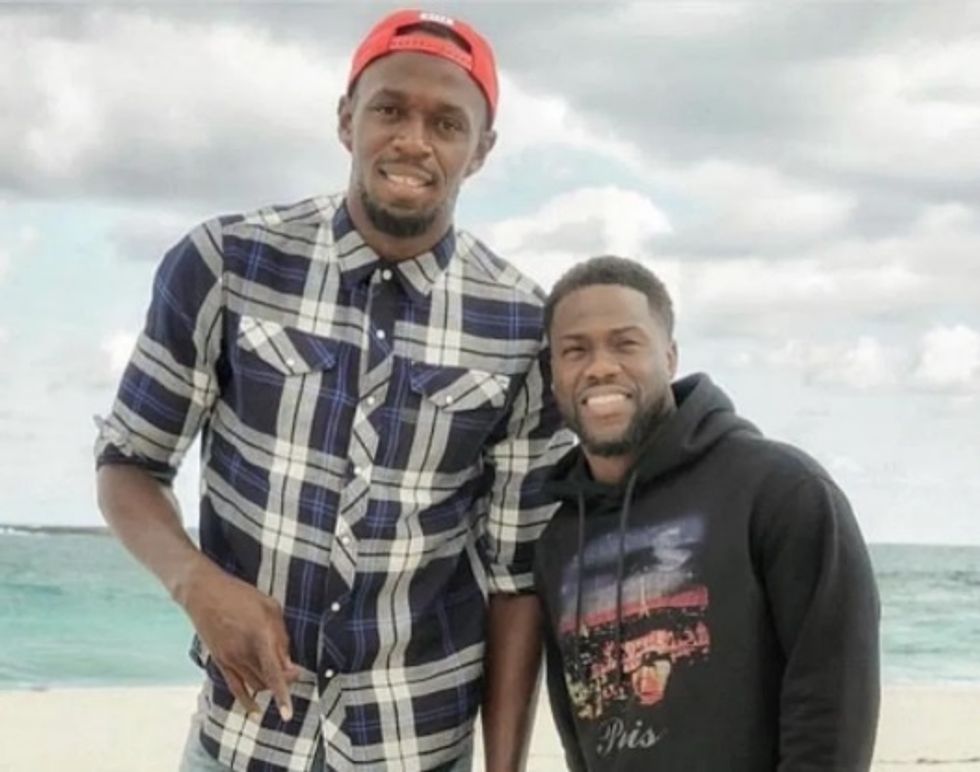 GhettoRadio / Twitter Screenshot
Height is just the beginning of the differences between the two men, though it is the most obvious.
As you can see, they are not similar in build, hair, style, facial structure etc. In short (heh. height pun.) this was a really hard mistake to make.

Which is why Kevin straight up called NBC out on it.
Kevin Hart / Instagram
Hart's caption reads:
"No comment... I must of gotten really fast & tall overnight... I want to take advantage of this moment & ace anybody in the world. We can bet whatever. Sh*t just for real. I am also no longer doing comedy due to my Olympic training schedule... I'M BACK B*TCHES!!!! P.S. This s disrespectful on so many levels... all you can do it laugh. Maybe the Covid-19 shrunk his legs & torso."
Hart wasn't the only one to call NBC out. Twitter had a blast with the flub.

NBC News responded to the backlash by correcting the image and blaming a technical error. According to them, an image was never chosen for the post and the system defaulted to an old image used for an old post and it just so happened to be Kevin Hart.

A cursory glance through social media shows that not a lot of people are buying that story.