Steve Carell would be delighted to know his CPR scene from an episode of The Office inspired someone to save a life.
The crucial principle of saving a life within the context of a famously comical scene was not lost on Central Michigan University student Natalie Belsito, who employed her TV-educated tactic to resuscitate a poor little critter holding on for dear life.
---
Brought a squirrel back from the dead, what was your Wednesday like? #chipshelpingchips https://t.co/htDv2ncjzI

— nat belsito (@nat belsito)1522289224.0
The famous scene where the Dunder-Mifflin Paper Company utterly butchers a crash course in first aid is from the show's season five episode called, "Stress Relief: Part 1," where the bumbling employees demonstrate their CPR skills to the beat of the Bee Gees's "Stayin' Alive."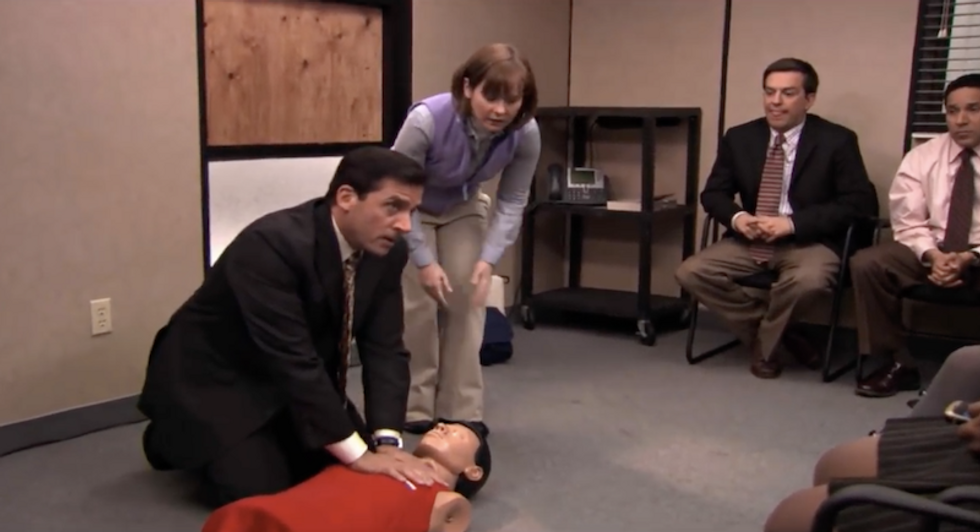 Michael Scott from "The Office" gives CPR a shot.(Iram Aguirre/YouTube)
After finishing her classes for the day on March 27, Belsito and her soccer teammates noticed the critter struggling to stay afloat in a nearby pond.
She told Central Michigan Life she couldn't just ignore the distress call.

It definitely was drowning because it was really slow when we saw it and it started to dip its head under the water. I went down there with a hockey stick to try to pull it out, but that wasn't really working.
A passerby with arms long enough to reach out managed to retrieve the squirrel from the water but noticed it wasn't breathing after it was flung through the air and hit the cement.
If he would've placed it properly, it probably would have run away, but he smacked it on the ground.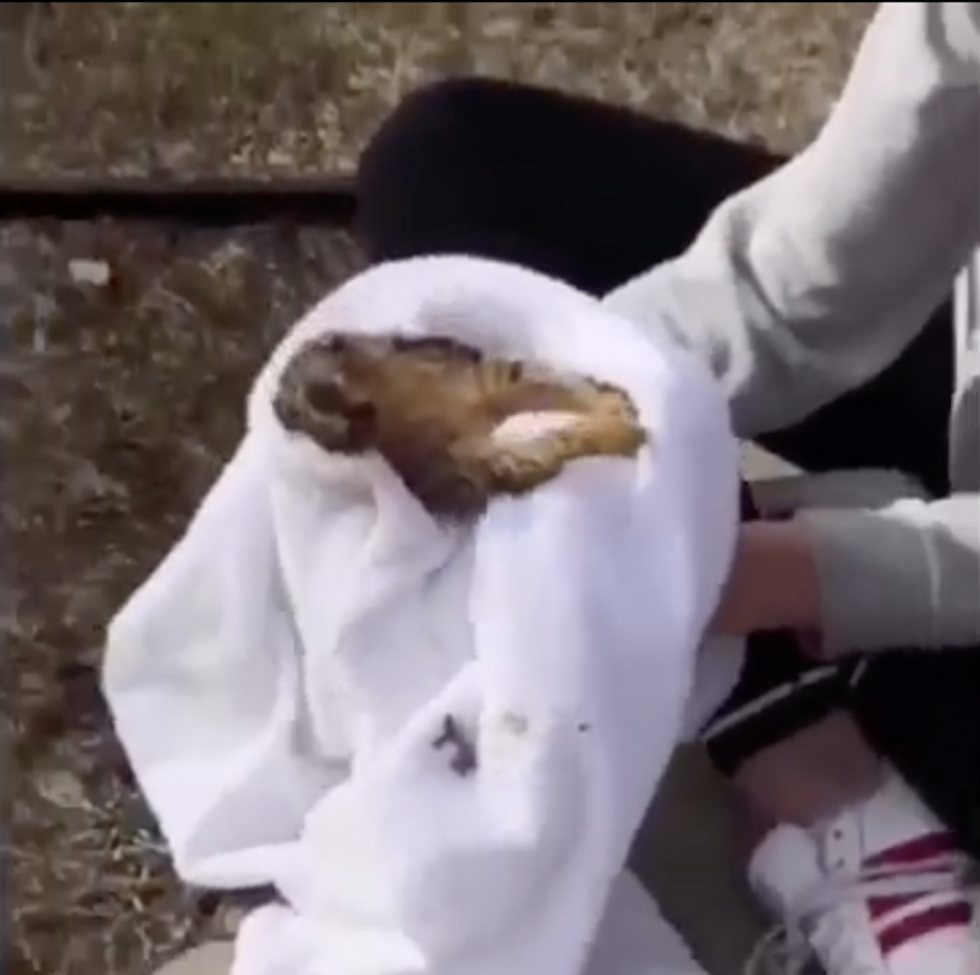 Drying off.(Klik Aku Dong/YouTube)
Belsito admitted not knowing exactly how to perform CPR and tried to revive the squirrel using a hockey stick. After that failed attempt, she ran back to her dorm and grabbed some towels to try the procedure once more, this time by hand.

And thanks to that famous comedic scene, the freshman saved a life.
Honestly, when I was doing it, I was thinking of the episode of "The Office" when they do CPR. I was literally singing that song as I tried to do it.
She brought her new furry friend back to her dorm room and blow-dried it and let it rest inside a makeshift bed until it regained its strength.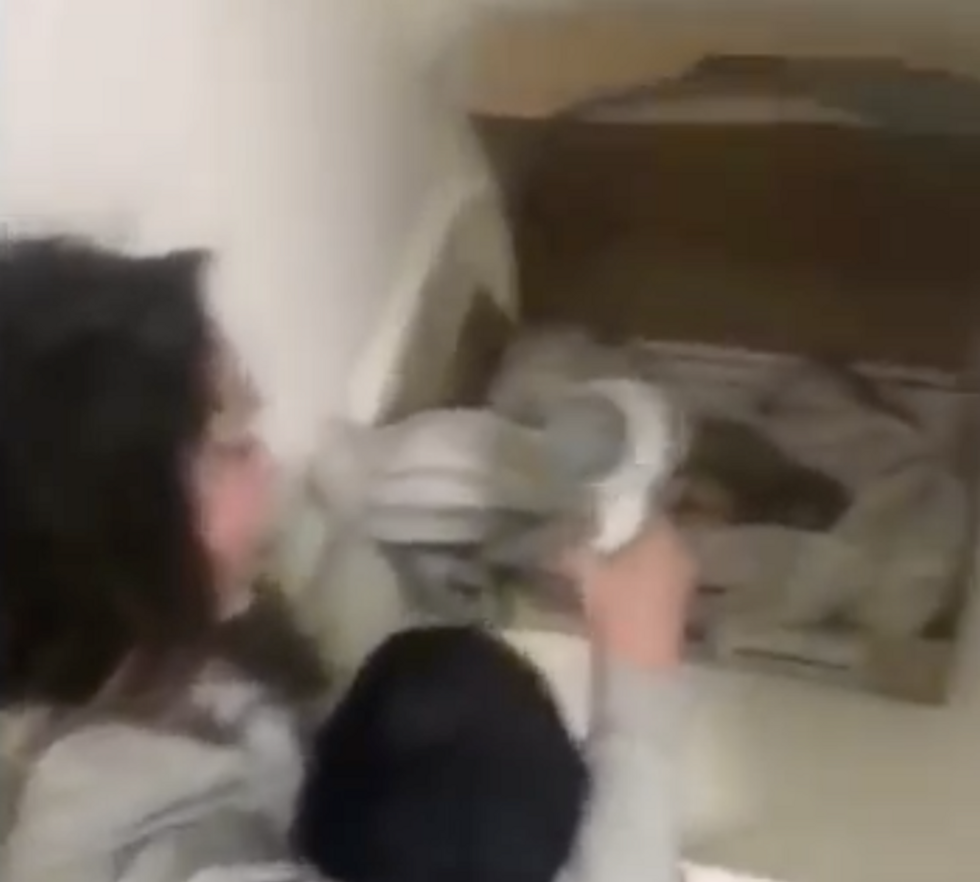 Natalie gives the squirrel the blow-dry treatment.(Klik Aku Dong/YouTube)
It took two hours to warm the critter. "He started to calm down and was breathing normally and wasn't twitching anymore," she said.
Finally, the animal savior brought the box containing the critter and released it back into the wild.

When she opened the box, the squirrel sprung with a renewed energy and darted up a tree as Belsito and her friends cheered, rapturously.

She posted the video of her heroic efforts on Twitter and garnered over 1,900 likes.
The actor who played the CPR instructor from the memorable episode took notice and left a comment.
@natbels7 Hey Nat, I'm Robin the actor who played Rose who taught CPR on The Office. Great Job saving that adorabl… https://t.co/8GUwSohJQg

— Robin Lynch (@Robin Lynch)1522804880.0
@ActorRobinLynch Wow hi!! Thanks so much!! Couldn't have done it without you:)

— nat belsito (@nat belsito)1522806583.0
Others reached out to give praise.
@natbels7 Your love & compassion melted my heart. I tried to save a squirrel last summer that fell in our pool but… https://t.co/TZEKHHZr7i

— Paulette Bonamego (@Paulette Bonamego)1522859561.0
@natbels7 I saw this and had to tell you what an excellent human you are. This actually brought tears to my eyes.

— Andrew Riddell (@Andrew Riddell)1522787552.0
@natbels7 I LOVE THIS AND YOU! Thank you for being kind to animals ❤️ I love that @ActorRobinLynch even reached out!

— Holly❤️Peace&Animals (@Holly❤️Peace&Animals)1522809426.0
@natbels7 Today I learned.. https://t.co/xPhxCjOasE

— Alex Salinas (@Alex Salinas)1522967067.0
While on the subject of revivals, we'd love to return back to the office to revisit another round of quirky comedy.
For those who've missed the famous episode, here's a snippet.