Back in February as part of Milan fashion week, clothing line Moschino took a step in the absurd direction by featuring a Jeremy Scott-designed collection inspired by and made from trash.
---
Much like an unconventional materials challenge on Project Runway, the collection included pieces made out of old tissue boxes, trash bags, bicycles wheels, you name it.
According to Vogue, original designer Franco Moschino "relentlessly mocked the fashion system yet profited by it," adding that "he used shows as theater and humor as marketing."
"Freedom was Moschino's mantra—freedom from ideas of propriety, from the wastefulness engendered by trends, from rules," they say of the designer, who died of complications from AIDS in 1994.
Jeremy Scott, who has run the label since 2013 is described as "the American enfant terrible" who has "reinvigorated the label with over-the-top runway antics, collabs with the likes of Barbie, riffs on iconic logos from McDonald's to Marlboro, and a general feel-great vibe."
Now, one of the Scott's bizarre looks from the new 2017 Fall/Winter collection is being sold online. And it's turning a lot of heads, and not just for the design but for the price.
Behold, the dry cleaning bag-inspired dress:
OBSESSED with dry the cleaning look at Moschino! The dry cleaning bag dress, the lost sock clutch! #MFW https://t.co/Qia54nkez1

— Shelby Ivey Christie (@Shelby Ivey Christie) 1487886148.0
And it can now be yours for just $895:
Moschino are selling a £560 plastic dress that looks like a dry cleaning bag https://t.co/VqIb2t00X6 https://t.co/l3gBnpapeR

— Mirror Fashion (@Mirror Fashion) 1510058657.0
Let's take a closer look: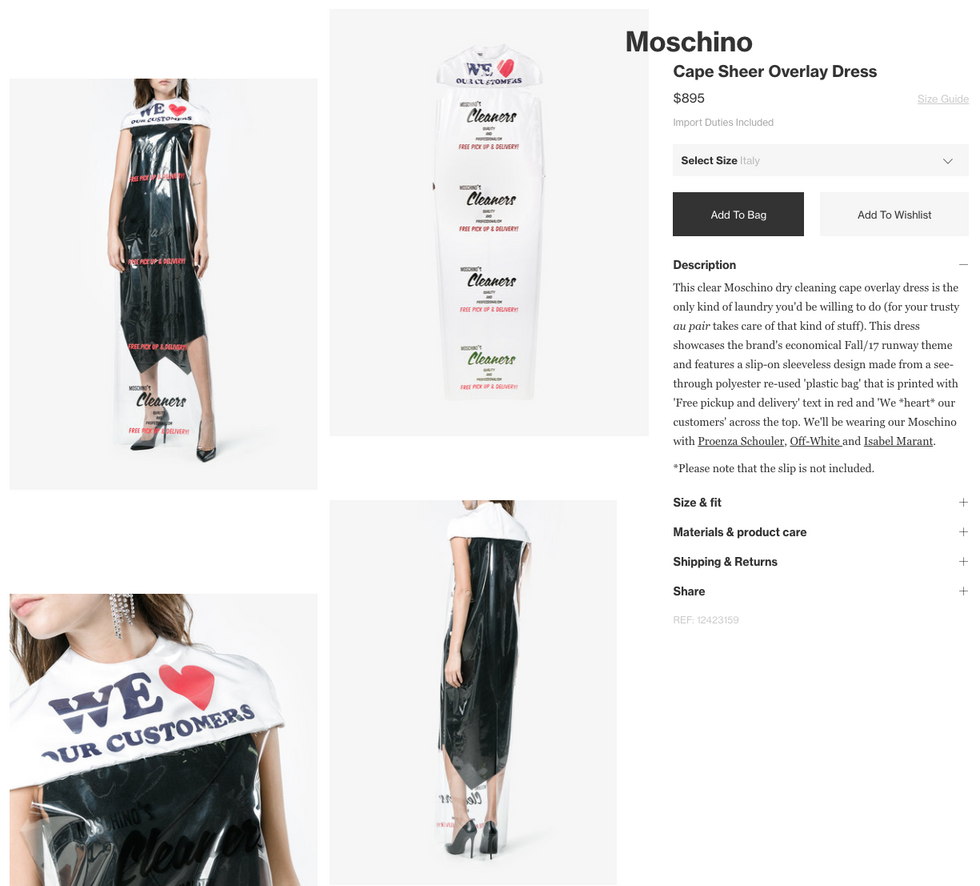 According to Browns, which is selling the dress:
"This clear Moschino dry cleaning cape overlay dress is the only kind of laundry you'd be willing to do (for your trusty au pair takes care of that kind of stuff). This dress showcases the brand's economical Fall/17 runway theme and features a slip-on sleeveless design made from a see-through polyester re-used 'plastic bag' that is printed with 'Free pickup and delivery' text in red and 'We *heart* our customers' across the top."
Apparently with all the publicity, the dress has gone up almost $200 in asking price since the story originally broke. And the nearly $900 you'll spend will only get you the plastic overlay. You'll have to provide your own slip to go underneath.
Or, if you're feeling cheap, you could just go to a dry cleaners, dig through their trash, and make one yourself!
And while some are obsessed with the tongue-in-cheek designer duds:
@bronze_bombSHEL the sock clutch is super cute!

— A Savvy Socialite (@A Savvy Socialite) 1487886978.0
@bronze_bombSHEL My Aunt bought this for my daughter on Xmas! Can't wait to tell her she is fashion forward 😊 https://t.co/D5SmbcqE02

— SB (@SB) 1487985646.0
Not everyone on social media is so keen on spending that much money on a sheer plastic "dress:"
Moschino Is Selling Dresses Made of Plastic Dry Cleaning Bags for a Hot $735 https://t.co/K1amV0DMfg https://t.co/S0bR4ObwbF

— thesmilecentre (@thesmilecentre) 1510074370.0
@TIME perfect for those with more money than intelligence

— Susie (@Susie) 1510075407.0
@TIME The terrorist have clearly won. Western Civilization is at its apogee.

— Andrew Spraggs (@Andrew Spraggs) 1510075288.0
Derek Zoolander would be proud:
@TIME Remind anyone els of the 'Derelicte' fashion show in Zoolander? Lets hope they're ambi-turners.

— Naomi Vowles (@Naomi Vowles) 1510077094.0
@FrostyHotCoffee @mashable Omg my thoughts exactly 😂

— Lauren Hart (@Lauren Hart) 1510060171.0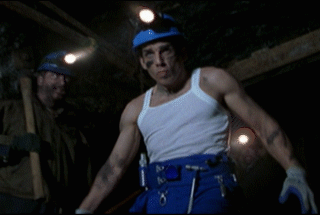 Please SHARE this with your friends and family.
H/T: Mashable, New York Post, Vogue