One of the most rewarding but equally—if not more—difficult decisions a person can make is the choice to become a parent.
But the trials and tribulations of pregnancy are all worth it once the newborn baby is swaddled and in your arms.
For one TikTok user, however, one of the most blissful times in her life turned into a heartbreaking nightmare as she was forced to do the unimaginable a mere 12 days after giving birth to her child prematurely.
Go back to work, leaving her child in the neonatal intensive care unit (NICU).
26-year-old Rebecca Shumard, known on TikTok as @edensmomma10_12, had to return to work less than two weeks after giving birth to her daughter.
She was, understandably, grappling with feelings of exhaustion, guilt and fear as most new moms do. Rebecca's situation was intensified, however, given the extenuating circumstances of her daughter's birth.

Rebecca's daughter Eden was born extremely premature at just 27-weeks, only three weeks past the window of viability.
She was receiving treatment and care in NICU while Rebecca was at work, away from her newborn child.

@bakemydaymimo/TikTok

@Mamadoctorjones/TikTok

@whitneywithheart/TikTok
Rebecca works as a medical assistant/exercise physiologist.
With recent healthcare staff shortages and the allotted time she would have for maternity leave, she was left with no choice but to return to work as early as she did so she could spend time with her daughter once she was discharged from NICU.
The TikTok showed Rebecca sitting at her desk working but unable to hold back tears as she tried to perform her daily tasks.
Text overlayed on the video read:
"POV, you have to return to work 12 days after having a premature baby at 27 weeks, so that when she is eventually discharged from the NICU you can spend what little maternity leave you have with her."
"You try to pump [breastmilk] at work every three hours, but they're understaffed."
"Your milk supply is diminishing at eight weeks postpartum."
"Will you even have milk available when she gets home?"
Shumard went on to write:
"What do other NICU parents do?"
"How can anyone afford to stay home during a NICU stay?"
"How can anyone handle the guilt when you have to work and can't be with your baby?"
"This. Is. America."

@dejacurtis25

@ashleighray30/TikTok

@obnursejen/TikTok
Within the span of that 55-second video, Rebecca managed to reinvigorate a heated debate about the lack of comprehensive maternity, paternity and family leave in the United States.
Parental leave in the United State is confusing, to put it lightly.
There are stipulations and caveats and not all companies allot the same time for paid leave as others. The United States is one of very few developed countries left that doesn't provide comprehensive parental leave for its citizens.
Rebecca's experience only highlights the strain—financial and emotional—that it puts on new parents.
TikTokers around the world took to the comments to implore Rebecca to move to their own countries where parental leave is much more expansive and beneficial for new parents.

@aluschen/TikTok

@alienerade_barn/TikTok
In the time since she posted the video, Rebecca's TikTok garnered nearly three million views, over half a million likes, 20,000 comments and an overwhelming amount of support.
TikTokers were so sympathetic to Rebecca's situation and wanted to help with one TikToker commenting:
"Please let us help. What's your venmo??"
And that comment was the catalyst for change in Rebecca's financial situations. Donations began to poor in and Rebecca revealed in a follow-up TikTok thanks to the outpouring of support, she was able to take a leave of absence from her job through April to be with Eden.
@edensmomma10_12

#nicu #preemie #tiktok #thankyou #prematurebaby #maternityleave #familyleave #Eden
In a separate TikTok, Rebecca informed TikTok users after 72 long days in the NICU, Eden was able to come home just in time for Christmas.
@edensmomma10_12

EDEN UPDATE!!!! Currently doing her 1.5 hr carseat test, which requires her to remain buckled and on monitors for 1.5 hrs w/ no desaturations to her oxygen and no drops to her heart rate. SHE'S COMING HOME!!! After 72 days in thr NICU, we are FINALLY here. Thank you everyone, 💚❤️✨🎄#nicu #preemie #prematurebaby #elvie #momtok #babyfever #babytok #christmas #Eden #tiktok #FYP
And while the road to this destination was long and trying, Rebecca only expressed gratitude for the support she received from the TikTok community, the nurses at the NICU and her partner.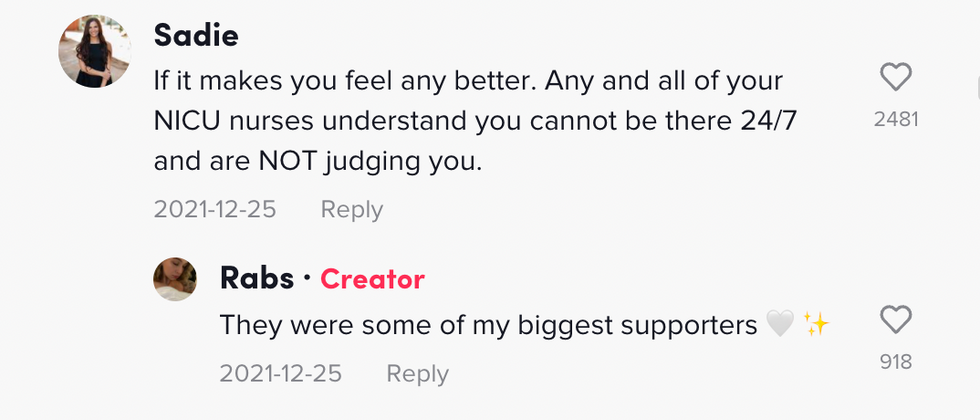 @sadiekel1/TikTok
Eden was, without a doubt, the best Christmas present Rebecca and her partner received this year.