After several posts were removed for having inappropriate content, TikTok influencer Moe Black, @moeblackx, is calling TikTok out for what she justifiably believes is blatant sizeism.
The body positive influencer had been posting a number of "get-ready-with-me" (#GRWM) style videos, showing influencers putting on various outfits one item at a time.
These videos frequently begin with the influencers in their underwear.
But TikTok moderators believed some videos which began with Black in underclothing contained "nudity and sexual activity", and subsequently took them down.
Black was not going to take this sitting down, posting a video calling TikTok out on their hypocrisy, which has since received over 40 thousand views.
@moeblackx

stop saying you support black creatives like it's so performative at this point #doublestandards
The one-minute video began with a close up of Black, with curlers still in her air, accompanied by an overlay giving an idea of the video's subject.
"The real reason there are no plus size influencers."
Black then apologized for how "crazy" she looked and expressed how she didn't intend to make a video like this, but she was "finally speaking up."

The video then cut to a screenshot of one of her video's taken down by TikTok for containing "Adult nudity and sexual activity."
Black then explained she had been posting an "outfit Advent series", styling an outfit from a theme she picks from a jar for the first 24 days of the month of December.
She then revealed each one of these videos had gone "under review" after being posted, and that "day 4" was removed for the above reasons.
The background then changed to the outfit Black was wearing at the beginning of the removed video, a silk pajama set with a tank top, her upper torso completely covered, and shorts which covered most of her upper thighs.
Black then showed viewers the "top liked and viewed videos" which would appear if one were to search "get-ready-with-me" on TikTok.
The background then cut to a screenshot of several women, noticeably slimmer than Black, and all wearing far more revealing undergarments than Black was wearing in the video which was taken down.
Black also pointed out how almost all of these videos had received hundreds of thousands, even millions of likes.
The video ended with Black speaking directly to the camera, calling TikTok out for being sizeist.
"Before you sit up here and call me bitter, no no no, I think that everybody should be able to do that."
"But TikTok only enforces the rules, if you're fat."
Black was met with support from fellow TikTokers in the comments section, calling out TikTok moderators for their hypocrisy, with some even suggesting Black should consider legal action.

@moeblackx/TikTok

@moeblackx/TikTok

@moeblackx/TikTok

@moeblackx/TikTok

@moeblackx/TikTok
Other TikToker's shared similar experiences of posting content which almost always gets taken down, despite similar if not identical content readily available from other users.


@moeblackx/TikTok

@moeblackx/TikTok

@moeblackx/TikTok

@moeblackx/TikTok

@moeblackx/TikTok
When one of her followers asked what they can do in an effort to stop this from continuing, Black responded the best action would be to continue to support plus-sized influencers.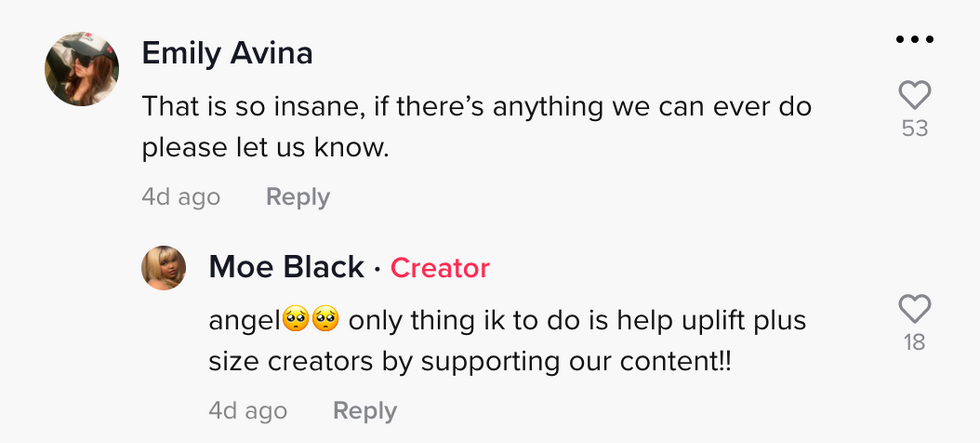 @moeblackx/TikTok
It seemed TIkTok's moderators got Black's message loud and clear, as her removed video was eventually re-instated, seeing Black get dressed up in a stylish black outfit to have "brunch with the girls."
In a subsequent #GRWM video, in which Black began by wearing a robe, before drawing the outfit she would be styling, Black gave a warning to TikTok saying, "TikTok, play nice."
Here's hoping they do, as Black's cheerful, stylish videos deserve to be seen by all.