There's nothing more exciting for an ambitious adolescent discovering they have been accepted to their dream college.
For Mia Tomeo, getting into Tulane University in New Orleans has been a dream since middle school.
So she decided to film herself opening the college acceptance letter for posterity.
---
It's a good thing she did, because the reaction is pure joy.
She posted the video on TikTok, with OneRepublic's uplifting song "I lived" playing through the jubilant cheers exchanged by her proud parents.

She wrote:

"posting bc i love these videos and this is the happiest i've been for a while getting into my dream school :):)"
Tomeo told Buzzfeed News why she decided to share the moment on social media.

"It was an important moment for me. The school I had dreamed of for so long was close to possibly becoming a reality."
"I decided to post it because waiting out college decisions is a very stressful time for teens, and watching acceptance videos gave me a little bit of hope which I wanted to share with others."
Her tears of joy resonated on social media to such a degree, her exuberant reaction inspired the perfect opportunity for a meme.

People juxtaposed different scenarios alongside her TikTok video to appear as if she and her family were overjoyed at something other than her acceptance letter.
For instance, she can't seem to contain herself over watching this TikTok user Jayla Milan season some chicken with aplomb.
Whatever dinner is, it looks impossibly delicious.
It looks like someone had already beaten Milan to the punch.

Watching a powder of Kool-Aid, or Crystal Light, or whatever Red Number 40 food coloring is being dumped and mixed with water is a sensational sight to behold.

Watching dad's skepticism crumbling in disbelief here is just comedy gold.

And these woman explaining that Muslim women do, in fact, have hair under their hijabs is a revelation.
Well, sort of.
Contrary to naysayers, here is proof that people do indeed wash their legs in the shower. With soap, even.

"Way," dad. Yes to the "way."
Tomeo was a good sport.
She told Buzzfeed of her newfound meme-dom:

"I did not think it would turn into a meme. I just thought it would be a wholesome college acceptance video."
"I do think the duets are all hilarious and I love watching them. My friends have been sending me any that they see and I laugh harder every single time. It's all in good fun so I appreciate the creativity and humor."
Out of all the creative duets, Tomeo said that entry from one, @aaron.ps, was her favorite.

"My personal favorite duet was from @aaron.ps on TikTok as he portrays my family and me as his organs as he drinks water for the first time in a week."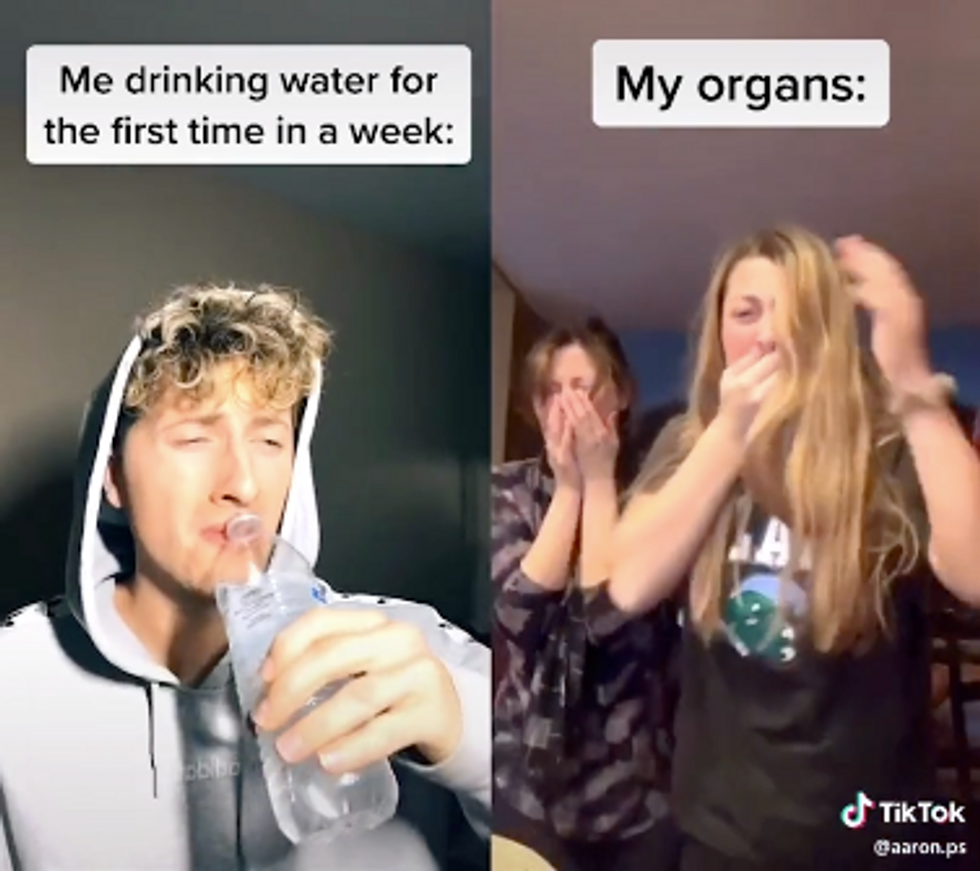 @aaron.ps/TikTok
Of her sudden viral fame, she said her video received a lot of positive comments and the memes were created in the spirit of fun.

"The comments were so positive, and made me feel like everyone was celebrating with me."
"To see so many people saying they were happy for me and proud of me, people I don't even know, showed me how positive a place the internet can be."
"I have not actually seen any truly negative or hateful comments. All of the positivity and sentimentality of others makes me happy that I did share it."
Tomeo's exuberance is warranted considering her chances of getting into Tulane University were slim.

"This college has been my dream since middle school, and I am still in shock that I was accepted since the early action acceptance rate is approximately 6%."
She also missed classes due to the fact that she struggled with chronic pain due to frequent migraines.

"I often missed three days a week of school. I made my studies a high priority, but I did feel that I did not do quite as well as I would have if I was healthier."
"Luckily, I have finally found a migraine medication that is working, so going away to college is now possible. I believe that I was accepted to Tulane because I showed great enthusiasm for the school and that I have done well academically despite adversity."
Although we all may go crazy over a well-seasoned piece of chicken, we can't forget Mia's positive acceptance letter. Congratulations!