Republican Doug Mastriano—a state Senator who was the GOP's candidate in Pennsylvania's gubernatorial election—was dragged after he boasted on air about his "big victory" just as his defeat was announced.
Mastriano lost the race to Democrat Josh Shapiro in one of of the country's most closely-watched election contests. In the end Mastriano failed to perform, receiving just over 42 percent of the total vote.
But before he lost, he spoke about his victory as if it was a foregone conclusion, telling the right-wing news network One America News (OAN) he would have a "big, big win in a couple of hours" just as NBC News and Fox News called the election for Shapiro.
You can watch what happened in the video below.
Asked how he was feeling about his chances, Mastriano said:

"Now the rural counties are coming in and we got reports in the field here of unprecedented, record numbers, even beating the presidential election in 2020."
"If that trend continues here we're going to have a big, big win in a couple of hours."
But of course, that did not come to pass, and many have mocked Mastriano since his remarks went viral.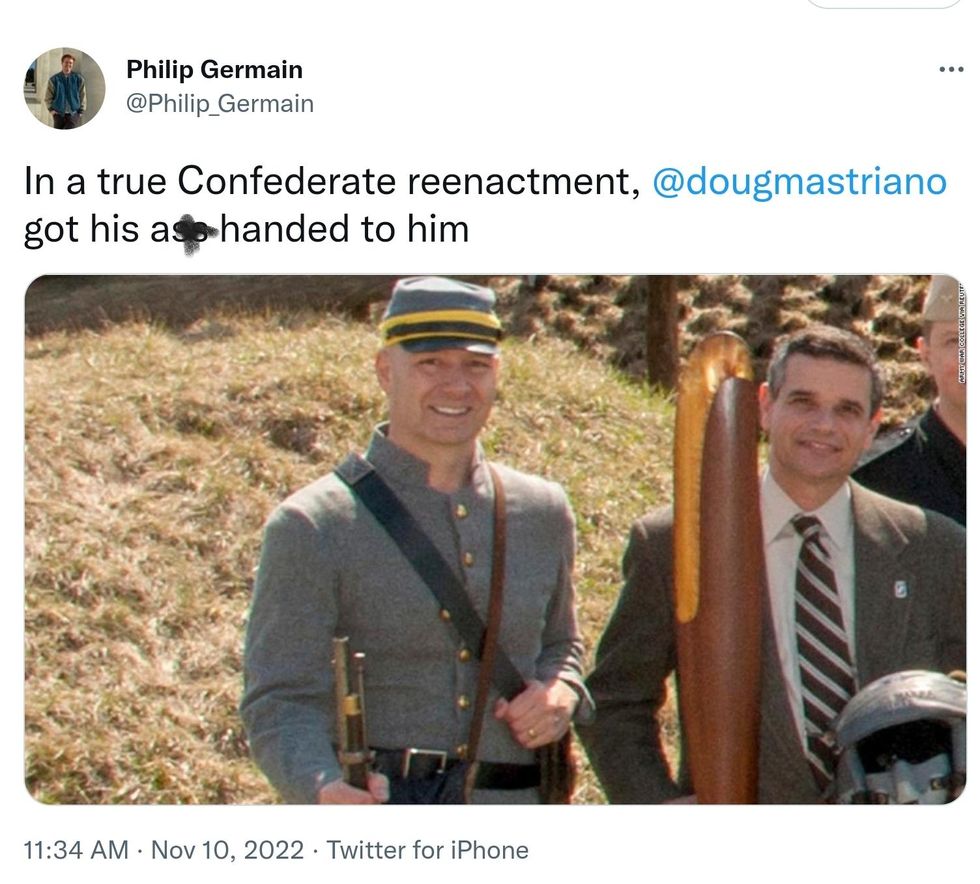 @Philip_Germain/Twitter
Mastriano proved to be one of the more contentious candidates during the midterm election cycle, making headlines for being a prominent figure in fundamentalist Christian nationalism, stating that the separation of church of state is a myth, embracing QAnon conspiracy theories, and furthering former Republican President Donald Trump's lie that the 2020 general was stolen.

Mastriano gained nationwide notoriety for participating in the January 6 insurrection, the day a mob of Trump's supporters attacked the nation's seat of government on the false premise that the election had been stolen. Mastriano was seen on video passing through Capitol Police barriers after they had been breached by others in the crowd.
Though Mastriano was subpoenaed by the House Select Committee tasked with investigating the insurrection, he stopped cooperating with investigators over the summer.