Condolences poured in after Eugene "Buzzy" Peltola Jr., the husband of Democratic Representative Mary Peltola, Alaska's sole representative in the House, tragically died Wednesday morning following a small engine plane crash in their home state.
The accident occurred when Eugene Peltola's single-engine Piper PA-18 crashed shortly after takeoff near St. Mary's, Alaska, early Tuesday night, as reported by Reuters.
Eugene Peltola served in the U.S. Fish and Wildlife Service for over 30 years before assuming the role of running the Bureau of Indian Affairs' Alaska division in 2018, a role he held until he stepped down last year.
Peltola's Chief of Staff Anton McParland said the Congresswoman "is returning home to be with their family, and we ask that their privacy be respected during this time."
He also memorialized Eugene Peltola, who "simply adored" his wife and their seven children:

"We are devastated to share that Mary's husband, Eugene Peltola Jr. — 'Buzzy' to all of us who knew and loved him — passed away earlier this morning following a plane accident in Alaska."
"He was one of those people that was obnoxiously good at everything. He had a delightful sense of humor that lightened the darkest moments."
"He was definitely the cook in the family. And family was most important to him."
"He was completely devoted to his parents, kids, siblings, extended family, and friends — and simply adored Mary."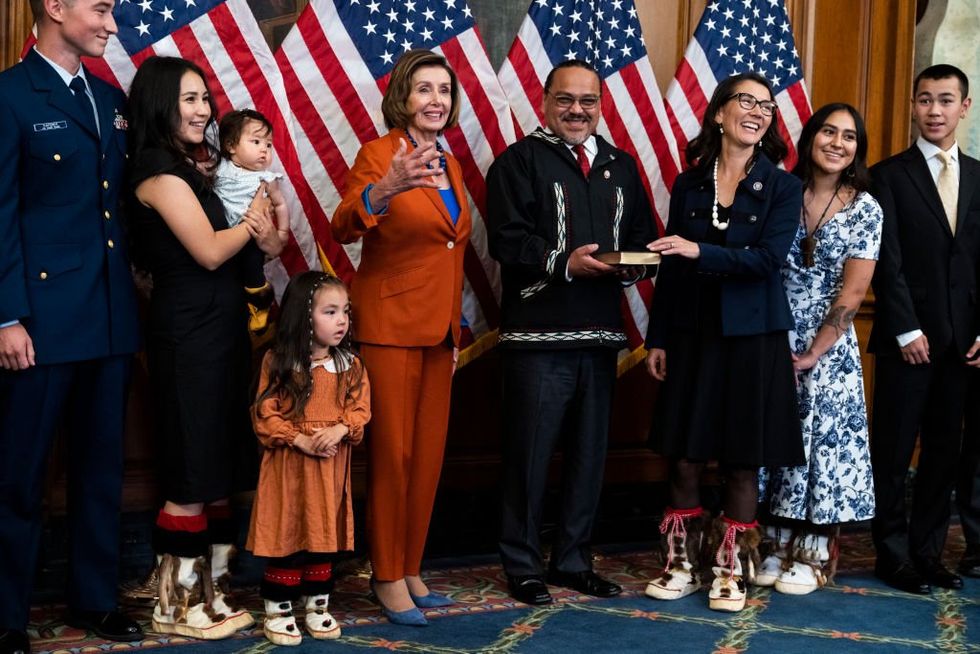 Tom Williams/CQ-Roll Call, Inc via Getty Images
Transportation Secretary Pete Buttigieg said his "deepest condolences and prayers" are with Peltola and her loved ones following the accident.
Similarly, Minnesota Democratic Senator Amy Klobuchar offered "Love to Mary and their family."
Many others have offered their condolences to Peltola as she traveled home to be with family.

The incident has prompted investigations by the Federal Aviation Administration (FAA) and the National Transportation Safety Board (NTSB).

Peltola's office did not share any additional details about the accident, which is not the first time an Alaskan politician has died under similar circumstances.
In 2010, former Senator Ted Stevens lost his life in a single-engine plane crash in Alaska, despite having survived a plane crash back in 1978.
The state's at-large congressional seat became vacant last year following the passing of Representative Don Young, who, at the time, was the oldest serving member of Congress. He succumbed to natural causes while on a plane heading to Seattle as he was returning home to Alaska.
The late Young initially won this congressional seat many decades ago, filling the void left by the state's former representative, who had gone missing and was presumed deceased following a plane crash.