Liberty University President Jerry Falwell Jr. raised eyebrows this week when he posted a bizarre picture featuring him with his arm around a pregnant woman. In the photo, both of their shirts are raised and their pants are unbuttoned.
According to Falwell, the group with whom he was vacationing was doing a video sketch based on Trailer Park Boys, a Canadian television show. He said their pants were unbuttoned to laugh that neither of them could fit into their jeans.
Falwell deleted the photo, but not before the internet could immortalize it.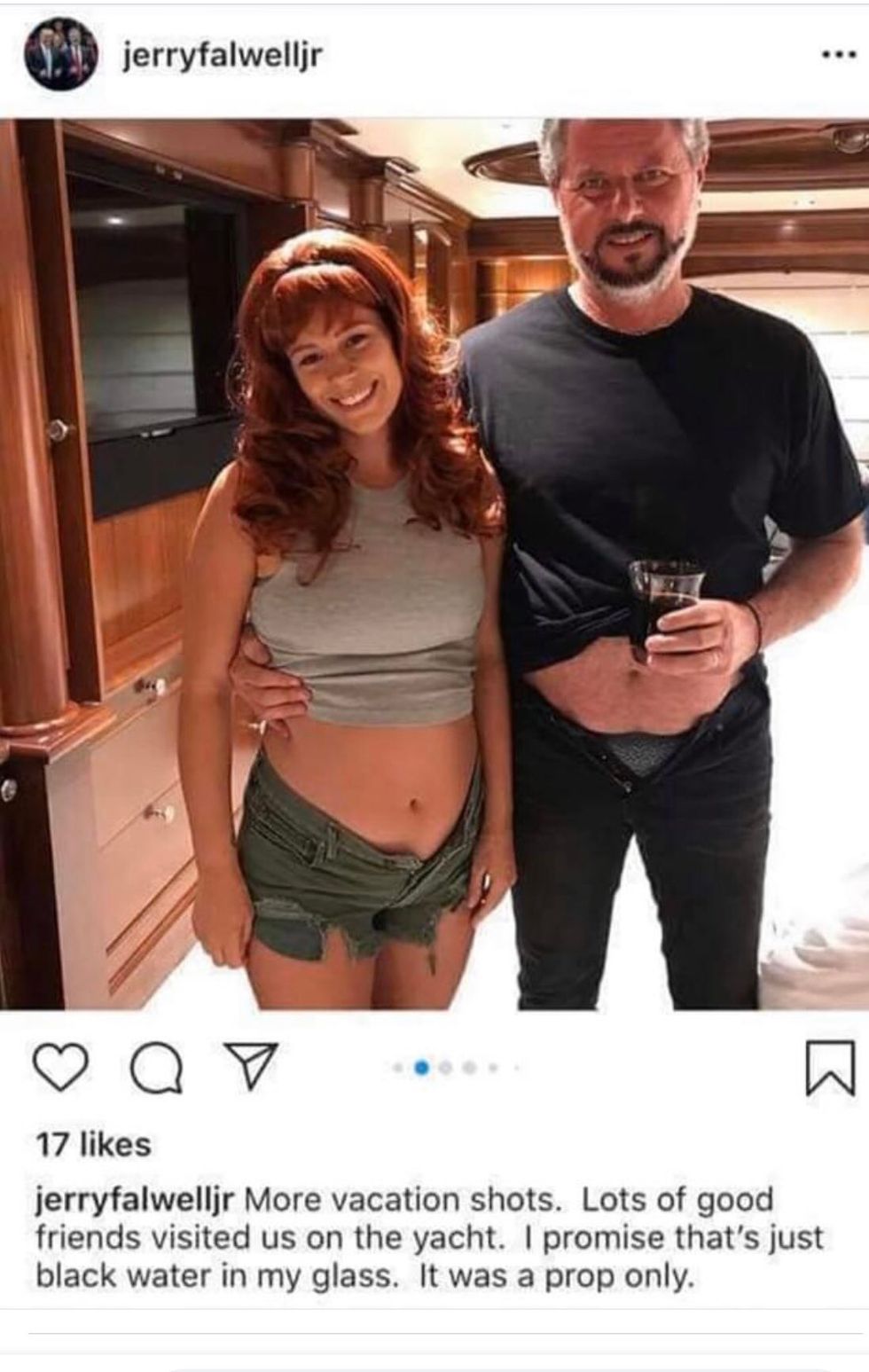 jerryfalwelljr/Instagram
Despite Falwell's insistence that the post was intended to be humorous, backlash still ensued—including from students at his evangelical Liberty University, who say they would have faced disciplinary action if they'd posted a similar picture.
Now, a prominent Liberty University faculty member has thrown down the gauntlet as well.
Congressman Mark Walker (R-NC) said in a tweet on Thursday that Falwell should resign over the photo.
This isn't the first time a Liberty faculty member has vocally opposed Falwell's decisions.
In March, Falwell ordered faculty to return to the university in person, despite the mounting pandemic. This prompted Liberty University English professor Marybeth Davis Baggett to write an op-ed in the Washington Post publicly decrying the decision.
People agreed with Walker that Falwell's hypocrisy had gone too far.
The internet's roasting of Falwell shows no signs of letting up.
Falwell has yet to respond to Walker.
UPDATE:

Only one day after Walker's tweet, Liberty University's board announced on Friday afternoon that they asked Falwell to take an "indefinite leave of absence." He has agreed and it will be effective immediately.
NEWS: Jerry Falwell Jr. is taking "indefinite leave of absence" from Liberty University. https://t.co/kl8SF8Omcy

— Michael Stratford (@Michael Stratford) 1596833687.0