Facebook "stuff for sale" groups are, for the most part, a nuisance. They clutter our notifications while rarely offering anything of value to our lives. Stewart Knox changed this, however, with an amazing product: an invisibility cloak, the likes of which has never been seen outside of Hogwarts.
---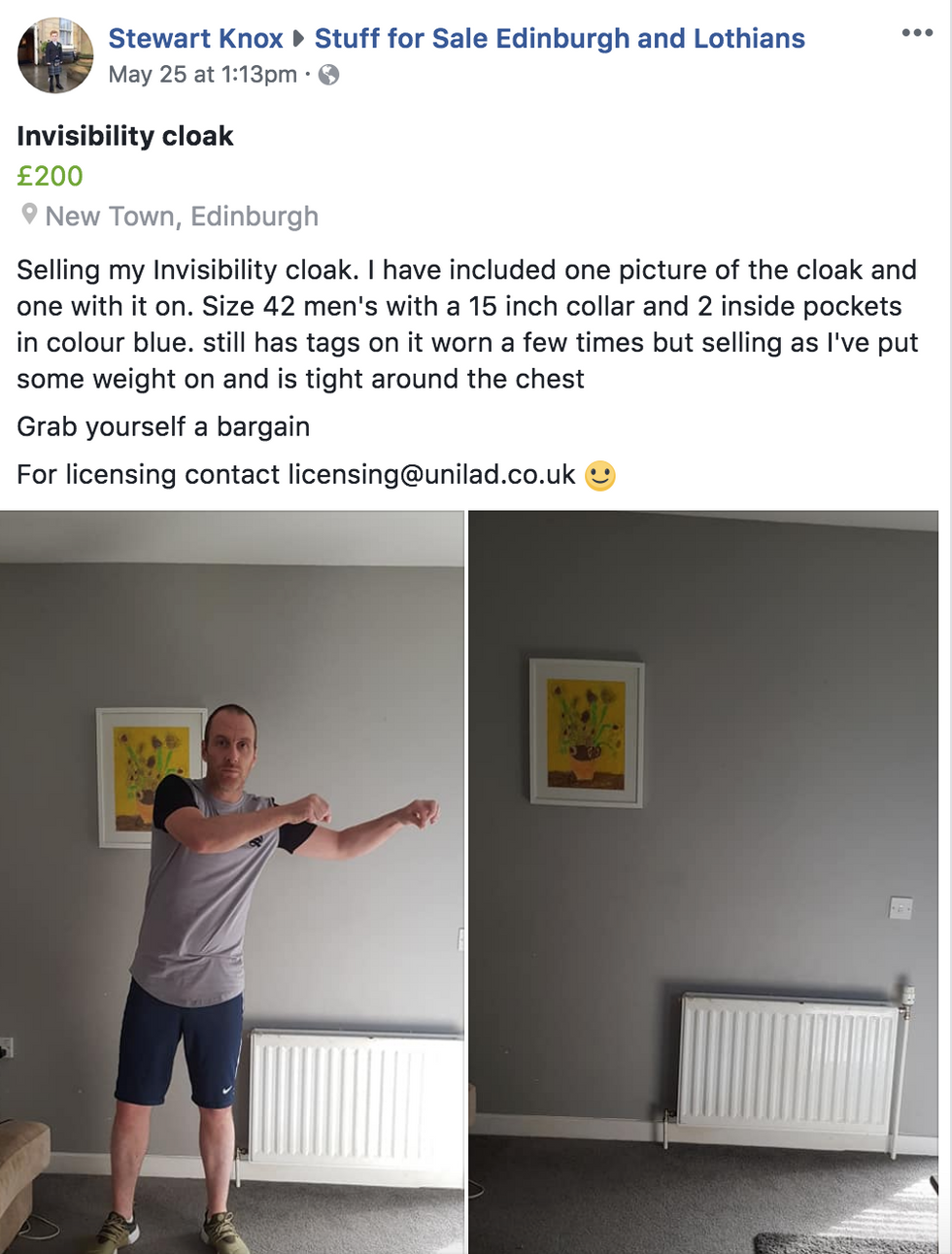 Facebook
Knox's post reads:
Selling my invisibility cloak. I have included one picture of the cloak and one with it on. Size 42 men's with a 15 inch collar and two inside pockets in colour blue. Still has tags on it, worn a few times but selling as I've put some weight on and is tight around the chest. Grab yourself a bargain.
Of course, a quick glance at any of the photos will reveal there is no cloak...or is there. Either Knox is pulling a fast one or this is the most high-quality garment since this scene from Harry Potter and the Sorcerer's Stone:






Stewart explained to UNILAD the motivations behind his post:
I had a bad hand injury so I was off work for a week recovery and I get bored very easily. I got the hand injury the first day back from our family holiday in Florida.

My nine-year-old son Daigan, he had bought one of those Harry Potter wands over there and we had talked about how awesome it would be if you could actually buy an invisibility cloak and what you could get up to with one.
Stewart's surname is an especially interesting coincidence, considering it's also a spell in the Harry Potter universe! Specifically, the one that turns off the light from "Lumos!"
If you have an Android phone and a harry potter fan say : okay google Lumos" and then "okay google Knox"

— J.Moore (@J.Moore) 1492193096.0
Stewart continued:
If the post makes people laugh then I'll usually do it.

Laughter is the best medicine out there and I'm always looking for an angle to make a joke or make people laugh. It's the best thing in the world. You forget all your worries and fears.
Facebook loved his post and played along brilliantly. Garry Cross commented:
I'll take the invisibilty cloak it works well mate, I'll pay with cash my invisible £200, which you only need to hold up to the sun for 5-10 mins and it reappears, okay? will send it special delivery tomorrow.
@STVNews Where did the guy go ??? I wanted prices.......

— LucifersAngel (@LucifersAngel) 1527632505.0
Eric Mckenzie had a bit of a problem with the product:
Would have bought it had it been a darker blue

It actually turns out Knox might not be the first to put this item up for sale:
FOR SALE: Slightly used cloak of invisibility. It obviously works because nobody at work has spoken to me the past two days. Make offer.

— ❤Hello Stephanie❤ (@❤Hello Stephanie❤) 1384368972.0
For sale one invisibility cloak, guaranteed people will not see you as you are walking around and will bump into yo… https://t.co/3gli0EUlVx

— Justin harrowing (@Justin harrowing) 1528106428.0
Congratulations to Scotland's best salesman: Stewart Knox, the pride of Edinburgh!
@edinburghpaper "Stewart is not present in the second image."

— ᴛʜᴜᴍᴘ (@ᴛʜᴜᴍᴘ) 1527624258.0