In Aroostook County in the northernmost part of Maine, two radio broadcasters were fired after they body-shamed players on a high school girls basketball team on a live broadcast for WHOU radio station.
Aroostook County shares a border with Quebec and New Brunswick, Canada. The rural area is sparsely populated despite being the largest county east of the Mississippi.
Most of the area is timber and farm land dotted with small towns. As with many rural areas across the United States, high school sports are a matter of community concern—whether people have a child on the team or not.
Sports commentators Jim Carter and Steve Shaw made derogatory statements and laughed about the girls weight in reference to the Central Aroostook and Easton High School girls junior varsity teams.
One of them said:
"Easton has two girls out here - extremely overweight."
"Awful!"
The other replied:
"How come you don't get uniforms that fit the girls?"
Then the two men laughed.
Carter and Shaw were watching the monitors as they waited for a game at Caribou High School to begin.
Community backlash from high school basketball fans across Aroostook County was swift on social media.
Fred Grant, the owner of WHOU 100.1 FM in Houlton, Maine told the Portland Press Herald that Shaw, a former athletic director, and Carter, a former coach, had only broadcast for the station for about a month.

Grant said complaints about their comments came in immediately after they made them.
Grant posted an official response to Facebook saying the two men were terminated.
His message emphasized how horrible their words were, but also the dedication of student athletes during a global pandemic.
Grant wrote:
"All of our students deserve our respect."
"Our students are living through the most challenging times in our history."
"Not only are they struggling through a pandemic, they also have the challenges of living in an age of social media which many of us would say that's even worse than the pandemic."
"I apologize that the broadcasters failed to see this fundamental belief and I apologize for their behavior."
"I know they are remorseful and I believe they, too, will continue to learn from their mistakes."
Grant also told the Press Herald their broadcasters are trained to focus on the game and highlight the good things happening in the community.
Somehow, these commentators forgot about that.
"It's in writing. It's verbalized. It's repeated."
"They knew the deal. It's a colossal failure by them."
Superintendent Mark Stanley told NewsCenter Maine most people were angry when they first heard their comments, but the student athletes also received support.
Stanley said:
"I've received messages and my team has received messages from schools all over the state at this point."
Emily Hill, the Easton High School coach, has gotten messages and emails from many people in support of the student athletes.
Hill says she's most proud of her students:
"How proud I am of these girls for rallying together, rallying around each other, and supporting and lifting each other up."
Many people in the Northern Maine community are asking for the men to apologize publicly to the girls they singled out and to the entire community.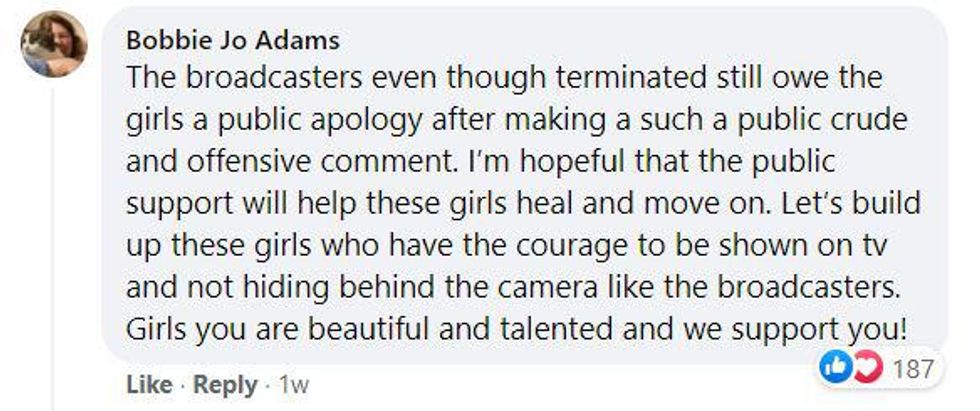 Bobbie Jo Adams/Facebook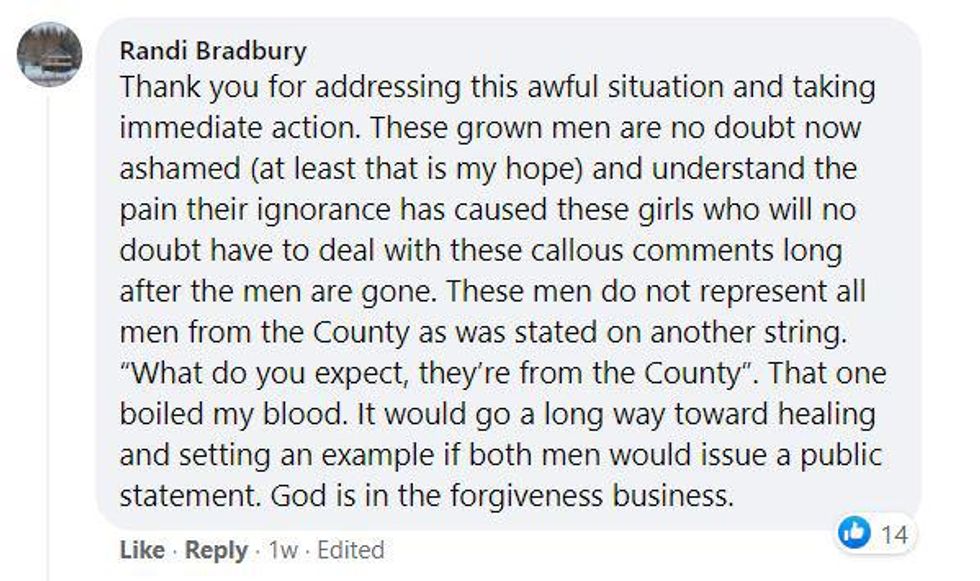 Randi Bradbury/Facebook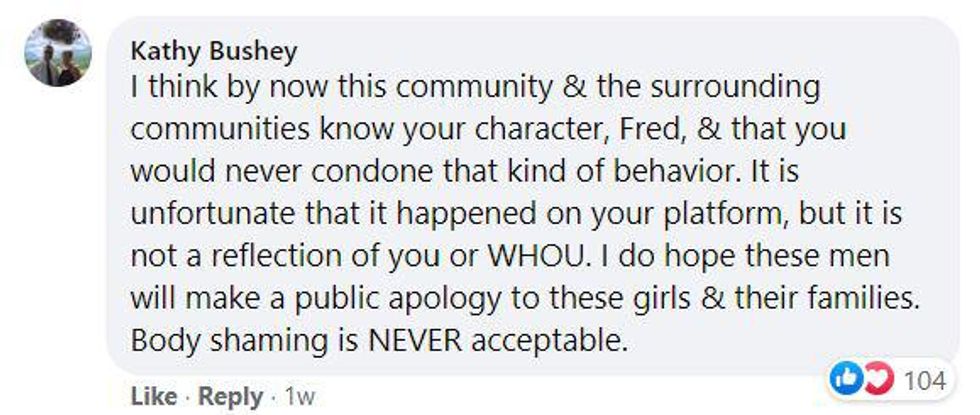 Kathy Bushey/Facebook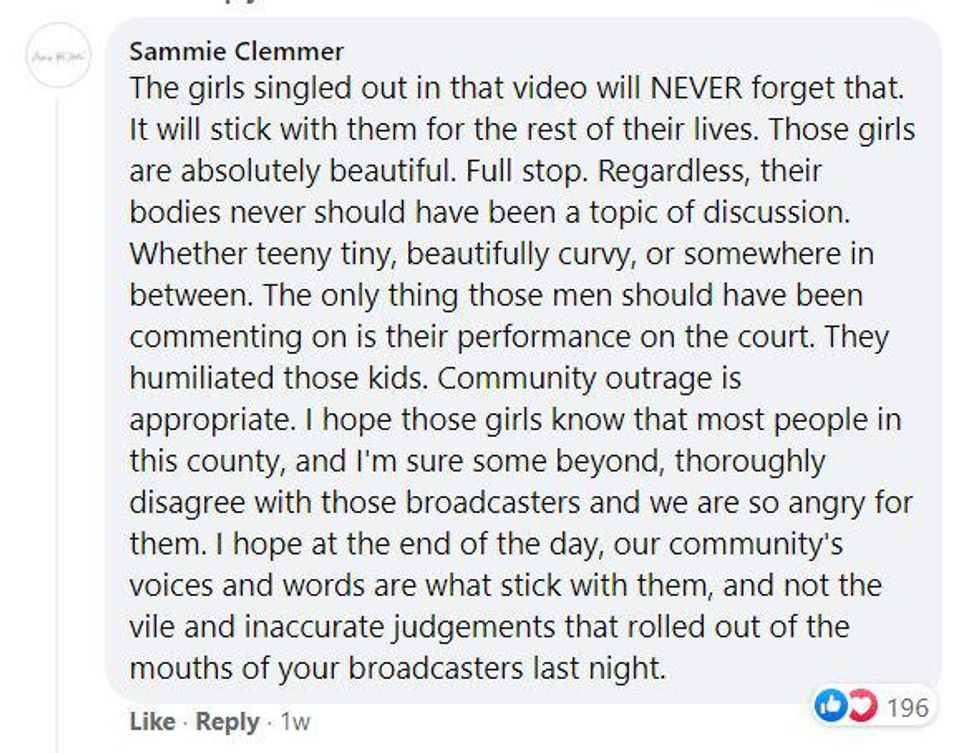 Sammie Clemmer/Facebook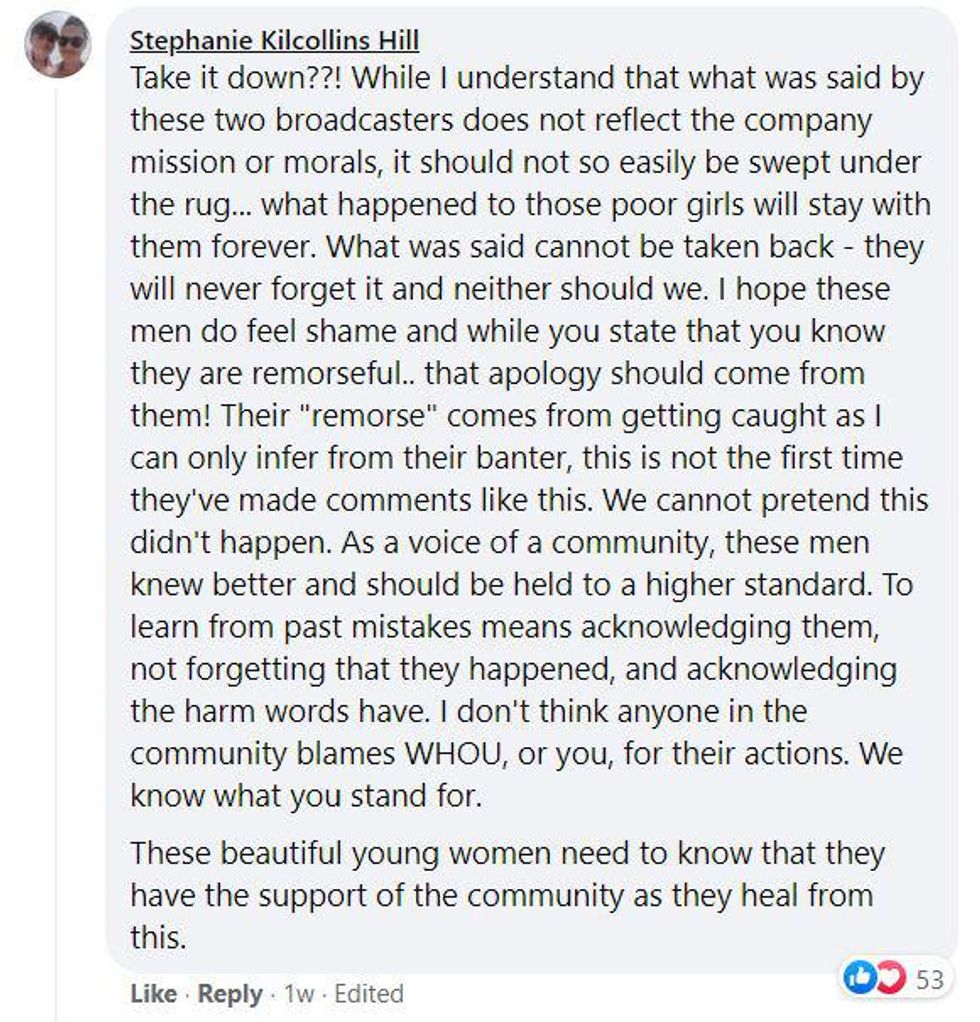 Stephanie Kilcollins Hill/Facebook
Dr. Christine Selby, a professor of psychology at Husson University, spoke of the damage of body shaming on mental health:

"When somebody hears something negative about their body they want to change it, especially if it comes from somebody who's who's important to them, although it doesn't have to be somebody important."
She emphasized the importance of positive support for these students:
"They need to feel like they're supported and that who they are and how they live is perfectly acceptable."
Grant says he feels terminating the broadcasters was the right move and he has no plans to give them a second chance.
Both men are members of Maine athletic halls of fame.
While the halls refused to revoke the men's inclusion, Steve Shaw requested the Maine Basketball Hall of Fame accept his request to withdraw.
The hall voted to accept Shaw's withdrawal.