Demi Lovato has more than a few questions for Donald Trump.
As she explained to CNN:
"There's been so many times that I've wanted to write the president a letter or sit down with him and ask him these questions."
Thinking better of it, though, Demi opted to put those questions into a song. According to her, doing it that way holds him accountable not to just her, but to everyone who knows the lyrics and wonders the same things.

The song, called Commander in Chief, is filled with the kinds of hard-hitting "real talk" questions that many people wish debate moderators or journalists would ask.
For example, the particularly poignant chorus asks:
"Commander in Chief, honestly, if I did the things you do I couldn't sleep. Seriously. Do you even know the truth? We're in a state of crisis. People are dying while you line your pockets deep. Commander in Chief, how does it feel to still be able to breathe?"

It would be easy to dismiss the song as an anthem for liberals, but Demi says that's not the case. Even people who have been lifelong conservatives and Republicans have spoken up to question and criticize Donald Trump - particularly over his handling of this pandemic. This song, according to Demi, is for all of us - regardless of political leaning - who have ever questioned what on earth this president is doing.

The video takes that idea a step further, with fans singing along rather than Demi handling the track alone. The iconic MAGA hat makes an appearance of sorts, though this time it says "Make America United Again."
The video, released on YouTube right around midnight, already has about half a million views as we type this. That's less than nine hours.
Demi is already facing backlash from some. Her social media got hit hard with people telling her to just sing her normal songs and stop making things political. Ms. Lovato's music has always been deeply personal and raw, however, so long-time fans are probably not surprised by the track.
Or by her response: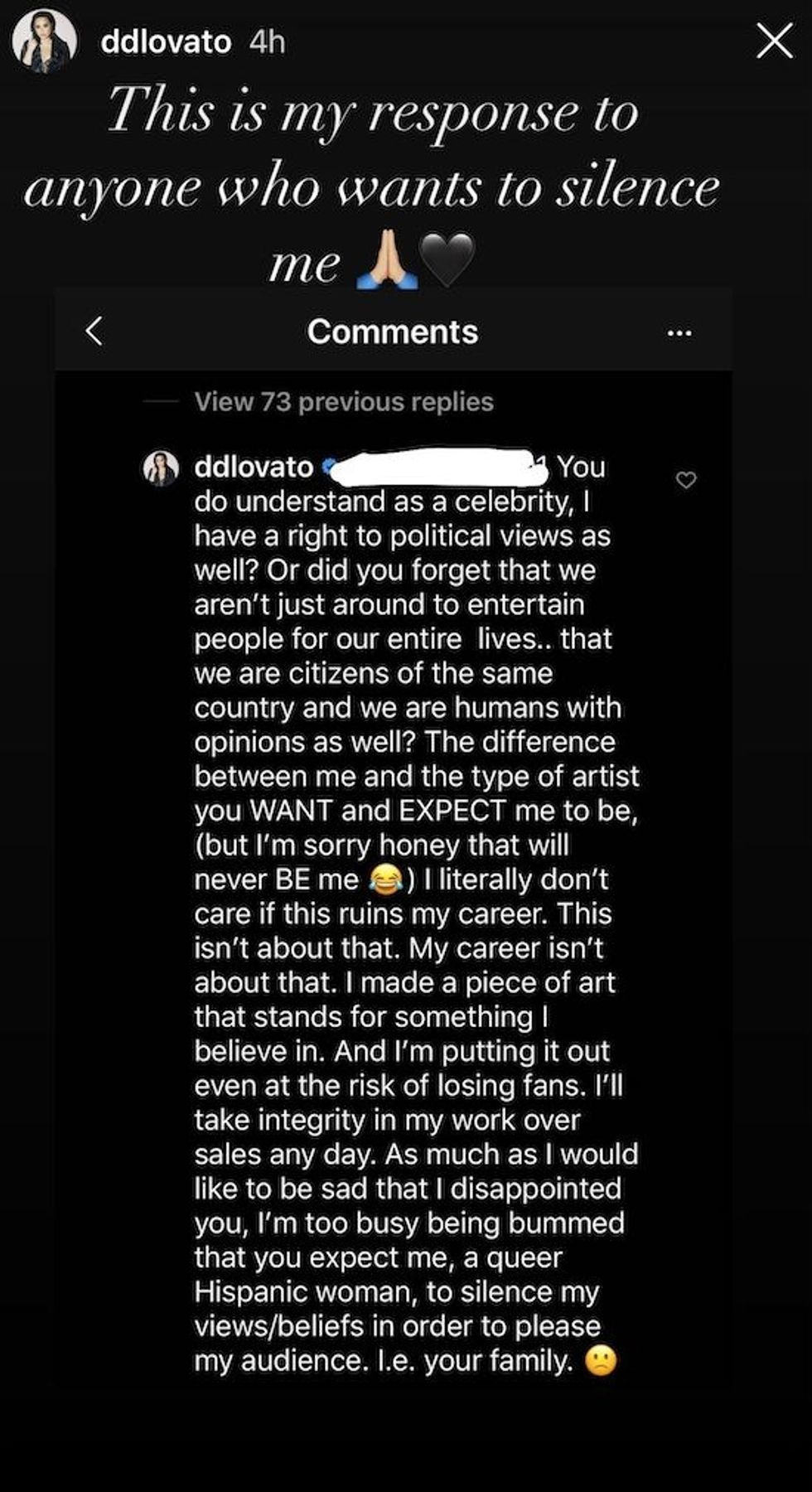 ddlovato / Instagram
Love it or hate it, Twitter was seriously passionate about the song.

Lovato performed the song during the Billboard Music Awards - and NBC is now seeing some heat over the performance, but not for why you might think. The song, however controversial, wasn't the problem for most people.
At the end of the performance, screens behind Demi lit up with the word "vote." She did not endorse a candidate and explained to many media outlets that your political alignment isn't her business - but a representative government requires people to get out and vote. She is encouraging all of us to do so.
With just a few days until the general election, NBC opted to "muzzle" Lovato and remove the call to vote.