Podcaster Joe Rogan has sparked outrage after joking that we should "just shoot homeless people" in order to abate Los Angeles' staggering homeless problem, which is the second-worst in the nation.
The comments were heard in the July 14 episode of Rogan's ever-controversial Spotify podcast The Joe Rogan Experience while interviewing fellow comic Tom Segura.
A clip of the comments, seen below, has gone viral.
In the clip, Rogan and Segura, both very successful comedians, sit smoking cigars while discussing the city's homelessness problem.
Segura brought up new legislation that makes it illegal for the city to seize or dispose of homeless people's possessions. It was was passed after a homeless advocacy group sued the city of Los Angeles over a previous law which allowed the city to dispose of homeless people's belongings if they did not fit into a 60-gallon container.
Segura seemed perturbed by this law, complaining that it impedes the city from keeping new homeless encampments from cropping up amid the city's years-long housing crisis.
He told Rogan:
"When you see stuff like that on the streets, at least in Los Angeles or California, that's protected property. Like by law. That's that person's property by law.
That is of course how property works in countries where people have constitutional rights, including homeless people since they are, you know, people.
Rogan then asked Segura whether if someone were to try to take a homeless person's belongings, they would be arrested—which, again, is how property and theft works, so why this was surprising to these two rich, White male comedians is anyone's guess.
But when Segura confirmed, yes, stealing from a homeless person would result in legal ramifications, Rogan joked:
"But they wouldn't arrest you if you shot somebody. Maybe you should just go shoot the homeless people... I mean nobody does anything about violent crime in LA anymore."
Rogan's joke went over about as well as you might expect on Twitter.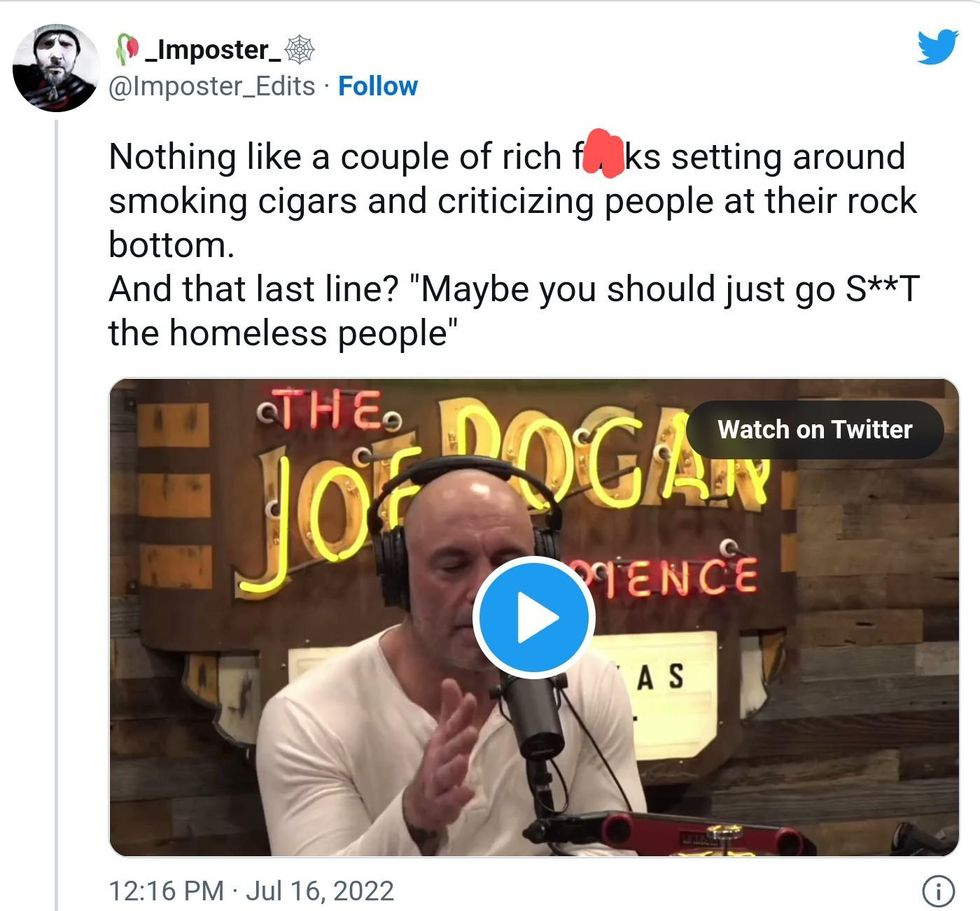 @Imposter_Edits/Twitter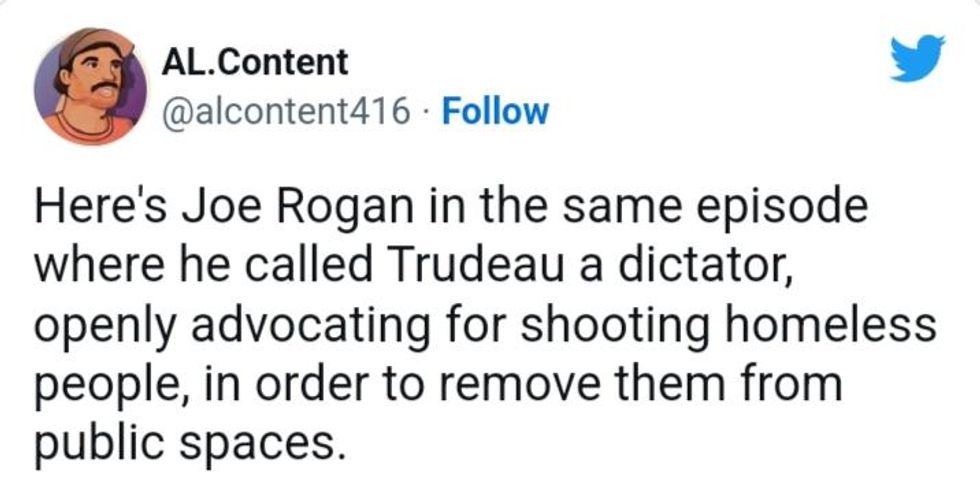 @alcontent416/Twitter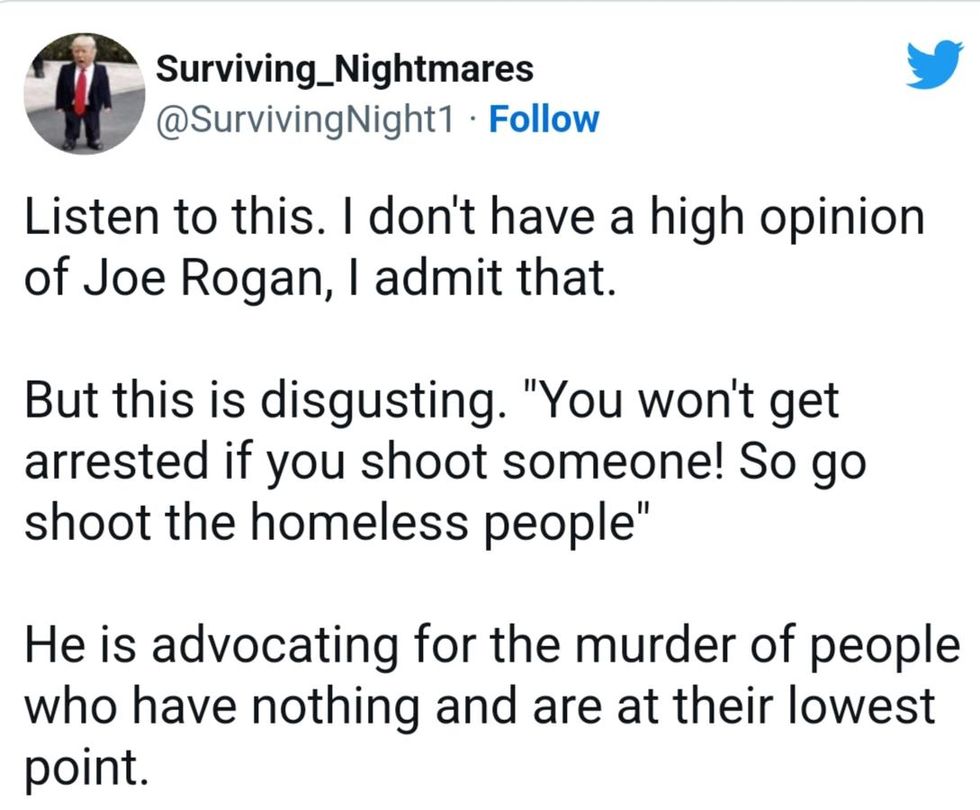 @survivingnight1/Twitter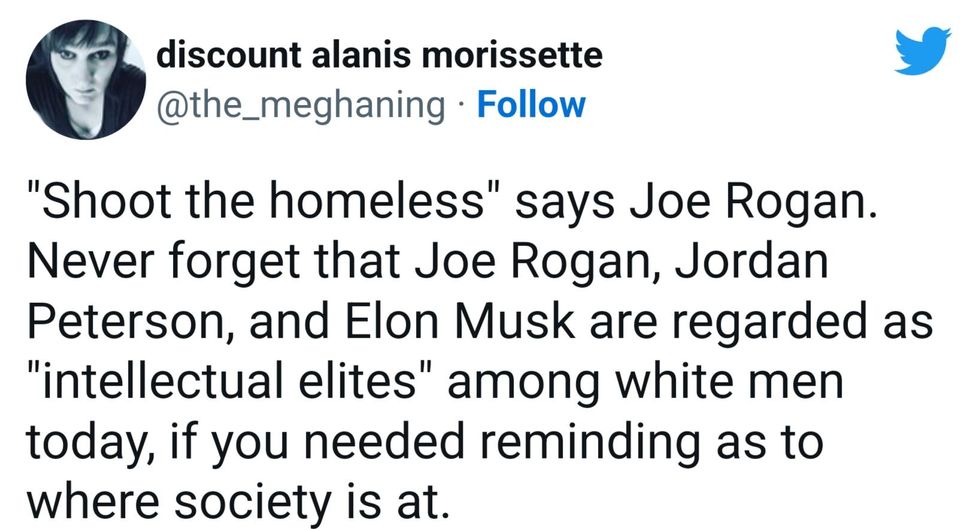 @the_meghaning/Twitter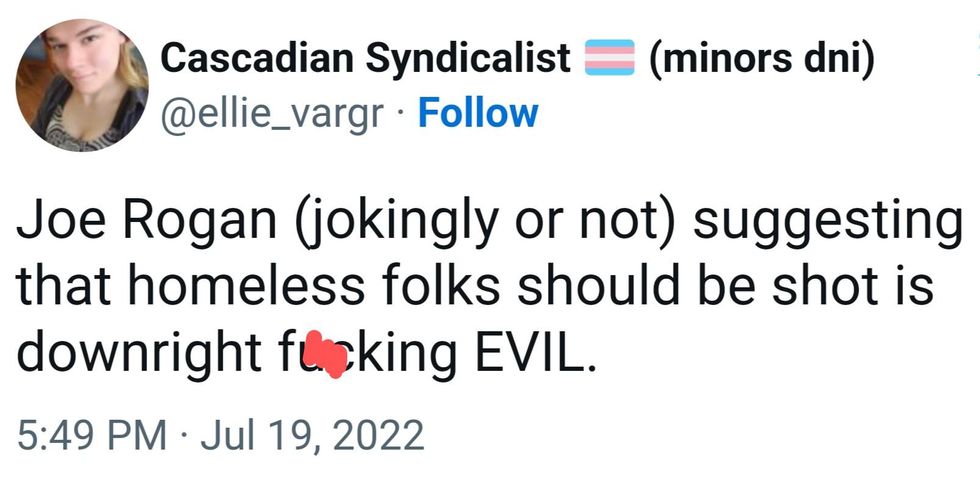 @ellie_vargr/Twitter
Rogan was obviously riffing, but "shoot the homeless" from a guy whose podcast guest list is a who's who of alt-right, White nationalist extremists?
As the famous Maya Angelou quote goes:
"When people show you who they are, believe them the first time."