Right-wing podcast host Joe Rogan had a rockstar encounter during his vacation in Greece when he unexpectedly ran into Axl Rose, the legendary frontman of Guns N' Roses.
The chance meeting resulted in a selfie that quickly went viral—though not for the reason Rogan might have expected given Axl Rose's rather muted reaction.
Rogan shared the photo on Instagram along with footage from Guns N' Roses' electrifying concert in Athens on Saturday, July 22. In his post, Rogan expressed his excitement about the impromptu encounter with Axl Rose and how he was invited to attend the concert.
He wrote:
"Was in Greece on vacation and randomly ran into Axl Rose at a restaurant. He invited us to see @gunsnroses in Athens, and it was F***ING AMAZING. They went HARD for 3 hours in the blazing heat and the crowd was incredible."
"If you have a chance to see them near you I can't recommend it enough."
You can see the selfie below.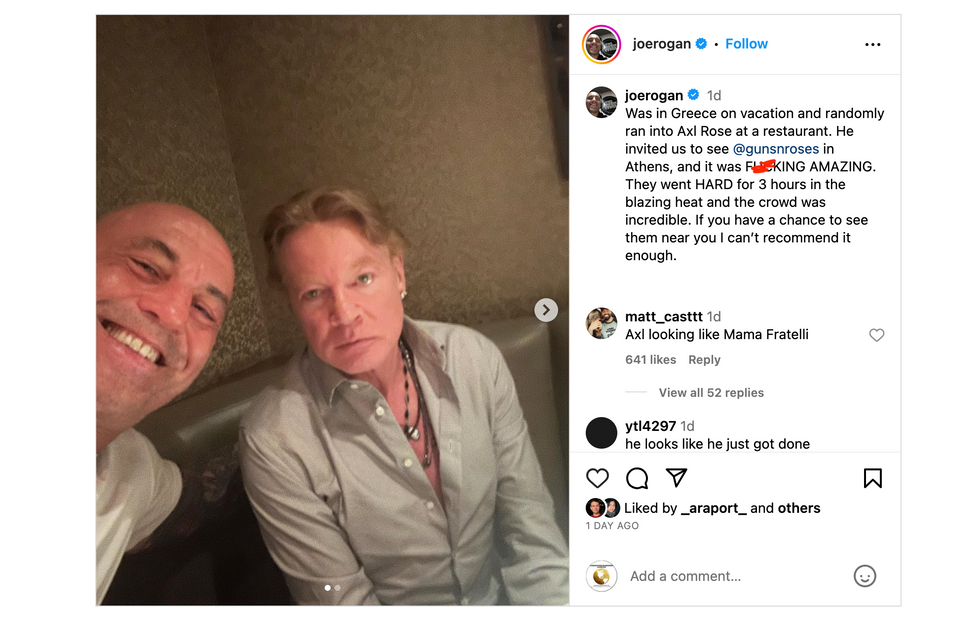 @joerogan/Instagram
However, the internet quickly noticed the apparent discrepancy in expressions in the selfie. While Rogan was seen beaming with joy, Axl Rose appeared rather stoic, leading to amusing comments and memes across social media.
The comments quickly rolled in.

Despite the humorous reactions online, Rose apparently showed some hospitality to Rogan by gifting him with tickets and backstage passes to the concert. This gesture suggests that the encounter may have been more friendly and lighthearted than the snapshot captured.
The jokes at Rogan's expense are among the more lighthearted ones associated with the podcaster, who has often been at the center of controversy for providing a platform for White nationalists and conspiracy theorists.
Last year, a compilation video showing Rogan saying the N-word more than two dozen times went viral. Rogan, of course, insisted that his words were "taken out of context."
Rogan was also the focus of a Spotify controversy after multiple artists threatened to cancel their contracts over Rogan's podcast The Joe Rogan Experience, which they said was spreading false information about vaccines.