---
Jimmy Fallon kicked off The Tonight Show program on Friday night with a monologue featuring the top 5 blunders in Donald Trump's turbulent first year as president.
After taking a dig at Papa John's founder John Schnatter stepping down as CEO, Fallon continued with his next topic. "Let's check in on President Trump," said the host, to which the studio audience can be heard with some audible ooh's, bracing themselves. "I heard that he will be celebrating new year's eve with a party at Mar-a-Lago. When asked who can go Trump said, 'Anyone who's been indicted, I mean invited.'"
Fallon shared his excitement for the upcoming new year countdown, saying, "I love new year's eve," before sharing a special countdown of his own. "This has been such a crazy year with Trump in office; we decided to countdown or favorite Trump moments of 2017 very quickly. There's only five."
T was the night before Christmas told by Donald Trump. Excellent work by Jimmy Fallon https://t.co/LYurA4VzXF

— Dominic Theuns (@Dominic Theuns) 1513347017.0
In a video montage that displayed many brilliant, not-so-brilliant moments of 45 in action.
Only one of his many awkwardly prolonged handshakes made the clip, as did footage of him sipping water like a child with both hands clasping glass tumbler.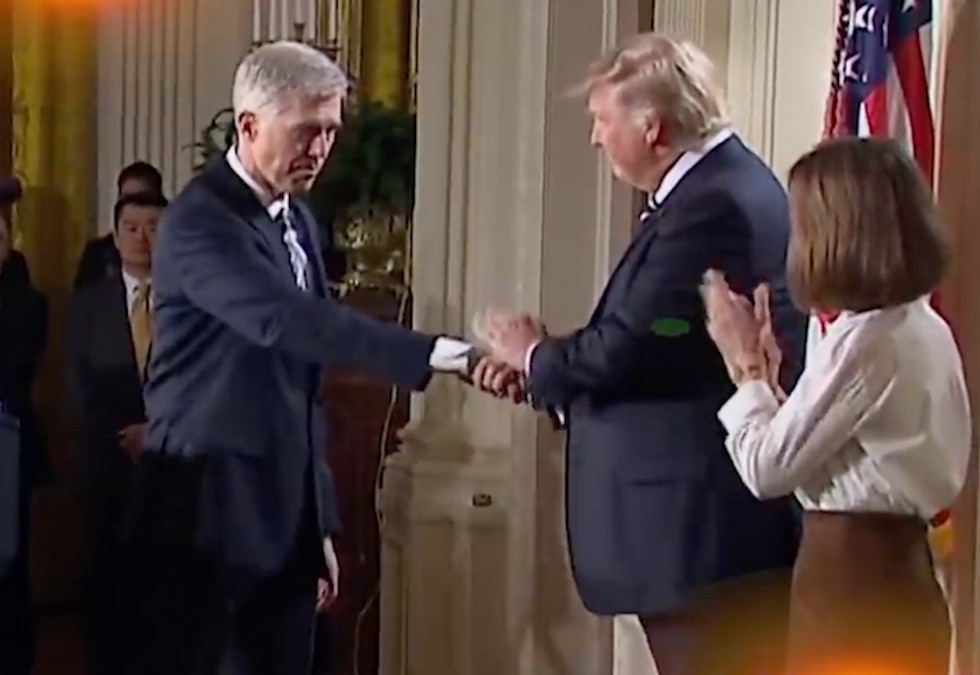 Jimmy Fallon's Top 5 Donald Trump gaffes https://t.co/AgysEShDVx

— Stu Bykofsky (@Stu Bykofsky) 1514059763.0
Another priceless moment was caught on video with Trump shoving his way past world leaders like Montenegro Prime Minister Dusko Markovic.
The countdown kicked off with the classic moment when Trump appeared at the U.N. General Assembly on September 18.
The overwhelmed commander in chief had little knowledge of how to command the console in front of him, and was caught on camera leaning over to the organization's Secretary-General António Guterres and asking him, "Does red mean it's on, or it's off?"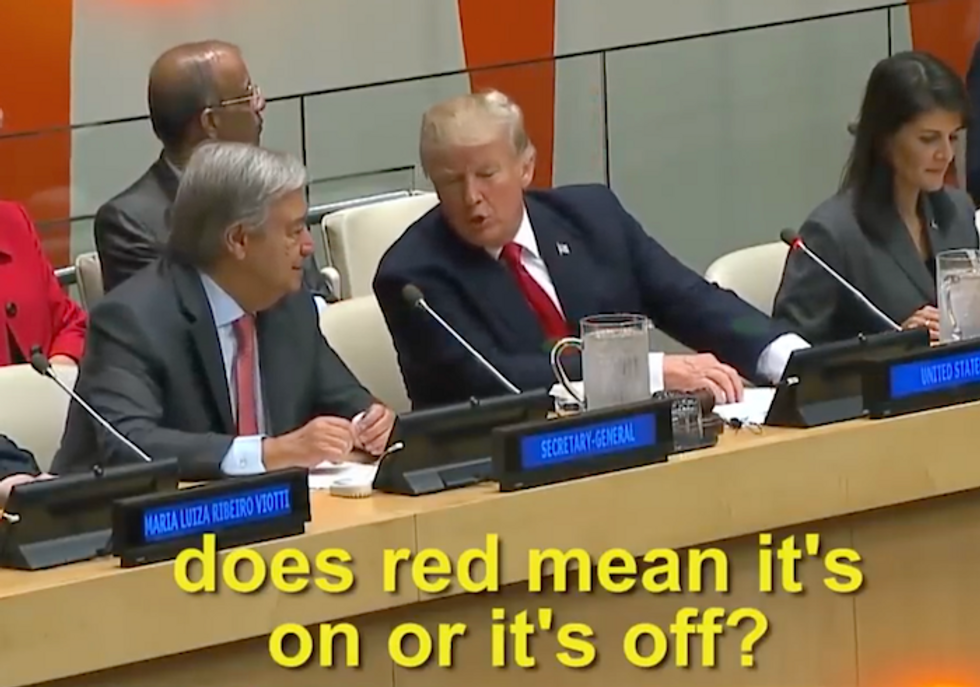 The incident sparked a headline from The Mirror that read, "Donald Trump doesn't know what the red button does and the world should be VERY afraid."
@jimmyfallon top 5 #trump moments of the year was priceless! #IdiotinChief #MoronInChief #Dotard #NotMyPresident https://t.co/DNELGIyL1O

— OneWomanStrong 🇺🇸 (@OneWomanStrong 🇺🇸) 1514004162.0
But perhaps the most winning gaffe of them all was when Trump slurred his words during his speech in which he recognized the capital of Israel and announced plans to build an embassy there. Trump concluded his speech with an almost unintelligible sendoff, saying, "And God bless, the Unidudh Shhtates." Fallon's studio audience erupted in laughter.
That slurred speech, by the way, had an explanation, as with everything that Trump does.
"His throat was dry. There's nothing to it," explained the White House spokesman, Raj Shah.
2017 may be almost over, but the possibilities of new gaffes from Trump for the remainder of the year are endless.
Please SHARE this with your friends and family.
H/T - LAtimes, Twitter, HuffingtonPost, Mirror, YouTube