The people stepped up to help solve a deadly crime.
---
Trooper Johnna Batiste of Washington State Police needed some help catching a hit-and-run driver.
WSP is investigating a felony hit and run collision at SR7/320th. A bicyclist was struck and killed sometime betwee… https://t.co/x0ud9SnGwB

— Trooper Robert Reyer (@Trooper Robert Reyer)1533841170.0
So she sent out a picture of a car part. The mystery part was part of the crime scene and believed to be a link to the unidentified driver suspected of killing a cyclist. Batiste also included a photo of the destroyed bike.

The roadway is open SR7/320th. Troopers and detectives are still looking for a black vehicle believed to be involve… https://t.co/RxDy8IIKAJ

— Trooper Robert Reyer (@Trooper Robert Reyer)1533854075.0
After the tweet found it's way to Reddit to a sub-category "What Is This Thing", is when a user JeffNuts, a former Maryland state inspector was able to identify the part at part of the headlamp from 1988 Chevrolet Silverado truck.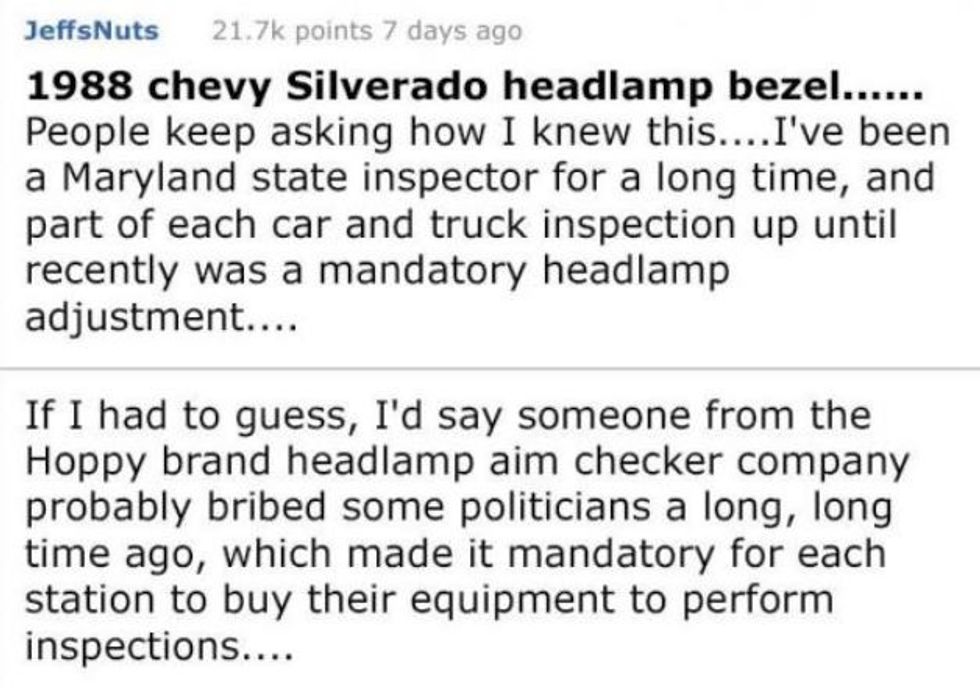 Screenshot Reddit
Thank you everyone so much for your support in this investigation. I'm meeting again with the detectives tomorrow a… https://t.co/0RYZEufsOt

— Trooper Robert Reyer (@Trooper Robert Reyer)1533873796.0
Shockingly, a few days later Trooper Batiste posted again that because of the tip, they had arrested the suspect.

WSP detectives made an arrest today for Thursday's fatal bicyclist hit and run in Eatonville. Reddit users identify… https://t.co/XiWk4J55JR

— Trooper Robert Reyer (@Trooper Robert Reyer)1534284213.0
People were feeling pretty proud of the internet.
@wspd1pio Look at the internet today, being all useful and everything. Great police work and civilian assist

— Melanie De La Cruz (@Melanie De La Cruz)1534285519.0
@wspd1pio Hey general public: Millions of car enthusiasts are very intimately familiar with many of the pieces of t… https://t.co/hs4rgpWTON

— Paul Throckmorton (@Paul Throckmorton)1534352764.0
@wspd1pio As a local cyclist everyone involved in this should be commended! Safe roads for all.

— Edlalu (@Edlalu)1534290560.0
@wspd1pio Strong work all around! #GoodJob everyone 👌🏽👍🏽

— Gary Grafter (@Gary Grafter)1534395082.0
With a special shout out going to the man himself.
@wspd1pio Credit goes to /u/JeffsNuts https://t.co/pH9ywkmyq2

— Freez (@Freez)1534284953.0
@wspd1pio SWOOSH! AND IT'S JEFFSNUTS with the assist! https://t.co/9uapLfTauY

— Gary Braden (@Gary Braden)1534357841.0
Citizen team work for the win.
H/T: Indy100, Bored Panda