A couple of devoted animal lovers revealed how all their Christmases came at once when their beloved reindeer – who they feared would need to be put down because of a severely injured leg – was saved by physiotherapy in time to pull his first sleigh this Yuletide.
---
Paul Gibson, 48, who runs Ayrshire Reindeer Centre in Fenwick, Scotland, with his wife Leanne, 44, was horrified when, one day back in October 2017, he found Dasher, the "cheekiest" of their 10 reindeer, with a seriously injured left hind leg.
Then just three years old, the animal's left ankle had completely turned over, meaning he could not bear any weight and this, coupled with a nasty wound from dragging the limb behind him, meant they feared he'd need to be put down.
A couple of devoted animal lovers have revealed how their beloved reindeer was saved by physiotherapy in time to pu… https://t.co/ZqCTn7TtKw

— PA Media (@PA Media) 1577089323.0
Then, at the 11th hour, his savior arrived in the form of Lara Kats, 47, a veterinary physiotherapist who lived nearby in Dunlop, East Ayrshire and agreed to treat Dasher – spending two months building up his strength and visiting three times a week until he was back on his hooves.
Now Paul says the magnificent bull – a male reindeer – is in fine fettle and set to pull his first festive sleigh, adding: "Dasher is really clumsy. If there's ever any trouble, it's bound to be him at the center of it. He's just really daft.
"We don't know exactly how he hurt his leg, but his ankle was totally turned over. Other reindeer herders we spoke to said it really didn't look good. We absolutely didn't want to put him down, so we're so thankful we found Lara. She fell in love with him and we've never looked back."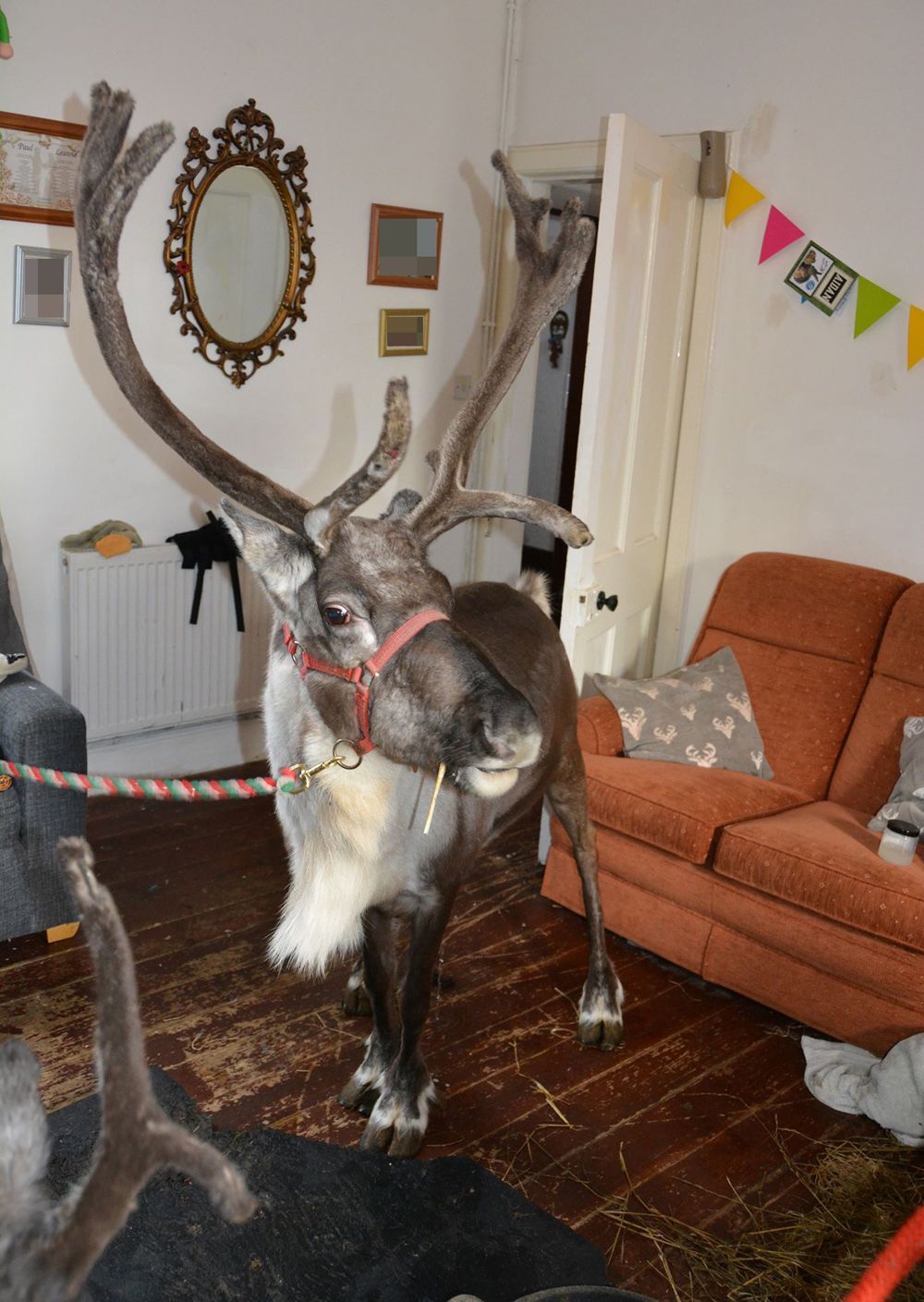 Dasher on the mend (PA Real Life/Geoff Clark)
Paul added: "Plus, Colin at Abbey Vets in Paisley, who cares for the herd, was absolutely fantastic too."
Paul, who had always kept horses as a hobby, was working as a limousine driver and living on a farm with Leanne, her son James, 26, from a previous relationship and their boys Jake, 14, Aidan, 13, Daniel, 10, and Logan, seven, when he swapped careers after seeing some reindeer on sale.
Seeing an opportunity for a far more rewarding career raising the amazing animals – which were from a Swedish farm – caring for them, then hiring them out for festive events, in 2007 he and Leanne opened The Ayrshire Reindeer Center.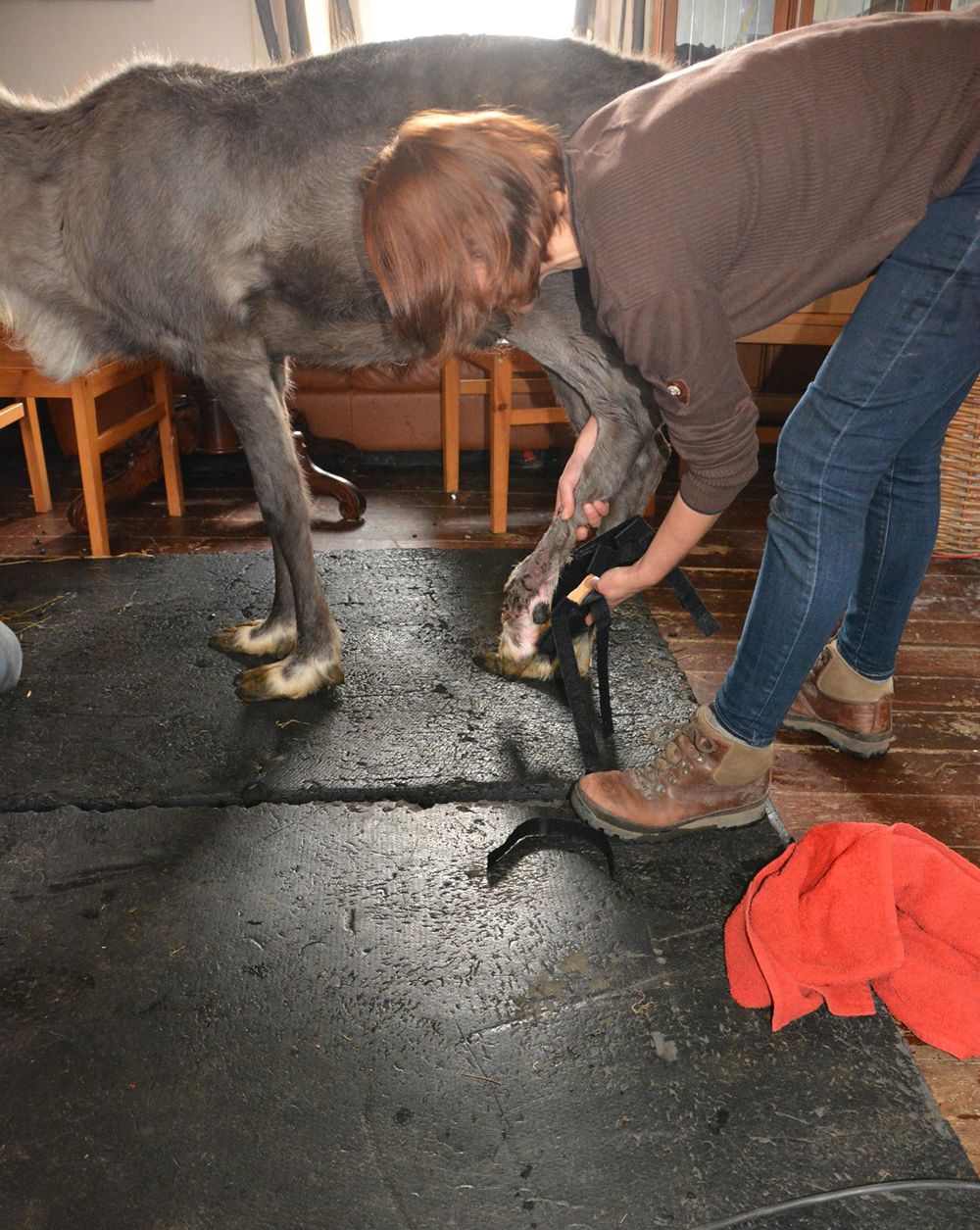 Lara doing physio with Dasher (PA Real Life/Geoff Clark)
"We'd always had horses as a hobby and as something nice for the kids," said Paul. "Then, the idea came to me to keep reindeer on the farm too, and it just flourished."
Now, with 10 reindeer in total – two from Sweden, and the rest from elsewhere in Britain – when they add to their herd, they usually invite local schools to name them.
So, as well as Dasher, they also have Dancer, Donner, Blitzen and Rudolph, plus Holly, Princess, Pogo, Bluebell and Mika.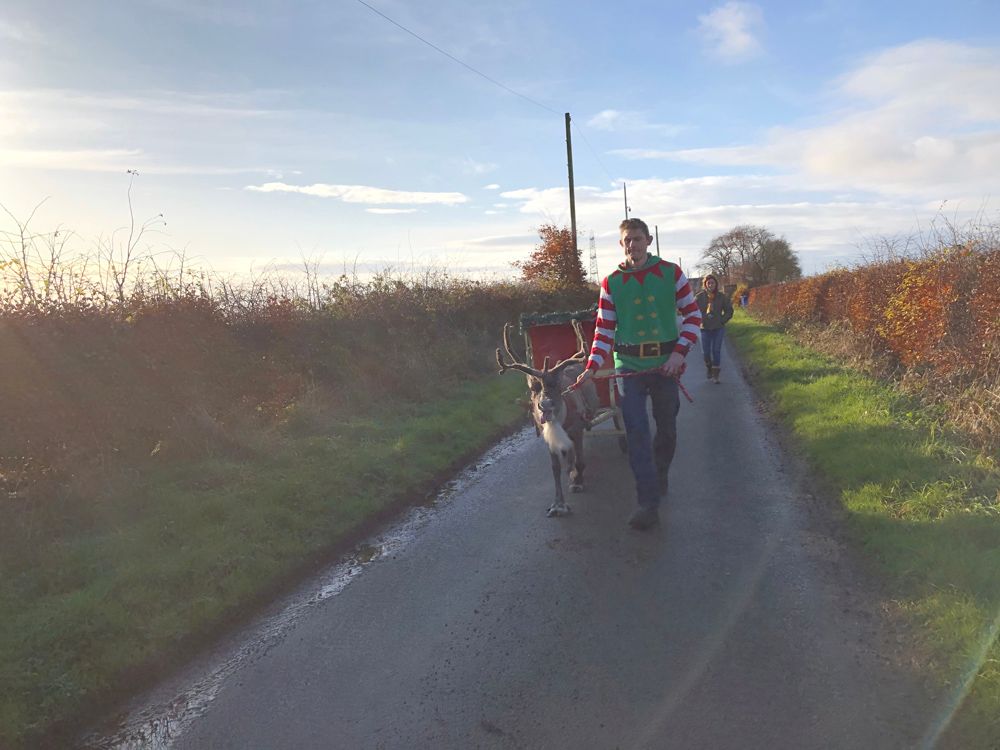 Paul helping Dasher practice pulling a sleigh (PA Real Life/Laura Paterson)
"Looking after them is a lot of work," Paul explained. "Reindeer aren't just for Christmas, so we want to give them the best care all year round.
"We start by giving them their first feed at 7am, then do our last checks to make sure they are all safe and happy at around midnight, so it is a really long day.
"We do have CCTV that looks over the whole farm, but we prefer to check on them in person, as it's nice to physically say hello and touch them. It keeps that bond alive. The boys all help out too, so the reindeer are very comfortable around kids."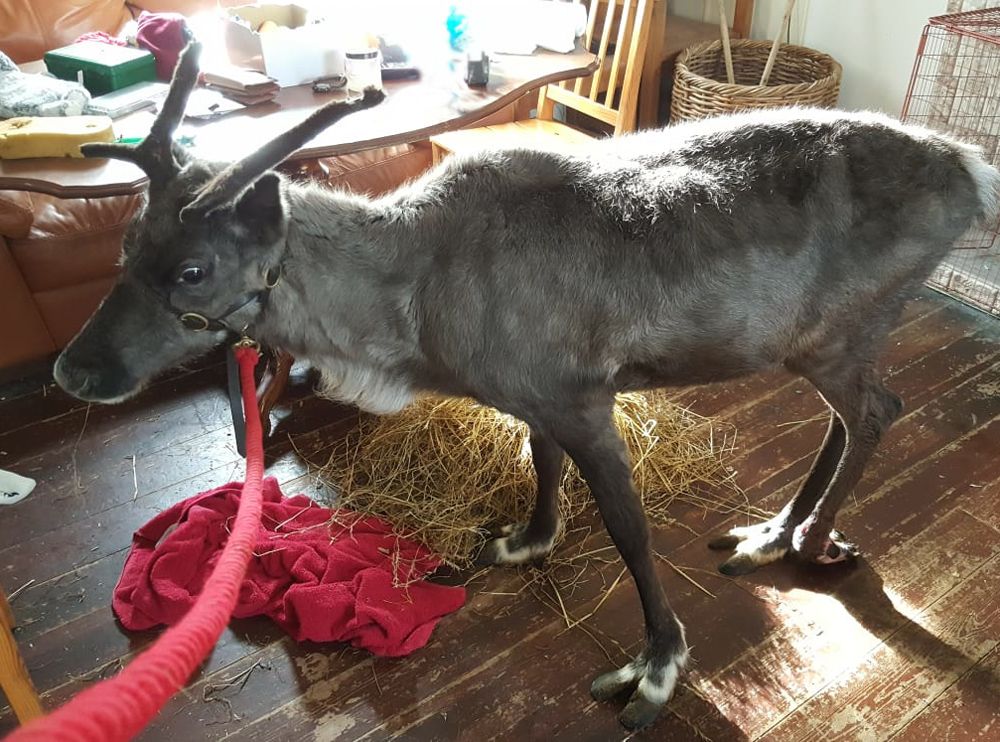 Dasher showing where his back foot was injured (PA Real Life/Collect)
But, disaster struck in October 2017, when Dasher, now five, hurt his hind leg so severely that he could barely walk.
After phoning around every vet and reindeer herder they could think of, Paul and Leanne feared the worst.
Then in November, a local vet referred them to Lara, who is a member of the Chartered Society of Physiotherapy, suggesting she may be able to help as, while she qualified as a physiotherapist to humans in 1997, she got her first horse the following year – making her wonder about retraining to officially offer her services to animals.
Who are #ACPAT?! . . We are a specialist interest group of the @thecsp. We have undergone a minimum of five years… https://t.co/0hqOme85m7

— ACPAT (@ACPAT) 1534318178.0
So, in 2000, when London's Royal Veterinary College introduced a new master's degree in veterinary physiotherapy, she was thrilled to land a place on the course – becoming one of the first students to become qualified in 2001, when she left human physio behind to treat animals full time.
And she was happy to help when Paul called her about Dasher in November 2017, saying: "I honestly thought it was a hoax call at first. But then Paul mentioned he'd been given my name by a vet I knew, and I realized it was genuine – he really did have a reindeer needing treatment.
"He said poor Dasher had a horrid injury in his hind leg, and a wound where he'd been dragging it behind him. It was that bad that he couldn't straighten it. "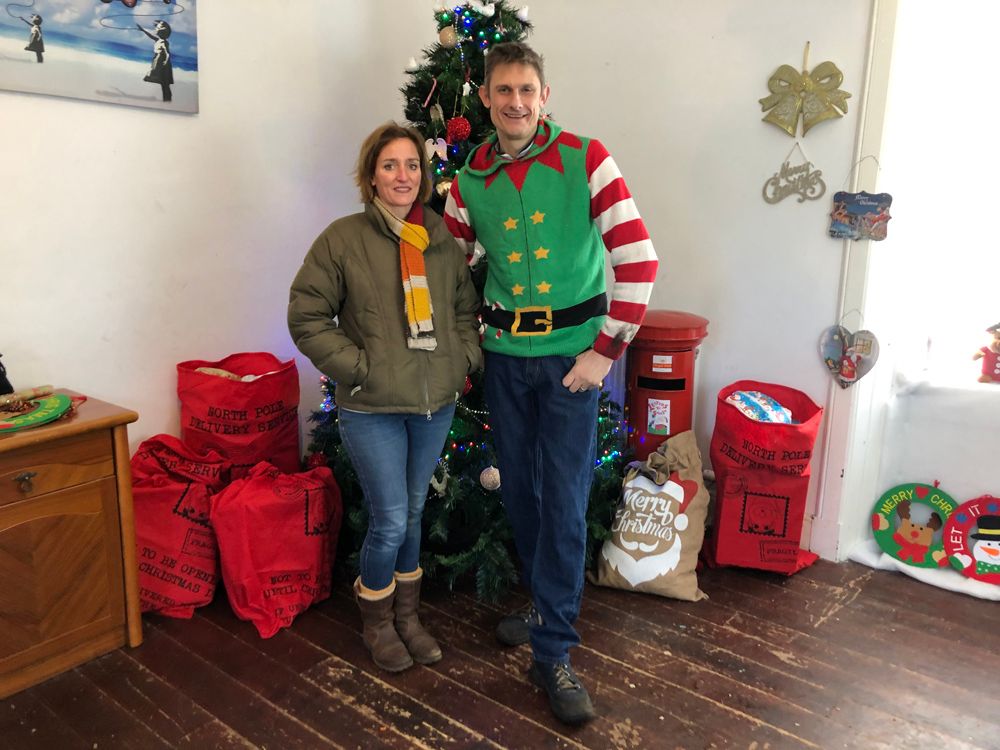 Paul and Lara (PA Real Life/Laura Paterson)
She was one of the few medics who had agreed to come out and examine Dasher, which filled his owners with hope.
Meeting him for the first time when Paul brought him into the family living room, Dasher had a cast on his leg, which had been put on by the vet, but was still really struggling to walk properly and could not put any weight on his injured limb.
"My heart sank when I first saw him, as most of me thought he would end up needing to be put down," Lara explained. "In the beginning, I had to start out pretty much using brute force, manually supporting his body whilst getting him to gently straighten his leg and place it on the floor."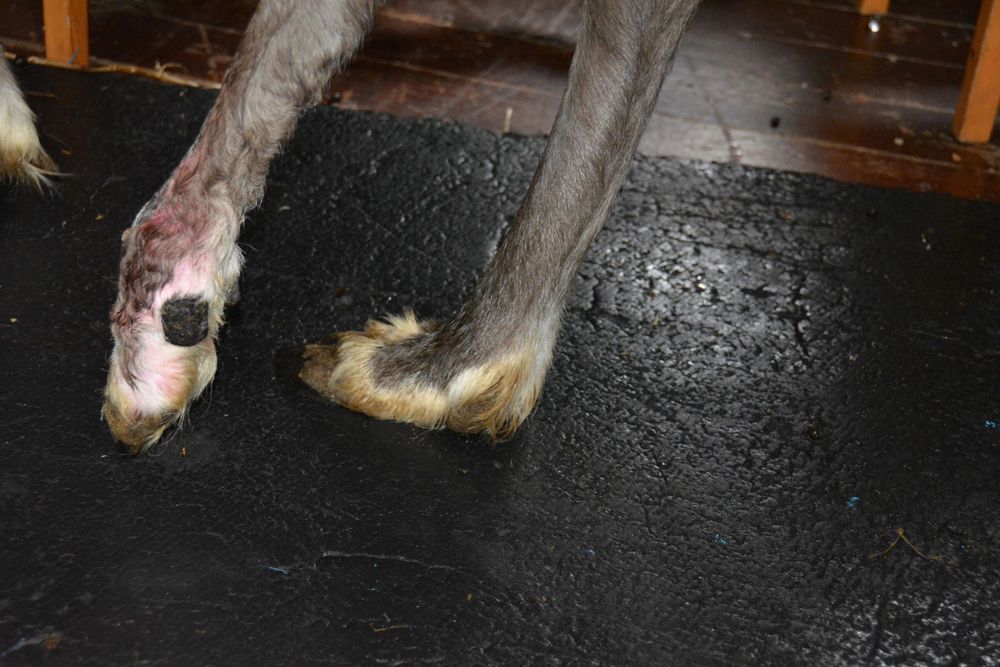 Dasher's poorly foot (PA Real Life/Geoff Clark)
Lara said: "I learned a lot from Dasher. Before, I didn't know anything about reindeer, behaviorally – I'd mainly treated horses and dogs.
"But Dasher has a really easy temperament. We were doing some tough exercises, but he was great and I knew we had to keep going or else he may be put down.
"Plus, Leanne and Paul were there and they know everything there is to know about reindeer."
As well as having laser therapy to treat his wound, Dasher had physio three times a week.
Usually working with him in the living room of Paul and Leanne's house, Lara would guide him through various different exercises, including lunging, which is often used by trainers to help horses build their muscles and improve their fitness levels, without having a rider on their backs.
Though progress was slow at first, Dasher, who was lame for a total of two months, was eventually able to bear weight on his injured leg. And by January 2018, he was walking normally once again.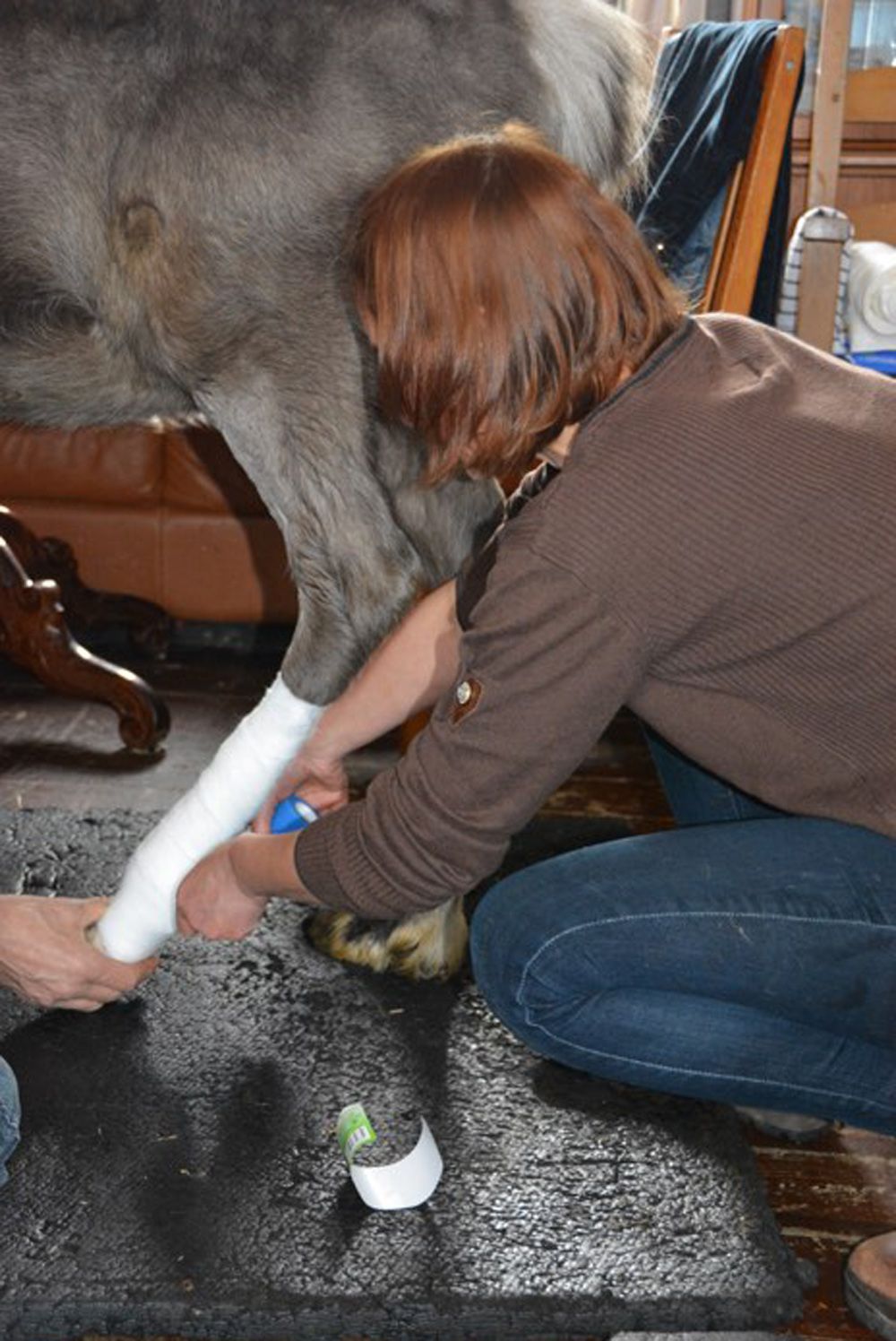 Lara doing physio with Dasher (PA Real Life/Geoff Clark)
"He missed Christmas, but his welfare is more important than making money, so the main thing is that he was healthy again," said Paul. "Lara was amazing. She showed us what to do in case it ever happened again, and we trusted her completely.
"In the farming industry, it's often the case that animals are euthanized if treatment is too expensive, or won't actually help them do what they're on the farm to do.
"But aside from his leg, Dasher was a completely healthy reindeer and we really didn't want to put him down."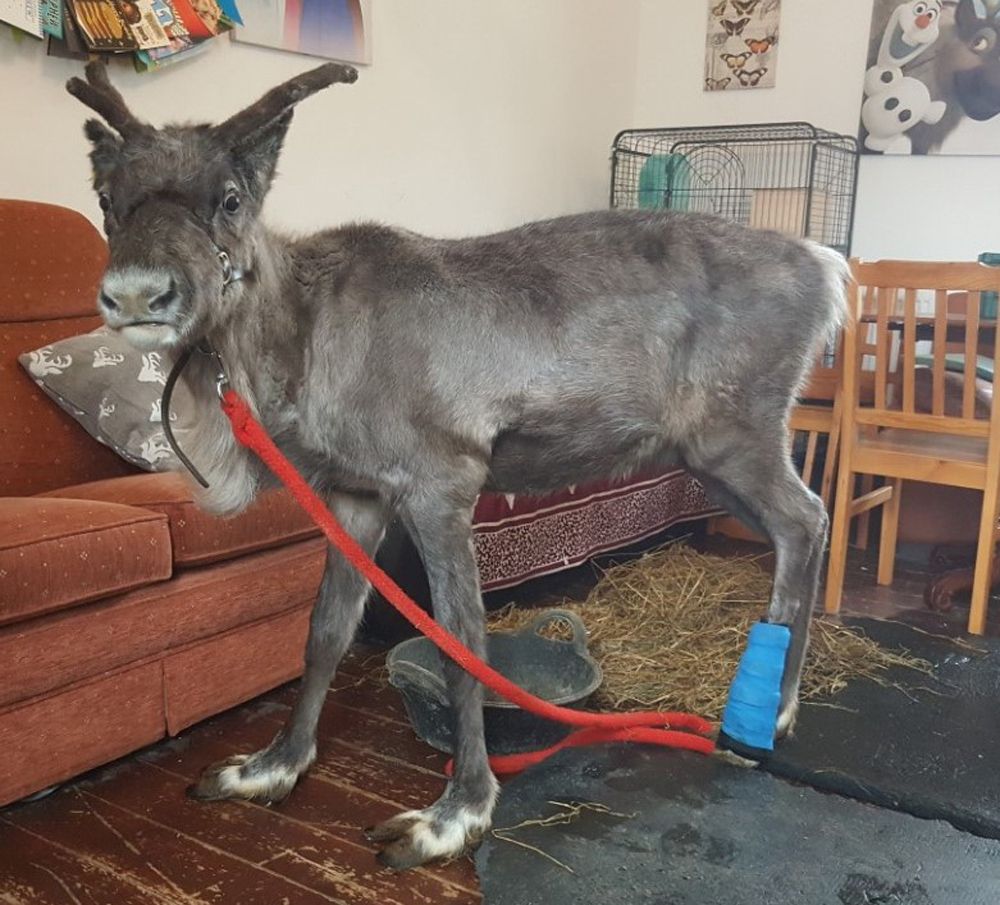 Dasher showing where his back foot was injured (PA Real Life/Collect)
Last Christmas, Dasher was able to attend a few appearances, including school visits.
But when he hurt his leg once again, this time climbing trees, Paul and Leanne decided to let him rest, in order to avoid causing further damage.
This year, though, he is back to his best and even being taught to pull a sleigh for the first time ahead of the festive season.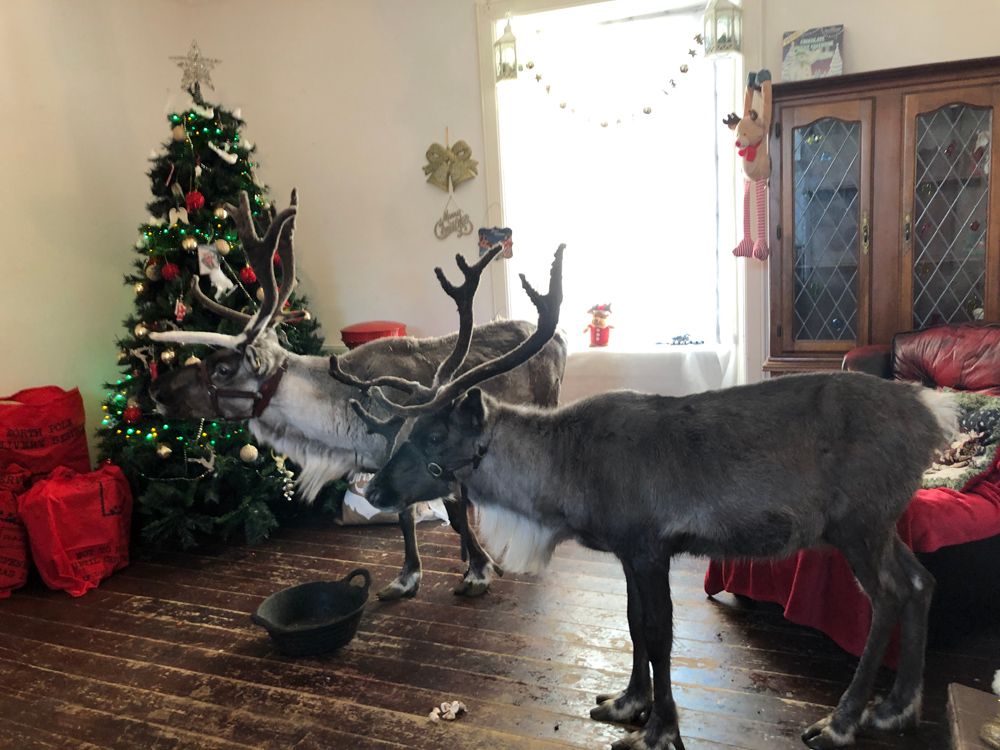 Dasher with one of his fellow reindeer, Pogo (PA Real Life/Laura Paterson)
Paul explained: "This year is the first time he'll pull a sleigh. It's in a reindeer's DNA, and they love it. He won't be pulling any objects or people, we're just training him to pull the sleigh itself.
"He'll also be doing a couple of appearances, including going around schools. He's great around kids and loves the attention.
"He's always the first reindeer at the gates wanting a fuss. He's cheeky and daft, but we don't want to change that part of his personality, as it's what makes him Dasher."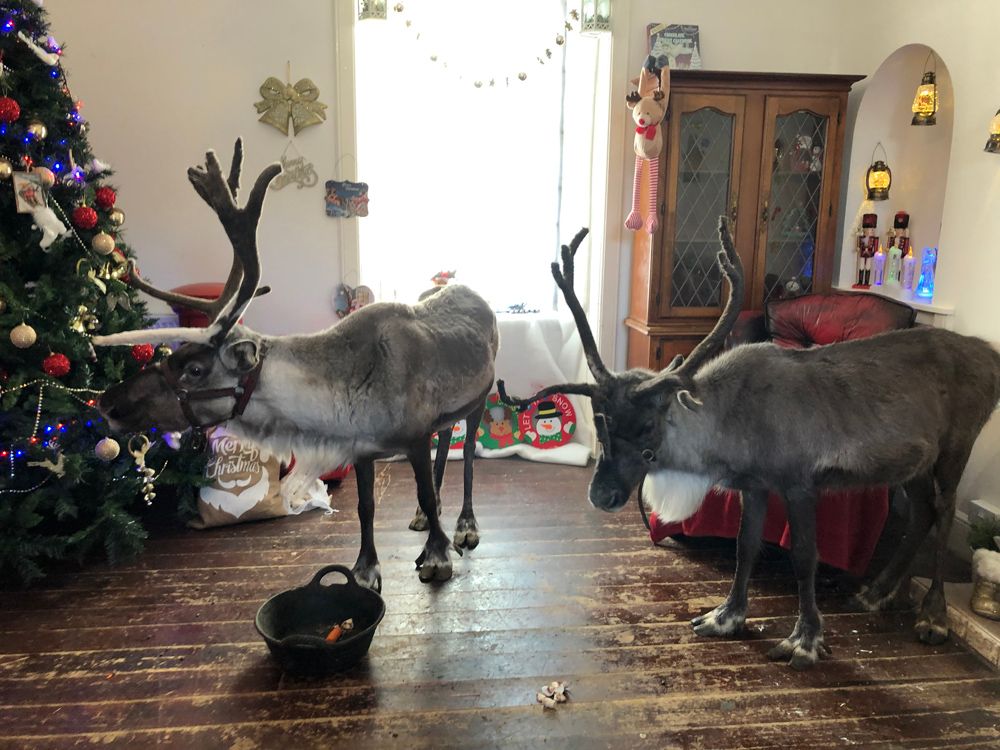 Dasher with one of his fellow reindeer, Pogo (PA Real Life/Laura Paterson)
And last month, Lara was reunited with Dasher at Christmas for the first time since she stopped treating him in early 2018.
She concluded: "When I started treating him, the progress was slow, but then he came on leaps and bounds, and I've heard he's done great since then.
"I've had messages from a few friends who have seen Dasher in local parades saying, 'I've just spotted your reindeer friend.' It was lovely to see Paul and Leanne too, as they are really special people."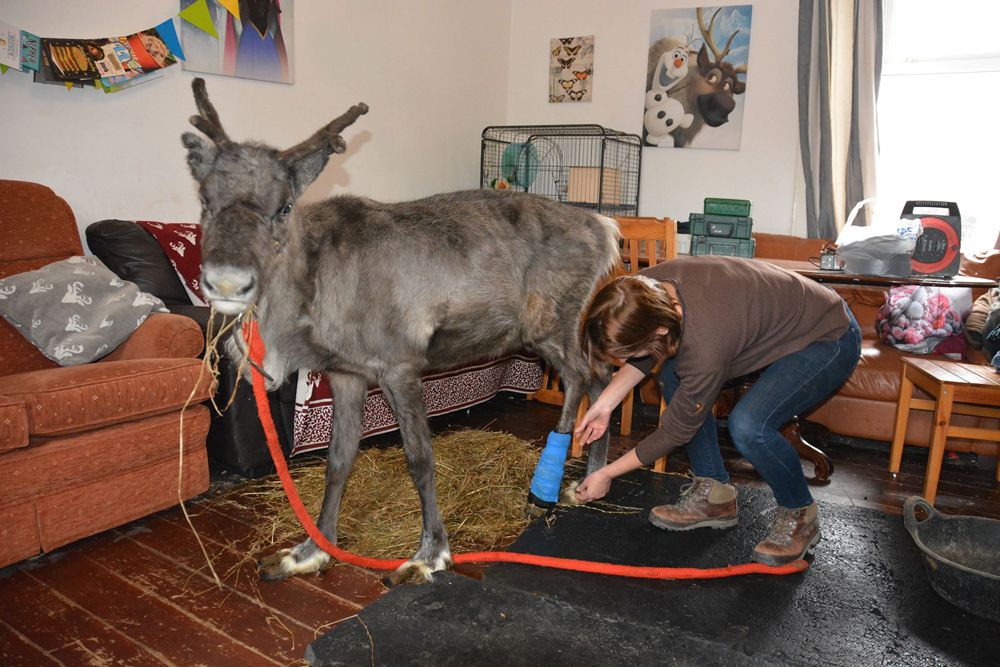 Lara doing physio with Dasher (PA Real Life/Geoff Clark)
Lara concluded: "Colin, Abbey Vets and the part they played in rescuing Dasher shouldn't be forgotten, but it was really fun to be able to help.
"Lunging with a reindeer in the middle of a living room was one of those moments where I thought, 'I should really write a book about my job with the stories I could tell.'
"It is the people and seeing what they are prepared to do for their animals, though, that really make my job."
For information, visit www.csp.org.uk