A Black TikToker at a gym was allegedly told by an elderly White man that her hair "could make for a good mop" as the two were exercising on treadmills near each other.
Christina Abiola posted the video which was seen over 1.5 million times, according to the Daily Dot.
The overlaying text in the viral video read:

"One day before this Man said my hair could be used a good mop!"
TikTokers were dismayed at the audacious comment.


@christinaabiola/TikTok

@christinaabiola/TikTok

@christinaabiola/TikTok

@christinaabiola/TikTok
In a follow-up video, she asked followers to help her determine if the comment was indicative of "racism or ignorance" or a combination of both as she recounted what happened.
She said when the elderly man asked if her hair was "real or if it was extensions," she indulged him by answering they were extensions and moved on with her workout.

But when she finished her run on the treadmill, the inquisitive man prodded further by asking how long it took her to "do that style."
Noting how intrigued he was about her hair, she decided to take an opportunity to "educate this White man."
She told him it took nine hours to do her hair, to which he was astounded and told her he thought her extensions could be used as a mop.
At that moment, Abiola paused and withheld going off on this person at the gym but was shocked over the ignorant remark.

"This is a hairstyle that people wear naturally," she explained to followers in the video.
"This is people's natural hair."
The votes were in.

@christinaabiola/TikTok

@christinaabiola/TikTok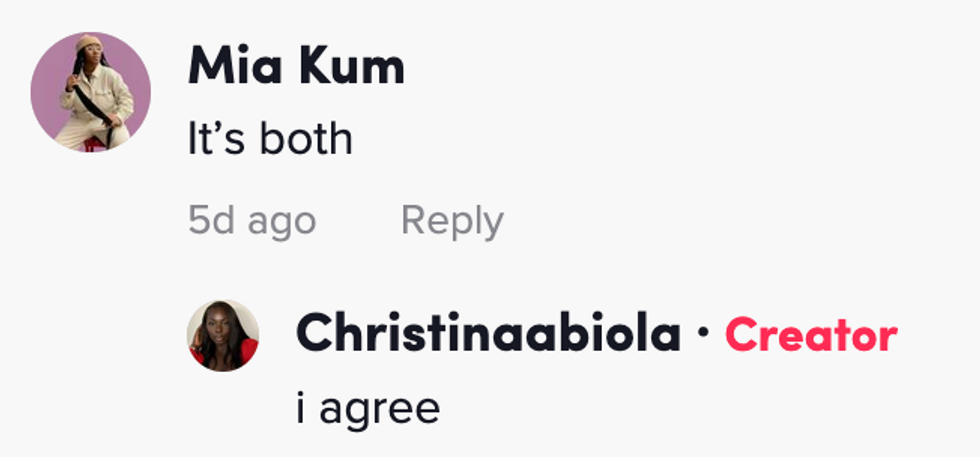 @christinaabiola/TikTok

@christinaabiola/TikTok

@christinaabiola/TikTok
"I'm not good with confrontation, but he wasn't getting by free," Abiola wrote in the caption for another follow-up video in which her husband, Lamar, had a conversation with the man.
Lamar explained to him that his comment about his wife's hair did not sit well with her.
"And I think she may have taken it a different way than you intended it," said Lamar.
"I think she took it the wrong way and that happens in today's world."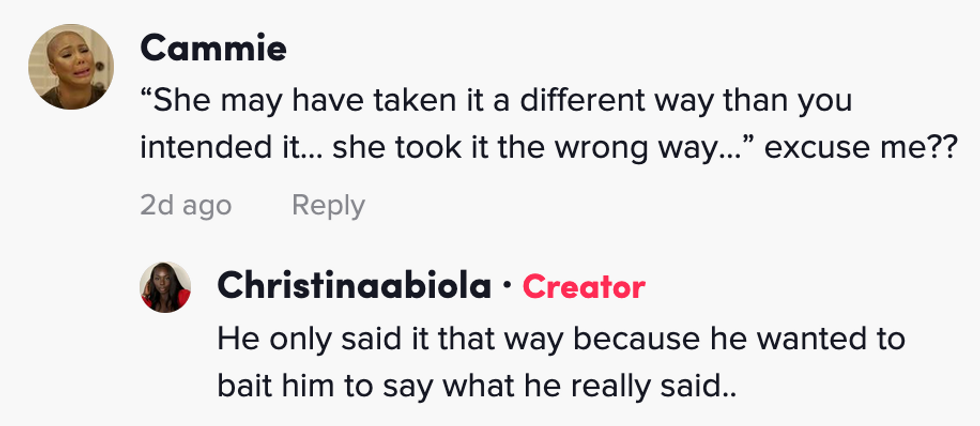 @christinaabiola/TikTok
Based on their interaction, Lamar told the elderly gymgoer that he could sense he was "a sweet man."
He responded, "well I'm not a sweet man but I didn't mean to offend her. I thought it was nice."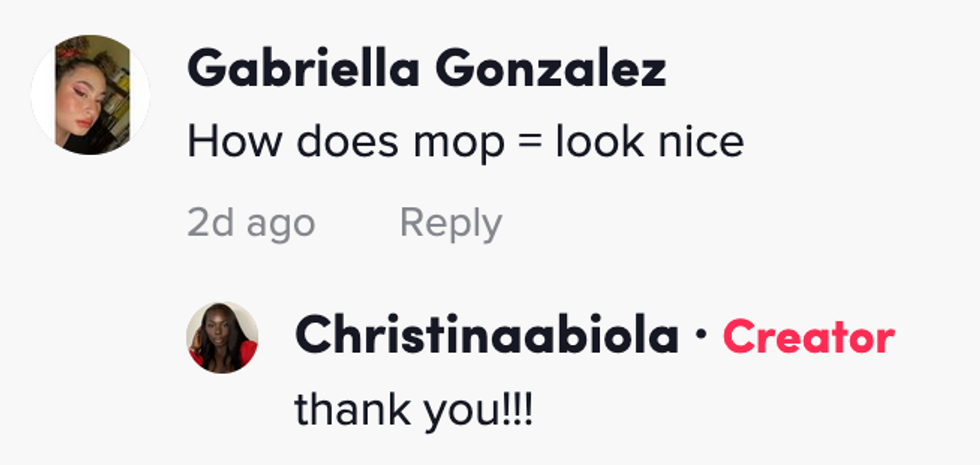 @christinaabiola/TikTok
The man told Abiola, who was with Lamar, "I didn't mean to offend you when I said something to you the other day, I thought it was nice."
In response, she reiterated that his comment "was offensive."

@christinaabiola/TikTok
"It was the comment after that hurt my feelings," she said, referring to the "mop" reference.
"And other people who have the same hair as well."
After both sides said their piece, the conversation wrapped up without escalating in tension.


@christinaabiola/TikTok
In a third clip, Abiola said she went back to the gym and didn't see the man there and that it was the second time he was noticeably absent.
To her, it was an indication that she "won the battle."
"We were kind and sometimes all you have to do is to be kind because you can kill hate with kindness," she said.
The Daily Dot said they reached out to Abiola for more details but have not yet heard a response.