Georgia Republican Representative Marjorie Taylor Greene was criticized after she posted a doctored image of South Carolina Republican Senator Lindsey Graham holding a Bud Light can with the image of trans social media influencer Dylan Mulvaney.
The post was in response to Graham's criticism of Greene's defense of Jake Teixeira, who has been arrested for his connection to a Pentagon document leak.
Over the weekend, Greene erroneously suggested Teixeira is "an enemy to the Biden regime" because he is "white, male, christian, and antiwar." She accused the administration of "waging war in Ukraine, a non-NATO nation, against nuclear Russia without war powers."
You can see Greene's tweet below.

Graham later appeared on ABC's This Week to criticize Greene's tweet about Teixeira, calling it "one of the most irresponsible statements she could make."
He went on to warn that anyone in the military intelligence community who leaks classified information will face consequences.
You can hear what Graham said in the video below.

In response, Greene posted the edited image of Graham holding a can of Bud Light with the image of Mulvaney, who recently partnered with Bud Light and its parent company Anheuser-Busch for a March Madness giveaway.
The original image, taken in 2016, showed Graham holding a glass of beer, but his MAGA critics edited the image to fit their narrative.
You can see the original photo—which shows Graham with CNN correspondent Dana Bash—below.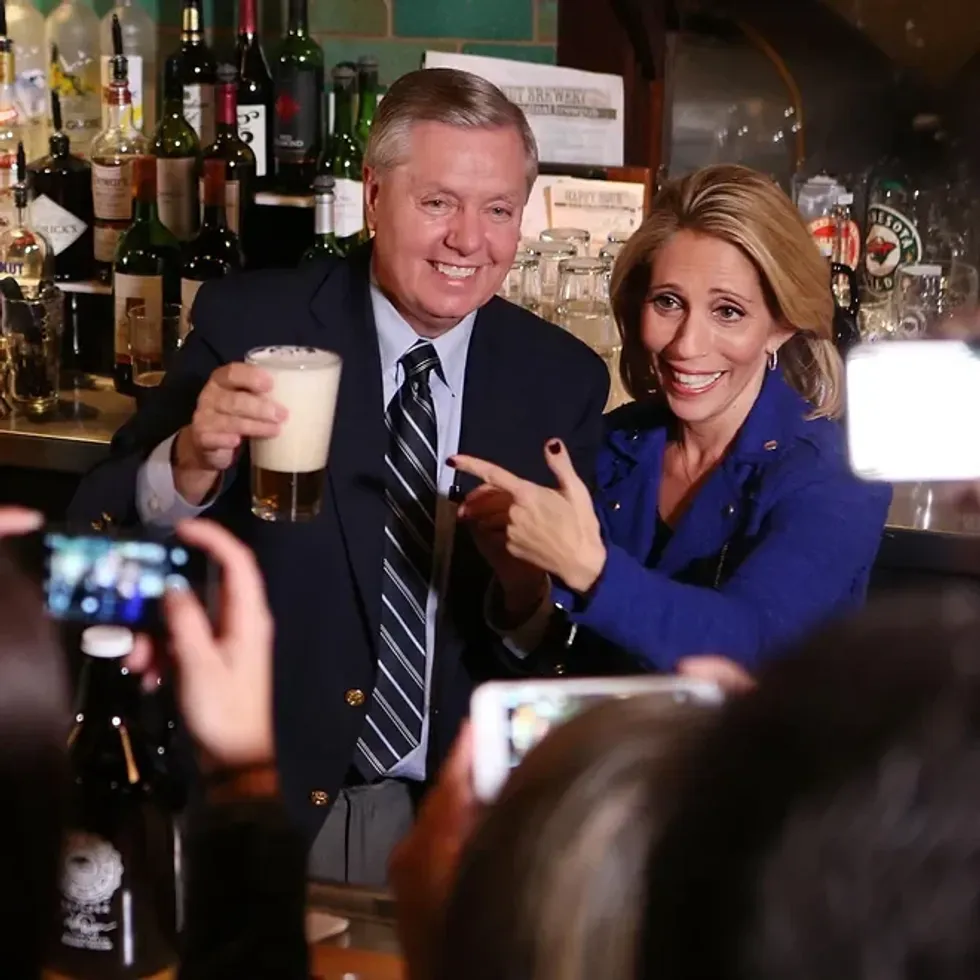 Jason Bahr/Getty Images
You can see Greene's tweet with the doctored image below.

The controversy surrounding Greene's tweet and Graham's response is just the latest example of the ongoing Christian nationalist led culture war over transgender human rights and gender-affirming care.
Conservatives have increasingly become vocal in their opposition to transgender right to life, with some calling for boycotts of companies that support the LGBTQ+ community.
Many criticized Greene for posting a photo they say betrays her blatant transphobia.
Mulvaney, who gained fame on TikTok for her Day 365 Of Girlhood video series, was sent a personalized can of Bud Light with her face on it to commemorate a year since she began her gender transition.

However, the partnership drew criticism from bigoted social media users, who called for a boycott of the brand and its parent company.
Earlier this month, musician Kid Rock sparked outrage on social media after posting a video of himself shooting cases of Bud Light beer in protest against the company's collaboration with Mulvaney.
Anheuser-Busch has defended its collaboration with Mulvaney, stating the personalized can was sent as a "gift to celebrate a personal milestone and is not for sale to the general public."

The company also said it works with "hundreds of influencers" across its brands "as one of many ways to connect with audiences across various demographics."