Molly Larimer loves Gilmore Girls, and now it means even more to her.
---
The Eastlake, California native just got proposed to in the best way ever.
Molly is a mega Gilmore Girls fan and she got her boyfriend, Sebastian Angel, hooked on the show too.
The couple has since watched the series numerous times together, so when Sebastian realized Molly was his forever girl, he brought Molly on the Warner Bros. Studio tour.
He remembered that Molly had once said that "visiting Stars Hollow would be like him visiting Hogwarts — a dream."
Sebastian plotted with Molly's cousin and sister, along with the Warner Bros. tour staff to pull off an epic engagement.
Check it out.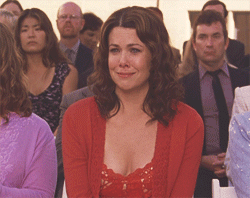 Twitter can't handle the perfection of Sebastian's proposal.

Congratulations to the happy couple!