Molly Larimer loves Gilmore Girls, and now it means even more to her.
---
The Eastlake, California native just got proposed to in the best way ever.
Molly is a mega Gilmore Girls fan and she got her boyfriend, Sebastian Angel, hooked on the show too.
The couple has since watched the series numerous times together, so when Sebastian realized Molly was his forever girl, he brought Molly on the Warner Bros. Studio tour.
He remembered that Molly had once said that "visiting Stars Hollow would be like him visiting Hogwarts — a dream."
Sebastian plotted with Molly's cousin and sister, along with the Warner Bros. tour staff to pull off an epic engagement.
Check it out.

So I didn't even mention it but Gilmore Girls has always been one of my favorite shows and Sebastian planned the pe… https://t.co/VnbRtAucP8

— johnny karate (@johnny karate)1533491978.0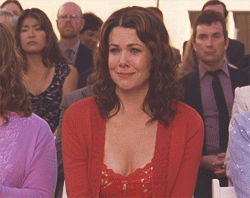 Twitter can't handle the perfection of Sebastian's proposal.

@mollysierra_ i watched this like 5 times i'm so happy for you guys

— ♡ a p r i l ♡ (@♡ a p r i l ♡)1533492863.0
@mollysierra_ Screaming too!!!! How lucky are you!!!!!!! Congratulations on the best engagement EVER!!!!!!!!!!!

— JVanscoyk (@JVanscoyk)1533605498.0
@mollysierra_ Congratulations this is magical

— Sally (@Sally)1533614234.0
@mollysierra_ oh my GOSH!!! very happy for you two ❣️❣️❣️

— ♡ a p r i l ♡ (@♡ a p r i l ♡)1533492809.0
@mollysierra_ I can't even imagine this. WHAT A DREAM!!! This marriage is already off to an amazing start! Lol. Congratulations!!!

— Pamela Hidalgo (@Pamela Hidalgo)1533757719.0
@HuffPost Sooo Romantic and ORIGINAL😍I DOOO💩

— Mr. Chris™ (@Mr. Chris™)1533872684.0
😍 so perfect omigosh!! Congratulations! GG fangirling! @thelaurengraham @alexisbledel would be soo happy!! https://t.co/aBR7zLCMYJ

— Ina SL (@Ina SL)1533829260.0
This "Gilmore Girls" Fan Was Proposed To In The Actual Stars Hollow And It's Every Fan's Dream! @mollysierra_ https://t.co/dRTRi8VLrx

— Nora Dominick (@Nora Dominick)1533850328.0
@mollysierra_ @myglitteryself Lady idk you, but this is literally the best thing, I hope you're both happy forever! https://t.co/TuDEEP1A6W

— [REDACTED] (@[REDACTED])1533860366.0
@crashclaire5 Oh my god this is PErfeCT 😩😩❤️ my hearttttttt

— Lily Rose Winter (@Lily Rose Winter)1533905472.0
@people That is the coolest idea. I love @GilmoreGirls and would have adored that proposal❤️❤️❤️

— Nychicky (@Nychicky)1533775425.0
Congratulations to the happy couple!