Doing what you believe is best for your child is one of the important parts of parenting.
And for Muhammed Nitoto, who has an Instagram page all but exclusively devoted to parenting under the handle @chroniclesofdaddy, that means taking his daughters into the women's restroom when he is out and about alone with them.
Well aware who uses which bathroom in the United States is a highly contentious issue, Nitoto published an eloquent post on Instagram on why he came to this decision.
First emphasizing in all capitals, "I TAKE MY DAUGHTERS TO THE GIRLS BATHROOM", Nitoto began his lengthy post by addressing the stigma and challenges of using public bathrooms in the United States.

"As a dad being out with daughters I never thought the bathroom would become as big an issue as it is."
"Usually we would go places and they have FAMILY bathroom which are meant for people with children but what I found was most places don't have them and Dads are left to decide between taking their daughters to the men's bathroom or the women's."
"Now when first hit with this choice I did what most men would do which is, I went to the Men's bathroom."
"Now I've been to a men's bathroom millions of times but walking in with your daughter makes you look at it completely different."
Nitoto went on to say what everyone reading the post was probably thinking.
"Men's bathrooms are DISGUSTING."
"They smell like pee and nothing is setup for a woman or a person with a child."
"The changing table was right next to the urinal which means my child literally would be next to where men pee while she's being changed."
"Not to mention that there are men going in and out while you're in there."
"After doing that one time I decided I'd never take my daughter's to the men's bathroom again."

Aware this decision would likely raise the eyebrows of a number of readers, Nitoto acknowledged some women might be surprised or even uncomfortable with his decision.
He made a point of explaining exactly how he handles it each time.
"I use the women's bathroom when I'm out with them."
"They are too young to go on their own so I have to go in with them."
"I try to be as respectful to women as I can while doing so which consists of knocking on the door before entering and announcing myself."
"Making sure if someone is inside that they know I am a Dad coming in with his daughter and making sure they are comfortable with that."
"Now once inside our stall I still am aware of the door and whenever I hear it open and someone new is coming in I announce myself again and make sure they know I'm inside with my child so that they aren't surprised."
Nitoto further backed up his decision by emphasizing the benefits the women's restroom has for him and his daughters which cannot be found in most men's rooms.
"Women's bathrooms are so much cleaner and setup prefect just incase they have children."
"The changing station is usually inside a stall instead of just in the open and it's always clean."
"As a girl dad I can't help but want to protect my daughter's from all things that aren't for them and the men's bathroom is 100% one of those things."

Nitoto then shifted his post into a question for his Instagram followers, asking:
"Am I the only one? Ladies how does this make you feel?"
The comments section of Nitoto's post was largely filled with praise, many claiming he was everything and more a father should be.

@chroniclesofdaddy/Instagram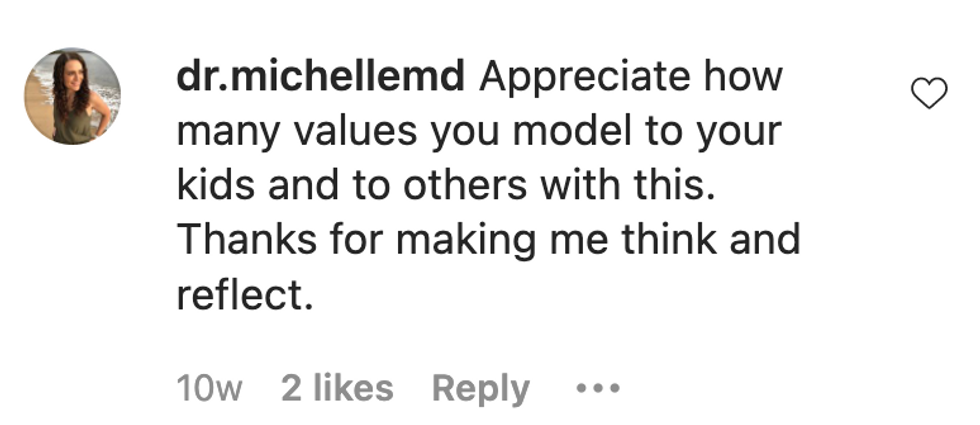 @chroniclesofdaddy/Instagram

@chroniclesofdaddy/Instagram
Some expressed how not all women might be comfortable finding Nitoto in the women's room, but expressed how well he handled the rather delicate situation.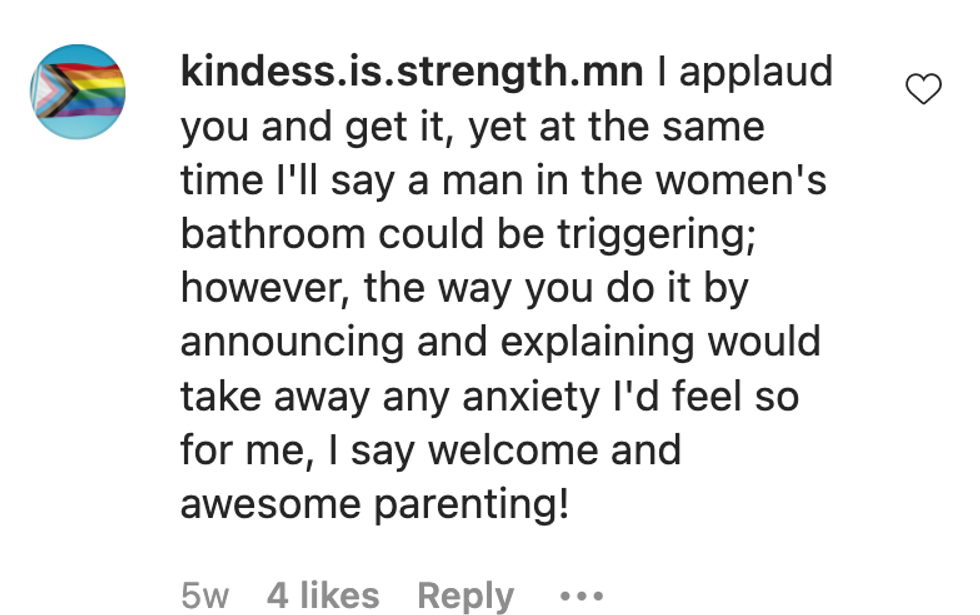 @chroniclesofdaddy/Instagram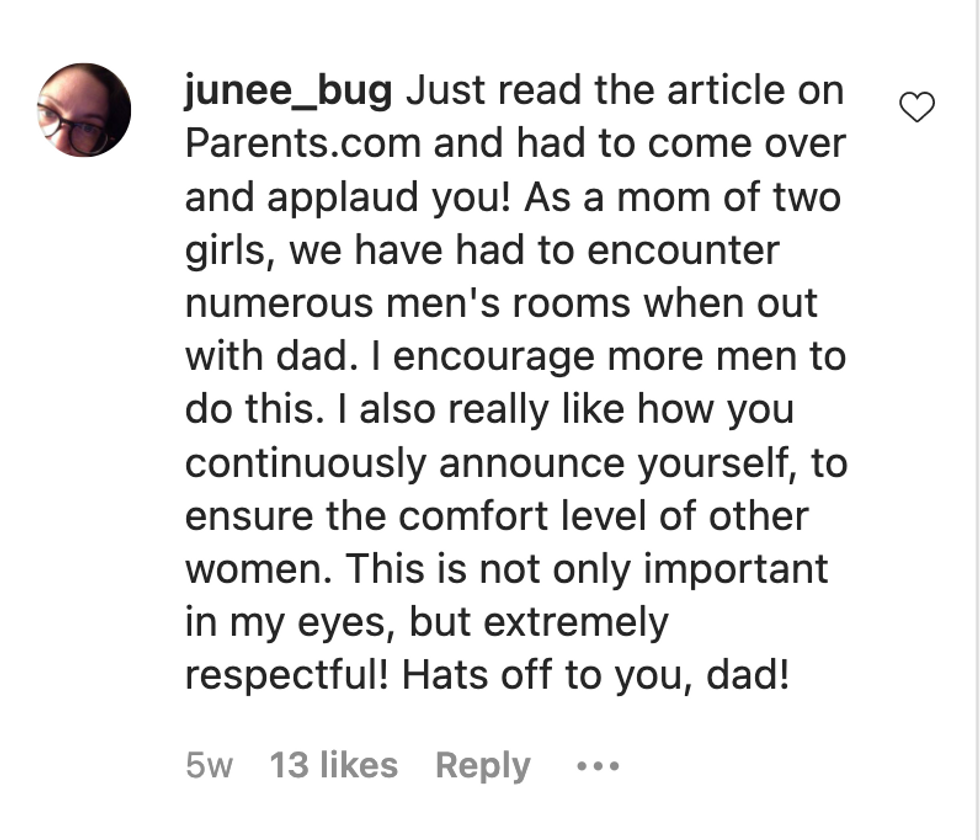 @chroniclesofdaddy/Instagram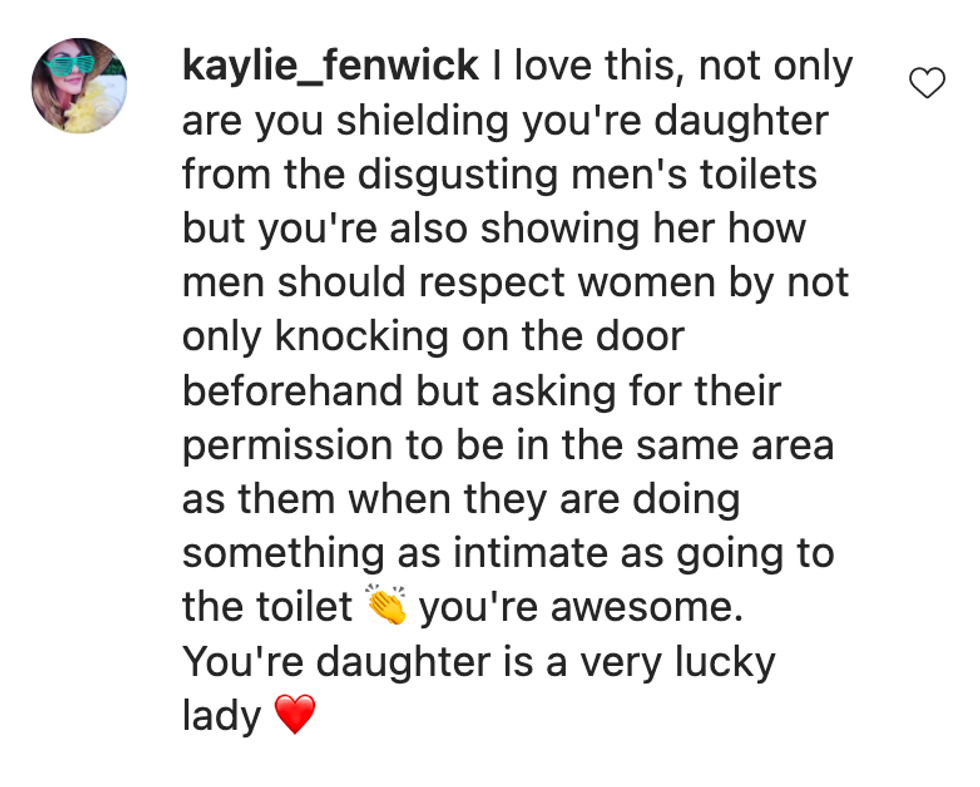 @chroniclesofdaddy/Instagram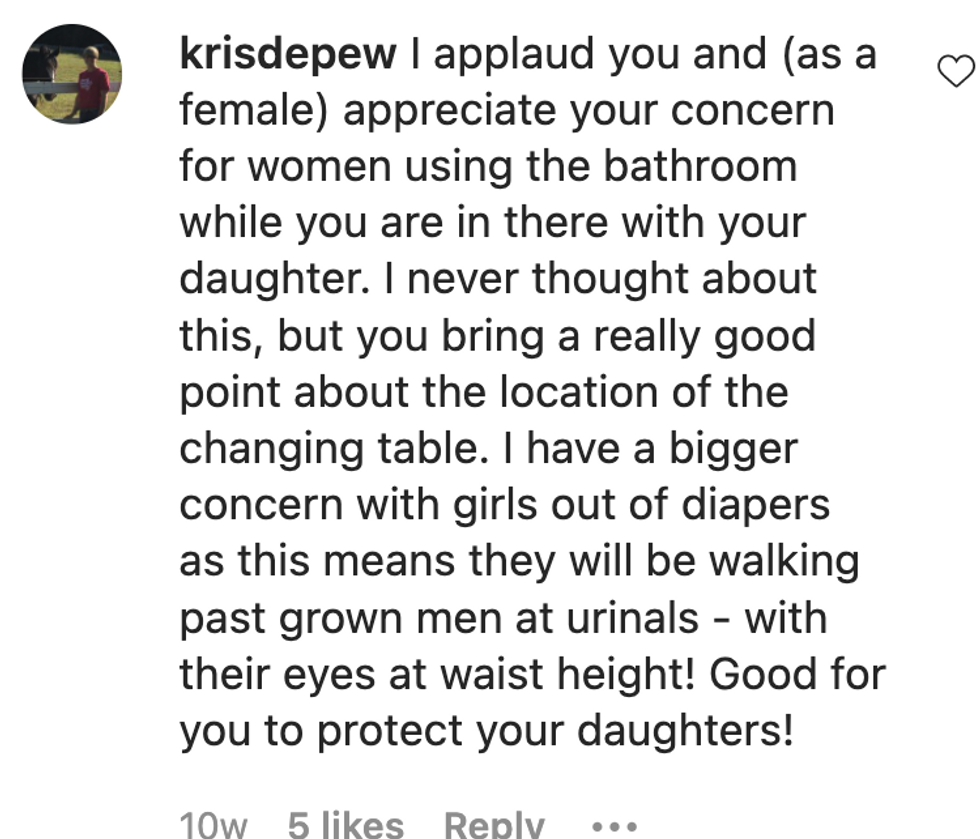 @chroniclesofdaddy/Instagram
There were even a few who expressed his decision to take his daughters into the women's room shouldn't bother anyone.

@chroniclesofdaddy/Instagram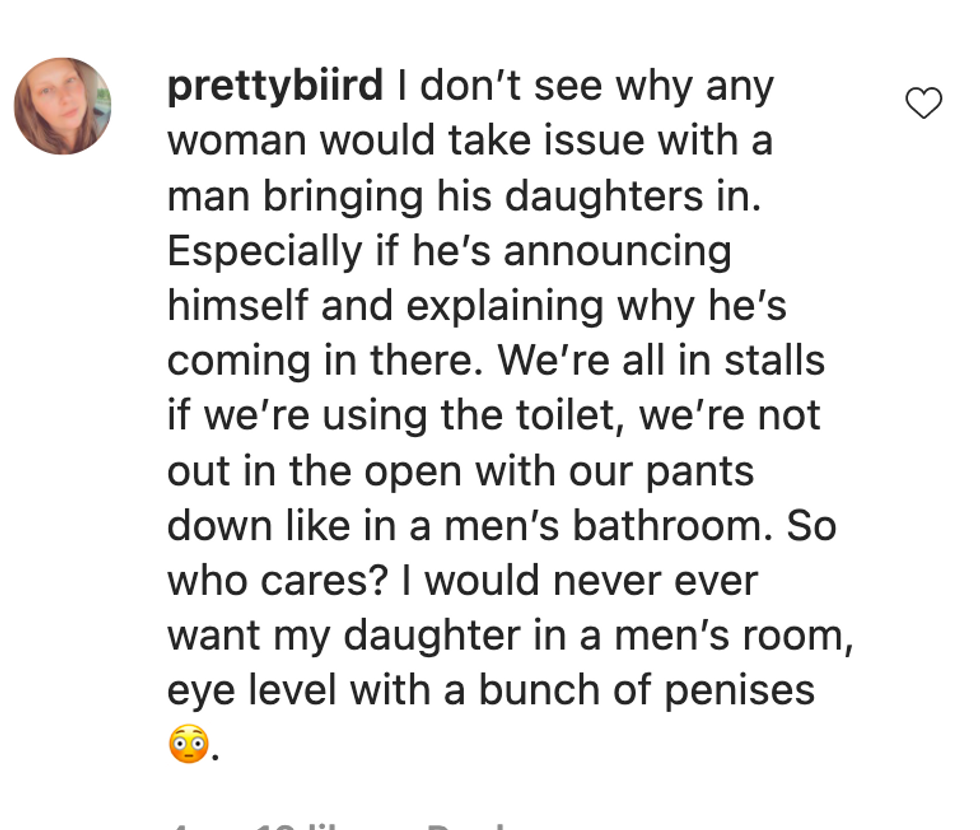 @chroniclesofdaddy/Instagram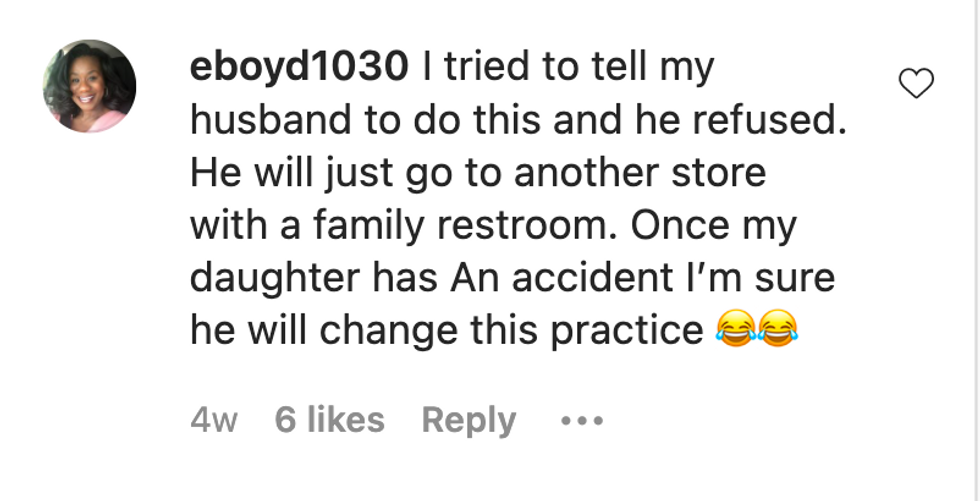 @chroniclesofdaddy/Instagram
A few even expressed how they would even prefer if their infant sons got their diapers changed in the women's room as opposed to the men's room, owing to the disparity in cleanliness.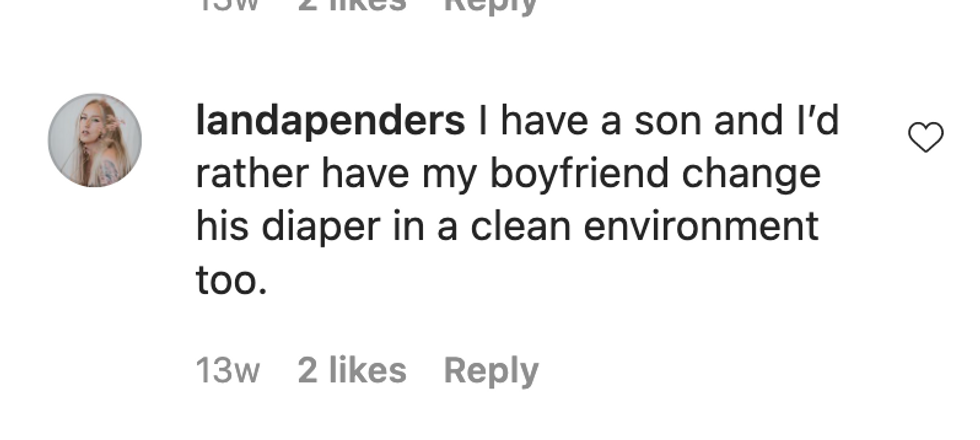 @chroniclesofdaddy/Instagram
Indeed, Perhaps Nitoto's post could mark the beginning of significant changes in cleanliness and design in men's restrooms across the country.
That, or women might begin to see a lot more men taking their children to the women's room.