We don't know what is more outrageous, that the Anthropologie website is selling a bundle of sticks for $42 or that they are sold out.
---
The product is called "Birch Branch Bundle" and Twitter is losing its collective mind that a store would sell a bunch of sticks one could go pick up outside.
Now to be fair, from the picture the sticks do look very uniform in size and... oh who are we kidding?
They're sticks!
And they cost $42!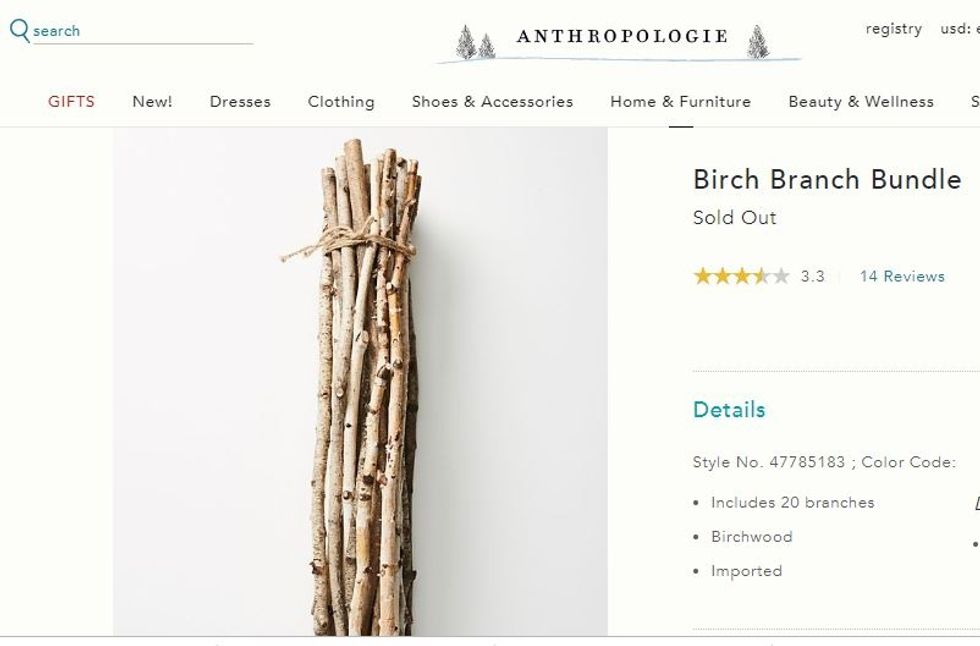 Twitter can't help but give a collective global eye roll.
I cannot figure out how crazed a person would be to buy sticks that you can pick up for free just about anywhere in… https://t.co/Xh1P25fKzm

— Taylor Collins (@Taylor Collins)1543169543.0
What to buy for the person who has everything?
Except twigs?
I am not certain who the target market is for this gift idea, and you would also have to wonder about the motivatio… https://t.co/2j5xiH0Q91

— Andrew Wilk (@Andrew Wilk)1543158040.0
@MebFaber For people who don't know how to walk outside & gather twigs. https://t.co/Tcf1HI9ZjI

— Courtney Ranstrom (@Courtney Ranstrom)1543215128.0
People came with the jokes.
You know what? If we did our civic duty and raked our forests, we could sell our own twigs. https://t.co/43eD6X2wOB

— Professor Moody, RN (@Professor Moody, RN)1543196302.0
I've got a domestic locally collected independent small batch Artisan twig bundle for $40... these corporate twig b… https://t.co/fAhDaNqGKh

— Wayne Tapia (@Wayne Tapia)1543163244.0
@thisisinsider I have 30+ birch trees in my back yard.....have I got a deal for you!

— Mardi Parker (@Mardi Parker)1543084118.0
@thisisinsider But...but...these are CURATED twigs.

— AlternativeFacts (@AlternativeFacts)1543162426.0
@thisisinsider of course they are.

— summergirl (@summergirl)1543151951.0
@thisisinsider Unless the can be assembled into a Firebolt 2001, I'll pass.

— 🇺🇸🕎🧚‍♀️Janiece Lea Eaton 🐪🔯🏳️‍🌈 (@🇺🇸🕎🧚‍♀️Janiece Lea Eaton 🐪🔯🏳️‍🌈)1543167524.0
"Whether anyone is able to see their personality reflected in a bunch of overpriced twigs remains to be seen." https://t.co/giYGQXaWR8

— Dr. Rebecca Hains (@Dr. Rebecca Hains)1543156651.0
Someone (who probably gets paid a lot more money than you) came up with this idea.
Let that sink in.