Actress Emma Watson was under scrutiny for her participation in the #BlackoutTuesday campaign on social media.
The campaign is a Black Lives Matter initiative in which social media users go silent by pausing content and posting black squares for the day to amplify Black voices.

But when she posted three consecutive black squares with white borders around each post seemingly for aesthetics on her Instagram page, the Little Women actress was accused of performative activism—a pejorative used primarily for influencers exploiting a cause to elevate their social media presence.
One disappointed follower commented:

"black lives matter is not an aesthetic for your instagram."
BLM became more relevant than ever with nationwide protests against racial bias and the killings of Black people—like Breonna Taylor and George Floyd—by law enforcement.
Reaction to the #BlackoutTuesday initiative was also criticized as a whole. Some argued the abundance of black squares without pertinent information to express solidarity only cluttered social media feeds. And the frequency of dispensing BLM hashtags without resources only negated community organizing efforts.
Some of Watson's followers were disappointed in not seeing substantive information beyond the hashtags—#blackouttuesday #theshowmustbepaused #amplifymelanatedvoices #amplifyblackvoices—with her otherwise blank posts.
Some suggested she add links to donation sites or petitions or share the work or quotes of Black people who have contributed to the arts, culture and society.
Others wanted posts with receipts for Watson's own donations.
@emmawatson/Instagram
One user wrote:

"Go girl give us nothing!"
@emmawatson/Instagram
Another wrote:

"Girl I know that Little Women cheque hit."

The backlash continued on Twitter.

Watson responded to the criticism, writing:
"I stand with you."
The caption accompanied a post acknowledging she still has a lot to learn about institutional racism.
She also voiced her determination to try harder to educate herself.

"There is so much racism both in our past and present that is not acknowledged or accounted for."
"White supremacy one of the systems of hierarchy and dominance, of exploitation and oppression, that is tightly stitched into society. As a white person, I have benefited from this."
"Whilst we might feel that, as individuals, we're working hard internally to be anti-racist, we need to work harder externally to actively tackle the structural and institutional racism around us."
"I'm still learning about the many ways I unconsciously support and uphold a system that is structurally racist."
"Over the coming days, I'll be using my bio link and Twitter to share links to resources I've found useful for my own researching, learning, listening."
She concluded with:

"I see your anger, sadness and pain. I cannot know what this feels like for you but it doesn't mean I won't try to. – Emma."
Her response resonated with followers, with one expressing:
"emma SPEAKING FACTS love you."
And after one user told her to put her money where her mouth is, @farahabed99 responded.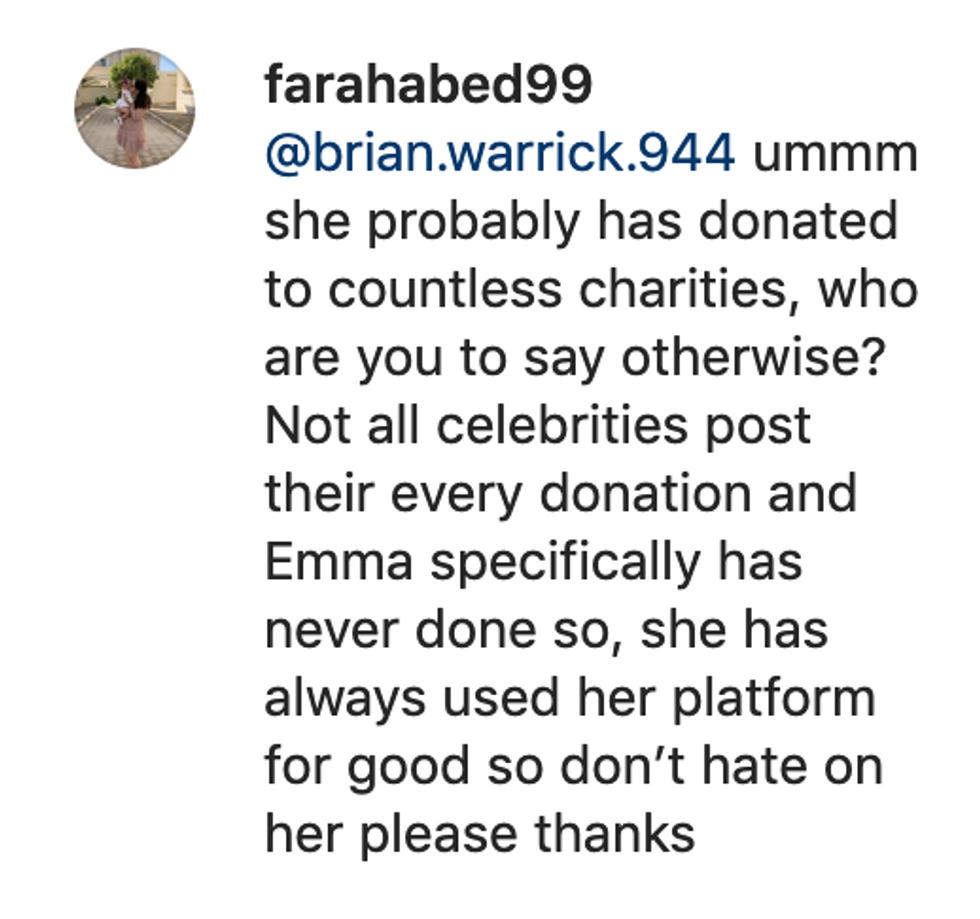 One fan reminded critics that the actress had always been an ally.
Watson said she held off on posting until after #BlackoutTuesday ended in the U.K. then shared works from Black artists.
Her efforts to do better indicated to many that she is listening and heard their words.