After his wife was killed at the Walmart shooting in El Paso, the city rallied behind Antonio Basco to support him as he grieved after the funeral home performing the services revealed Basco had no other family in El Paso.
Basco slept in his wife's car, a blue Ford Escape, in the Walmart parking lot for a week to be near his wife's memorial cross after a mass shooter took the life of his wife, Margie Reckard. Hours after her funeral, however, the car was stolen.
The thief crashed Margie's Escape, breaking Basco's heart.
---
Fortunately, El Paso stepped up once again to help their own.
Reckard's funeral was an event unto itself. Basco invited all who wished to attend, noting that he had no family to gather around now that his wife was gone. Citizens from all over El Paso and beyond arrived to support Basco in his time of need.
With hundreds in attendance, the funeral ended up becoming a massive event.
This is how Antonio Basco was greeted as he made his way into his wife's memorial "We are your family sir... We're… https://t.co/7f7vHDAPBz

— Gadi Schwartz (@Gadi Schwartz) 1566015613.0
"She made me the happiest man in the world." Every day, Antonio Basco cares for the El Paso Walmart memorial site… https://t.co/9FMg982aDg

— CNN (@CNN) 1565970968.0
But many of the funeral goers were more than a little disappointed to hear that Basco's car was stolen the very next day.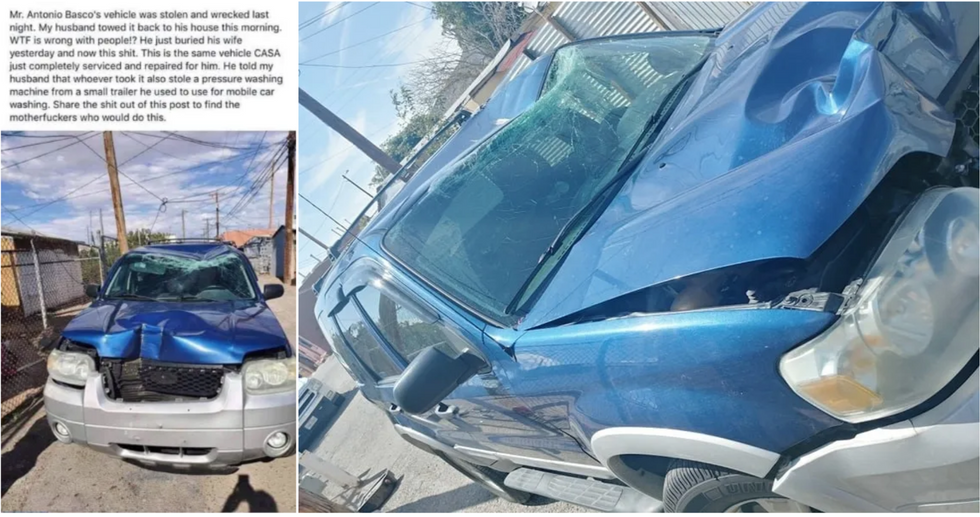 Robert Manso/Facebook
El Paso resident Vanessa Kondow, whose husband had helped repair Basco's car after finding out he had been sleeping in it with no A/C, wrote on Facebook:
"WTF is wrong with people!? He just buried his wife yesterday and now this shit. This is the same vehicle CASA just completely serviced and repaired for him. Share the s*** out of this post ... "
Ronnie Lowenfield, one of four brothers who owns Casa Ford Lincoln, helped repair Basco's car and later stepped into help again.
"We caught news of his vehicle being totaled and it was a natural extension for the same folks who helped the first time to call and text asking what we could do."
@ErikElkenKVIA I found this GoFundMe for Tony Basco. If anyone can donate, please do. Supporting Margie Reckard F… https://t.co/q5NhhsHyzw

— Mia (@Mia) 1566177388.0
@ErikElkenKVIA This poor man. He needs a break!

— CaBiBi🌊🇺🇸🌊🇮🇹 (@CaBiBi🌊🇺🇸🌊🇮🇹) 1566228441.0
Although Basco's preference was to keep his crashed Escape, Casa Ford Lincoln gave him the next best thing:

"We had a blue Ford Escape in stock. So we donated it to him so that he could have a mode of transportation and still have a connection to his wife."
HAPPENING NOW: Antonio 'Tony' Basco, who lost his wife Margie in the August 3rd #ElPasoShooting is on the way to th… https://t.co/NCGFvAyKYY

— Michael Gordon KVIA ABC-7 (@Michael Gordon KVIA ABC-7) 1566252986.0
#BREAKING happening now! Tony Basco being introduced to his brand new car here in #ElPaso at Casa Ford. Basco lost… https://t.co/Eo5wZ29fk0

— Michael Gordon KVIA ABC-7 (@Michael Gordon KVIA ABC-7) 1566255790.0
Basco's pressure washer, which he uses to make a living, was stolen along with his car. Fortunately, according to Lowenfield, a kind stranger decided to help with this as well.

"This gentleman, who wanted to remain anonymous, said he would like to drive down to El Paso and donate it to Tony."
On Friday, thousands of El Pasoans turned out to support Antonio Basco, whose wife Margie Reckard was among 22 peop… https://t.co/WQ4fhAPTdS

— Bob Moore (@Bob Moore) 1566156217.0
Basco can be seen in a Facebook video receiving his new car as onlookers gather around him.
He can be heard to say:

"You don't know how much this means to me."
Antonio Basco update! #ElPaso Casa Ford Lincoln just gave him a brand-new car after someone stole and wrecked his E… https://t.co/pasgzRHLjl

— Brianna Sacks (@Brianna Sacks) 1566256805.0
Basco also noted:

"If you want to be a man, buy a Ford. No Nissans!"
Lowenfield said that supporting Basco was an important part of his identity as an El Paso resident:
"It's been hard for me personally because I have been very cautious on how to help. I've been concerned about it being [seen as] a self-promotion, but I just wanted to make sure that the world knows this is who we are.
"El Pasoans take care of each other. We take money we might or might not have to support others. And when cars break down, we replace them."
@bri_sacks @MuellerSheWrote Absolutely wonderful.

— AHeintz (@AHeintz) 1566258529.0
@bri_sacks @shecameundone This gives me hope ❤

— Argus Collingwood 🌊 (@Argus Collingwood 🌊) 1566261809.0
@bri_sacks @MuellerSheWrote Humanity at it's best!

— Barry Brown (@Barry Brown) 1566306892.0
But for Charly Rios, who works at Casa, every bit of effort was worth it.

"The amazing moment here is to see Tony smiling."
To donate directly to victims and their families GoFundMe has set up a page with verified campaigns.
More information:https://www.gofundme.com/c/act/el-paso-shooting
Donations are being accepted by the El Paso Community Foundation for the victims of the shooting.
EPCF will waive administrative and credit card fees for all donations.
To donate: https://epcf.org/victims
----------
Listen to the first episode of George Takei's podcast, 'Oh Myyy Pod!', where we explore the racially charged videos that have taken the internet by storm.
Be sure to subscribe here and never miss an episode.