DIsney's Moana was a bonafide box office smash that sailed into the hearts of moviegoers worldwide.
The fearless Polynesian girl, who is tasked by the ocean to reunite a mystical relic with legendary goddess, serves as a strong role model for children.
---
Toys and other merchandise from the 2016 film remain hot items in stores and meeting Moana at Disney parks around the world still demand long lines.
Despite the ongoing hype, one child remains unfazed, even if her father voices one of the main characters.
Dwayne Johnson – a.k.a. "The Rock" – lent his vocal talents to the role of the shape-shifting demigod, Maui.
When his 4-year-old daughter Jasmine was old enough to watch Moana, Johnson couldn't wait to reveal to her his involvement in the film.
Dwayne "The Rock" Johnson's 4-year-old was not interested when he tried to sing along with his character in "Moana." https://t.co/Ug306jv6vG

— HuffPost (@HuffPost) 1576104459.0
Unfortunately, his ego crashed and burned harder than any of the explosions from the Fast and Furious franchise he stars in.

The Jumanji: The Next Level star told PEOPLE:

"I said, 'You know, that's Daddy's voice, and I'm going to show you'."
"Maui starts singing, and I then start singing, and within 10 seconds she's trying to put a pillow over my mouth and says, 'You're ruining the song'."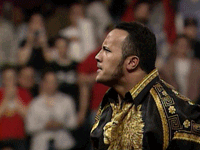 Giphy
Womp, womp.
@HuffPost Kids will keep you humble.

— Lookingover Time (@Lookingover Time) 1576105791.0
At least she was invested in the movie.
Besides, he can handle whatever snub little Jasmine throws his way. In spite of everything, "The Rock" doesn't take his daughter for granite.
She's a pebble off the old Rock.
His older daughter Simone Alexander is 18 now.
Her mother, Dany Garcia, and Johnson ended their marriage amicably 12 years ago.

The two remain friends and still collaborate on projects.
In 2006, while filming The Game Plan, Johnson met Lauren Hashian, with whom he had Jasmine in 2015.
The couple married on August 18, 2019, in Hawaii.
In 2018, Johnson and Hashian welcomed their second daughter, Tiana Gia.

Jasmine may not be super impressed with daddy's voice over skills, but he will always be her number one.
She will also be one of the only people who can slap the former WWF pro wrestler around.
For her third birthday in December 2018, the Rampage actor posted an Instagram video of him being humbled.
He wrote in the caption:

"My dear birthday girl Jazzy: may you always have your mama @laurenhashianofficial's beautiful soul, kindness, heart & especially baking skills because cookies are life."
"Happy 3rd Birthday baby girl! I love you and I got you - always. #HappyBirthdayLilMama"
"And may you also continue to have the greatest laugh playing the game you're ONLY ALLOWED to play with daddy."
He teased her reflexes on affectionate love slaps.

"I don't think you're quick enough."
But he was quickly proved wrong.
Moana is the 56th Disney animated feature film and grossed a worldwide total of $643.3 million, but Jasmine doesn't have the capacity to comprehend the enormity of that success for now.
Just don't distract her while she is watching a movie, even if your name is Dwayne Johnson and your voice is prominently booming from the TV screen.
It takes more than being a Hollywood star to impress Dwayne Johnson's kids... https://t.co/fx8ibZmsn1

— Metro Entertainment (@Metro Entertainment) 1576141209.0
The toddler's adorable rapport with her mighty father is a study in cuteness, and we're happy to continue sharing upbeat stories like this.
In the words of Johnson's Maui:
"You're Welcome."