Hip hop artist Drake is an international superstar and a household name in much of the world—but definitely not in the home of a certain elderly Oklahoma City couple he sat next to at an NBA game, who had absolutely no clue who he was.
And video of their interaction has the internet laughing.
The moment happened when Drake was seated courtside for the game, as celebrities usually are. Suddenly one of Drake's songs came on the arena's sound system and the crowd began to cheer, presumably for Drake.
The laughs the three shared as the couple realized who they were sitting beside were priceless.
See the clip below.
Drake and his buddy were at the game to support Thunder player Shai Gilgeous-Alexander, a friend of Drake's who also hails from his hometown of Toronto, Canada.
As he sat chilling at the game during a time out, everyone in the front row glanced upward, presumably because the arena's jumbotron was highlighting Drake in the front row.
Drake gave a hand signal salute to the camera as people in the arena began to cheer.
The elderly man beside Drake then seemed to realize they were all on camera for a reason. Turning to Drake, he appeared to say, "Are you famous?" The two men then dissolved into laughter as the elderly man's wife playfully mocked him.
Soon the Thunder's furry mascot, Rumble, was joining in on the moment, coming over to exchange handshakes with the new friends.
It seems like the threesome may have formed a true bond, if Drake's Instagram is any indication. In a since-expired Instagram Story, Drake posted a selfie of him and the elderly couple, which he captioned "My new parents."
Awww!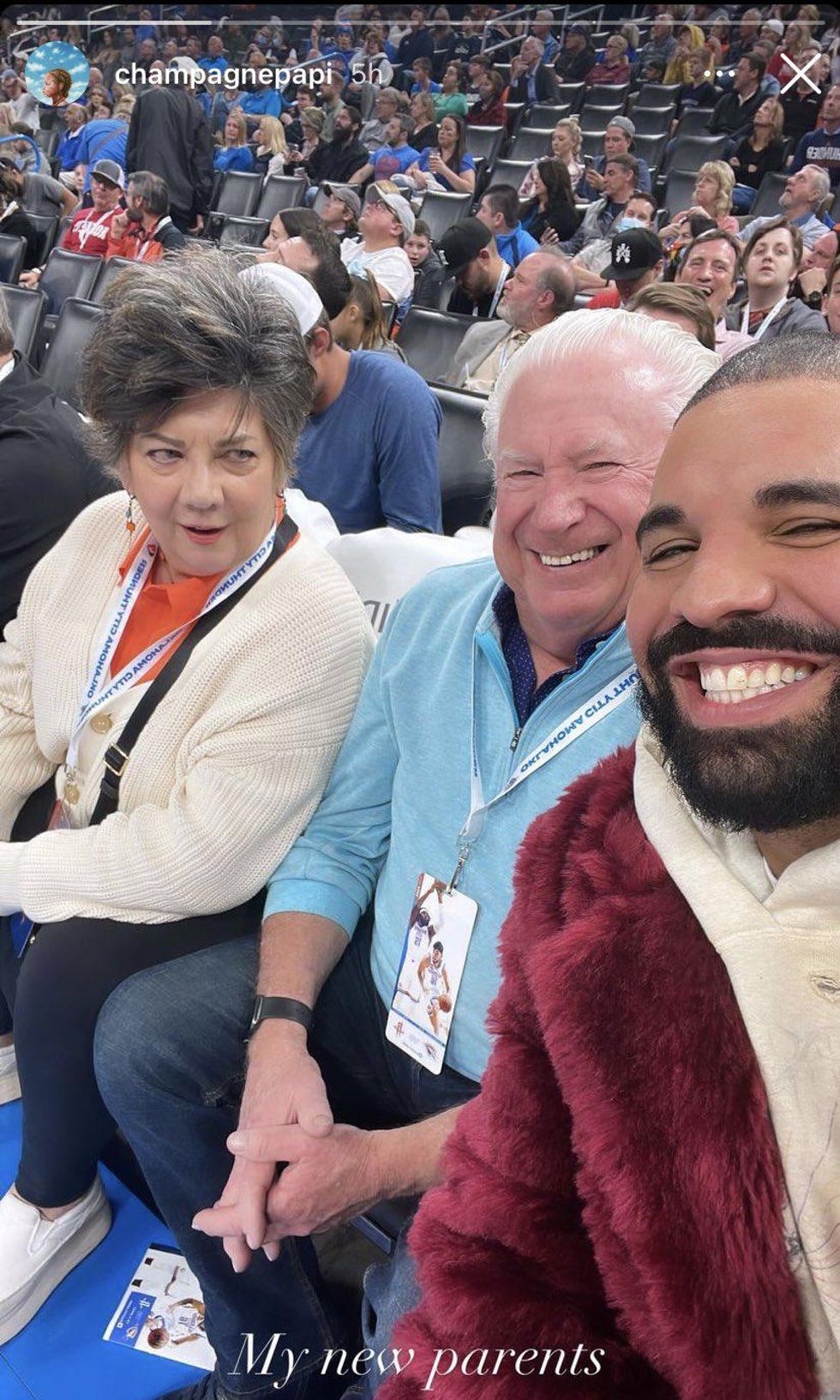 @champagnepapi/Instagram
On Twitter, people absolutely loved this wholesome moment.
Though some were just wondering why the heck Drake was in Oklahoma City—not exactly a celebrity hot spot.
We wish Drake and his new mom and dad a very merry Oklahoma Christmas!