Gary Tigges is a doctor of internal medicine at Plano Internal Medicine Associates.
His recent comments in the Dallas Medical Journal have earned the office a shining one star out of five in their Google rating.
---
Dallas Medical Journal recently published their "Women In Medicine" issue.
One of their articles posed the following question:
"We asked our physicians if they believe a pay gap exists between male and female physicians. If so, what is the cause? What steps can physicians take as individuals and as a community to address this?"

Tigges' now famous response was one of 8 "big and bright ideas" that the Journal published.
Check it out in this screenshot: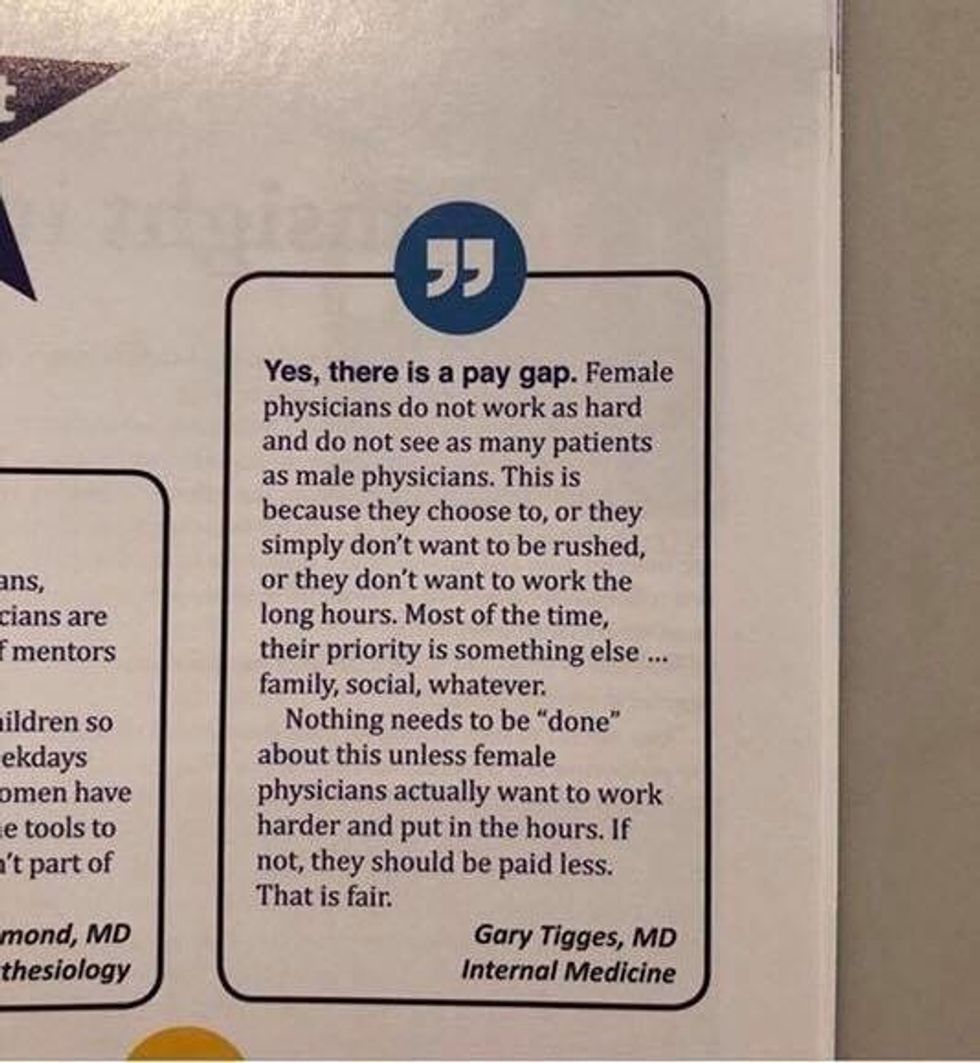 Dr. Gary Tigges defends the gender pay gap for doctors.Dallas Medical Journal
It reads:
"Yes, there is a pay gap. Female physicians do not work as hard and do not see as many patients as male physicians. This is because they choose to, or they simply don't don't want to be rushed, or they don't want to work the long hours. Most of the time, their priority is something else ... family, social, whatever.

"Nothing needs to be 'done' about this unless female physicians actually want to work harder and put in the hours. If not, they should be paid less. That is fair."
He has since tried to defend himself with multiple statements.
First he said:
"My response sounds terrible and horrible and doesn't reflect what I was really trying to say. I'm not saying female physicians should be paid less, but they earn less because of other factors.

"Women might take longer with their patients, and that's a great thing, but then their pay is less. That's something we have to deal with every day; you have to work out that balance. Every physician wrangles with that. But it was not my intention to say female physicians are lazy or don't work as hard."

He has since released another statement on his practice's website.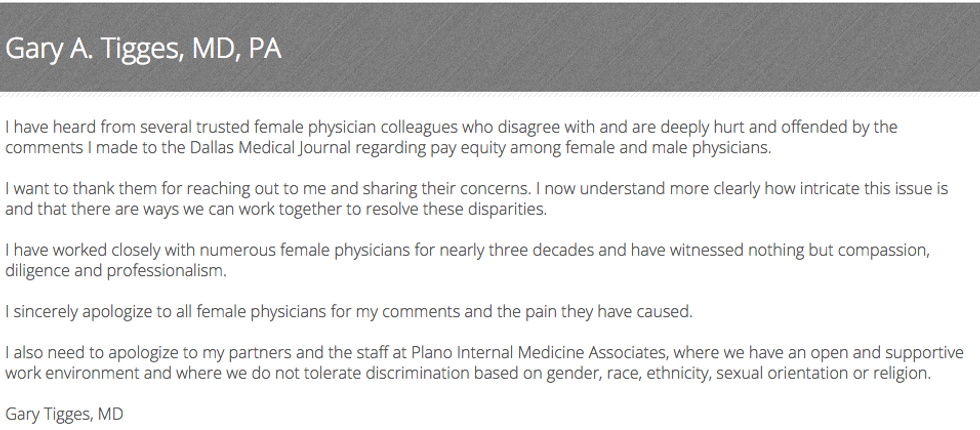 http://planointernalmedicine.com/gary-a-tigges-md-pa/
Tigge stated:
"I have heard from several trusted female physician colleagues who disagree with and are deeply hurt and offended by the comments I made to the Dallas Medical Journal regarding pay equity among female and male physicians."
"I want to thank them for reaching out to me and sharing their concerns. I now understand more clearly how intricate this issue is and that there are ways we can work together to resolve these disparities."
"I have worked closely with numerous female physicians for nearly three decades and have witnessed nothing but compassion, diligence and professionalism."
"I sincerely apologize to all female physicians for my comments and the pain they have caused."
"I also need to apologize to my partners and the staff at Plano Internal Medicine Associates, where we have an open and supportive work environment and where we do not tolerate discrimination based on gender, race, ethnicity, sexual orientation or religion. Gary Tigges, MD"
He has since deleted his Twitter, but not before people had a chance to see what other kinds of beliefs he holds.

Misogyny and racism. A classic combination.

Men and women, alike, expressed outrage.
One person posted on Facebook, in response to Tigge's claims about female physicians spending more time with patients:

"They don't want to be rushed, because they actually listen to their patients and don't want to miss anything ... the "rushing physicians" are chalking up more patients = bill more ... oh, and the rushers miss a lot. I have had 3 woman doctors ... one is my PCP who is always running late, because she is thorough enough to give excellent care and cares enough to be excellent, an abdominal surgeon who did an outstanding job, and a urologist who is proactive and has also doing preventative medicine for kidney stones, that my, although good male doctor, never thought to do. Good urologist and surgeon, not so good a communicator. Sorry tigges (lack of cap intended) you,re a chauvinist whose manhood is obviously threatened by your female colleagues! [sic]"
You can share your thoughts on Dr. Tigges' assessment of medical qualifications and pay on Google and Yelp.

H/T: Dallas News, HuffPost