Students at Gallaudet University shared the sign-language name for Trump and it's hilariously accurate.
The students are part of Netflix docu-series DeafU which follows the group as they navigate life at the renowned college for the hearing impaired in Washington D.C.
In a promo clip a cast member explains the significance of sign names saying:

"Instead of spelling the names out [letter by letter] we use sign names based on our traits."
Trump's name certainly identifies one of his major traits.
The cast said receiving your own American Sign Language name is an honor…even if Trump wouldn't agree.

In a 2015 HuffPost blog, nationally certified sign language interpreter and advocate, Lydia Callis explained that a sign name is not chosen by the person but given to them by another in the community based on personal traits.
She added:
"While it might seem like a novelty to hearing people, having an ASL name is very meaningful for those in the deaf community, and it could even be considered an honor."
"These names aren't just given out to anyone — they are a [rite] of passage into the deaf community. To have a name sign means you are officially part of the Deaf world."
With this information President Donald Trump should be flattered to have his own sign language name. It certainly memorializes one of his -unique- traits.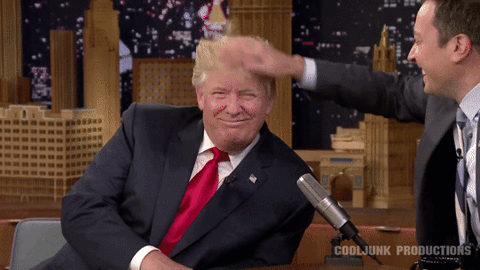 Giphy
One cast member pointed out:

"You can tell if someone's a Trump supporter—they will spell out his name: T-R-U-M-P,"
"But if you don't like the man, you're gonna go like this …"
Adding:
"'Cause we all know that man has a toupee."
Although as Jimmy Fallon and the wind showed, perhaps less a toupee and more the most elaborate comb-over ever seen.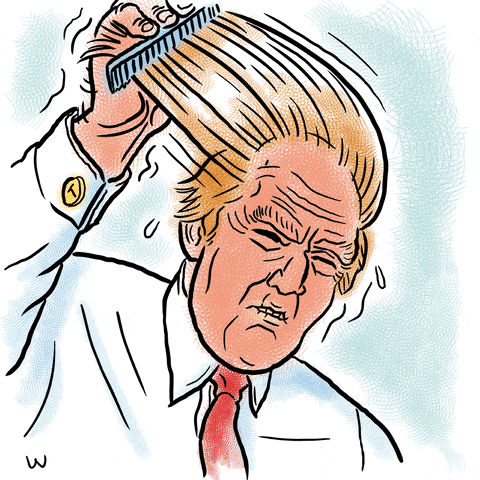 Giphy
ASL users and non-users alike enjoyed Trump's name.

Another version accommodating to those with movement limitations was shown by another Twitter user.
It couldn't be more on the nose, or hair as it were.
The docu-series is co-executive produced by Deaf model, actor, activist and Gallaudet alum Nyle DiMarco.
His opinion on the Trump sign?
The docu-series premiered today and we hope you'll enjoy using Trump's sign name as much as we will.