When tennis star Peng Shuai claimed former Chinese Vice Premier Zhang Gaoli sexually assaulted her in 2017, she seemingly vanished from the public eye.
On November 2, Shuai took to the Chinese social media platform Weibo and admitted she once had a consensual relationship with Gaoli when she was younger but was later sexually assaulted by him in 2017.
According to Yahoo News, the 35-year-old revisited the 2017 incident of sexual assault, which allegedly happened when she was invited over to play tennis with Gaoli and his wife and was later sexually assaulted by him in his house.

Directly addressing the 75-year-old, she wrote:
"Why did you come and look for me again, take me to your house, and force me into sex?"
"I have no proof, and it would be impossible for me to keep any evidence. You denied everything afterward."
"That afternoon I originally did not consent and cried the whole time."
Shuai repeatedly said she had no evidence to back her claims but she said she was determined to publicly disclose what she endured.
"I know that for someone of your status, Vice Premier Zhang Gaoli, you've said that you're not afraid," she said in her post.
"Like an egg hitting a rock, or a moth to the flame, courting self-destruction, I'll tell the truth about you."
According to What's On Weibo, the app has since silenced anything on social media in relation to the tennis star and Gaoli—who served as China's senior Vice Premier from 2013 to 2018 and was also a member of China's highest ruling council, the Politburo Standing Committee from 2012 to 2017.
The Guardian reported that Shuai's post was deleted an hour after posting and the former US Open semifinalist has not been heard from since.

It is not uncommon for scandals involving high-ranking Chinese officials or figures to be wiped from all forms of Chinese websites and social media.
Even keywords such as "tennis" have been blocked from Chinese search engines in addition to anything relating to Shuai and her allegation against Gaoli.
Shuai's Weibo account is still "online", but the comments section on her previous posts has been restricted.
Meanwhile, many concerned social media users on English-language platforms have been discussing her story, identifying it as a #MeToo movement.
The Women's Tennis Association (WTA) chair and chief executive, Steve Simon, was said to have called for a "full, fair and transparent" investigation by the Chinese government.
Simon declared:

"Peng Shuai, and all women, deserve to be heard, not censored."
He also told the New York Times that WTA had heard from several sources, including the Chinese Tennis Association (CTA), saying Peng was "safe and not under any physical threat."
"My understanding is that she is in Beijing in China, but I can't confirm that because I haven't spoken directly with her," said Simon.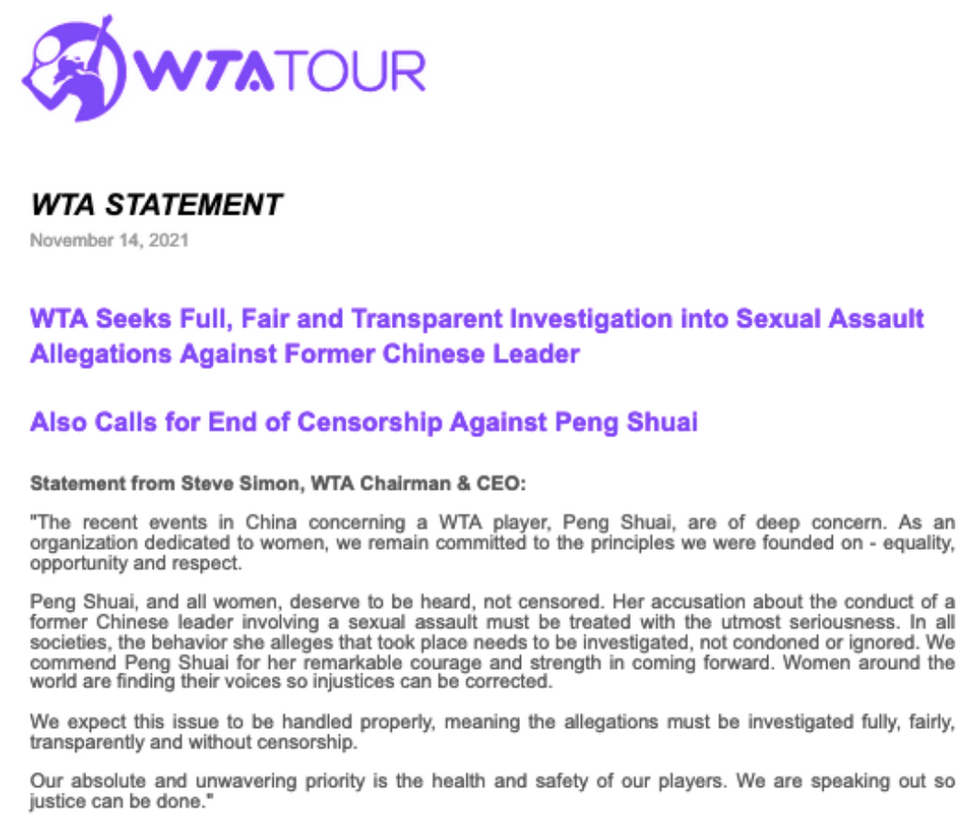 @carole_bouchard/Twitter
International tennis players also expressed concern over Shuai's whereabouts, including former world singles No. 1 Chris Evert, who said Peng's accusations about Gaoli were "disturbing."
Evert tweeted:
"I've known Peng since she was 14; we should all be concerned. This is serious; where is she? Is she safe? Any information would be appreciated."
French former doubles No. 1 Nicolas Mahut said:
"The fact that Peng Shuai is missing is not only the WTA's problem. We are all concerned."
Former world No. 1 tennis player, Billie Jean King, reposted WTA's statement and added:
"Hoping that Peng Shuai is found safe and that her accusations are fully investigated."
Fellow tennis player, Naomi Osaka also took to Twitter to inform followers about Shuai.
"Censorship is never ok at any cost," wrote Osaka, adding the hashtag, #whereispengshua.

"I hope Peng Shuai and her family are safe and ok. I'm in shock of the current situation and I'm sending love and light her way."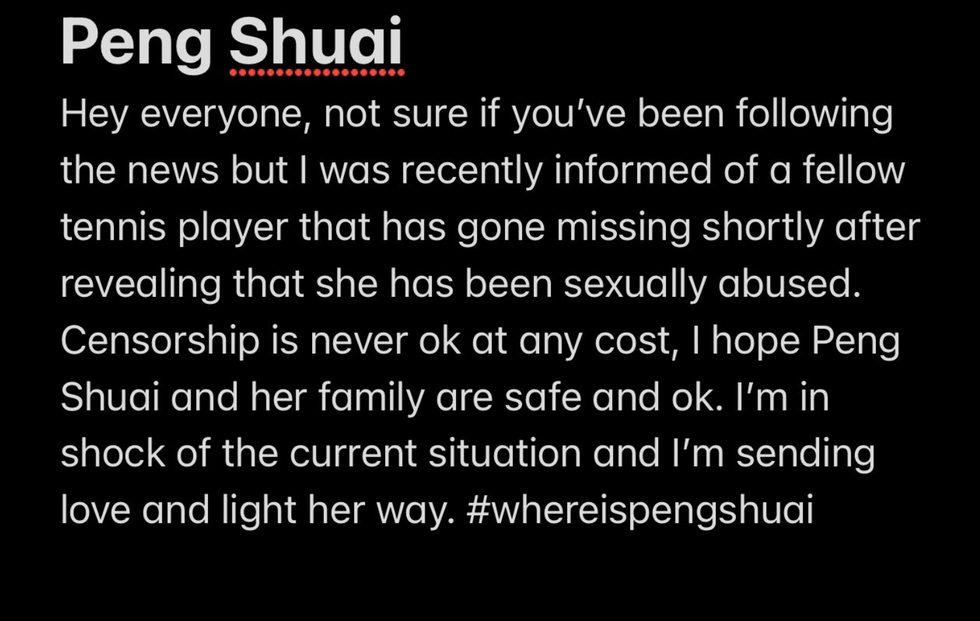 @naomiosaka/Twitter
Shuai became the first Chinese tennis player—male or female and in singles or doubles—to be ranked world No. 1 doubles by the WTA in February 2014.

As of this writing, there have been no updates regarding Shuai's whereabouts or any mention of her accusations on Chinese social media.