A delighted mum has shared the touching love story between a scruffy Border Collie cross she adopted and her autistic son, after their special bond gave the dog back her bounce and reduced the sensory overloads blighting the boy's life by half.
---
"Meltdowns" up to three times a week had become 'normal' for Emma Oliver's son, Joe, 14, who has high-functioning autism – affecting his communication with others and how he experiences the world around him – until the family adopted Meena in 2014 from their local Dogs Trust kennels.
Soon a remarkable rapport developed between Joe and the dog, which saw the pet doing everything from "high five" him with a paw to licking his face when he felt agitated – actions which, in turn, saw his incidents of sensory overload reduce by half.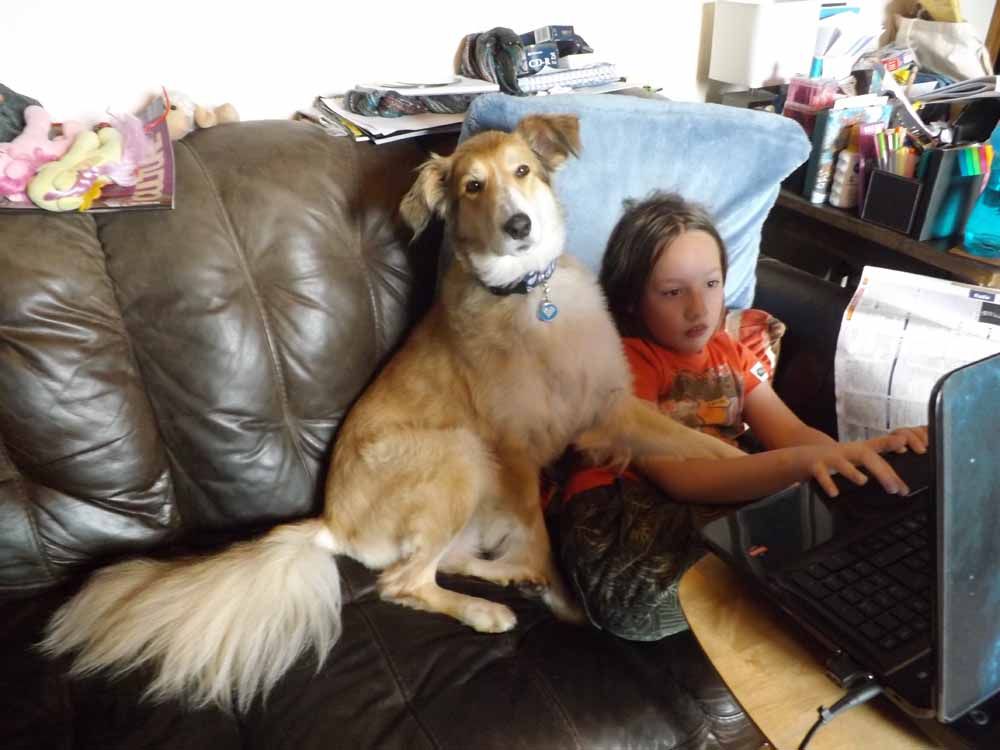 Meena helping Joe with schoolworkPA Real Life/Collect
Stay-at-home mum Emma, 42, of Barnard Castle, County Durham, whose husband, Chris, 46, is an analytical chemist, said: "As soon as we stepped into the kennels, Joe spotted Meena and it was love at first sight. They quite literally fell into each other's arms.
"Watching them interact is such a blessing. If Joe gets angry when playing video games, Meena will high-five him and lick his nose until he's giggling again."
It was not until he became a toddler that Joe first displayed any signs of behavioural difficulties.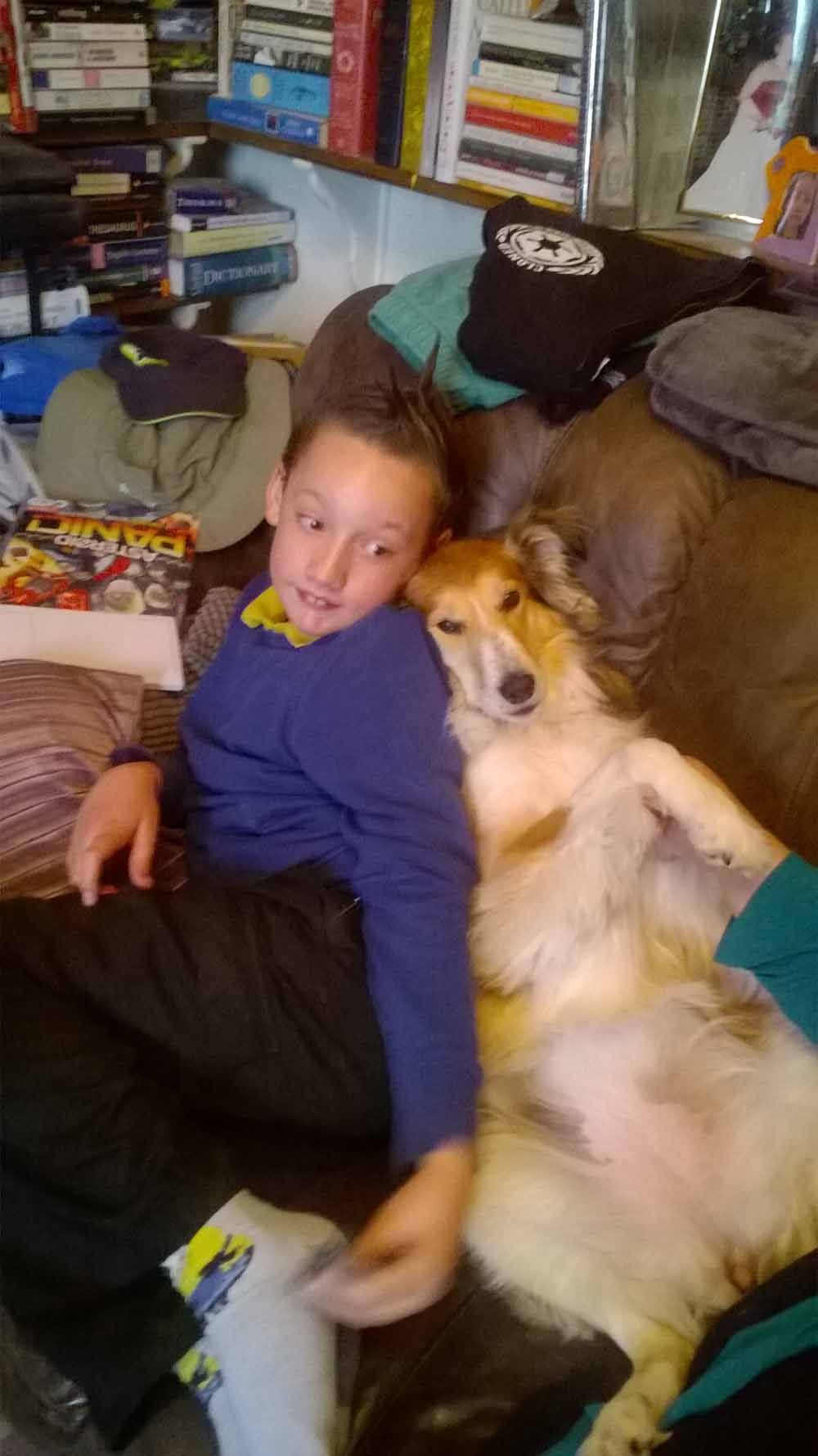 Joe and Meena after schoolPA Real Life/Collect
Emma, whose pregnancy was a welcome surprise, recalled: "He was the easiest baby you could ever have imagined. He never cried or kicked up a fuss."
But she remembers him as "not the chattiest" toddler – something she put down to him being an only child and expected to be remedied when he started nursery.
Sadly, soon after he enrolled in September 2008, Emma realised that Joe's behaviour was different to that of the other children.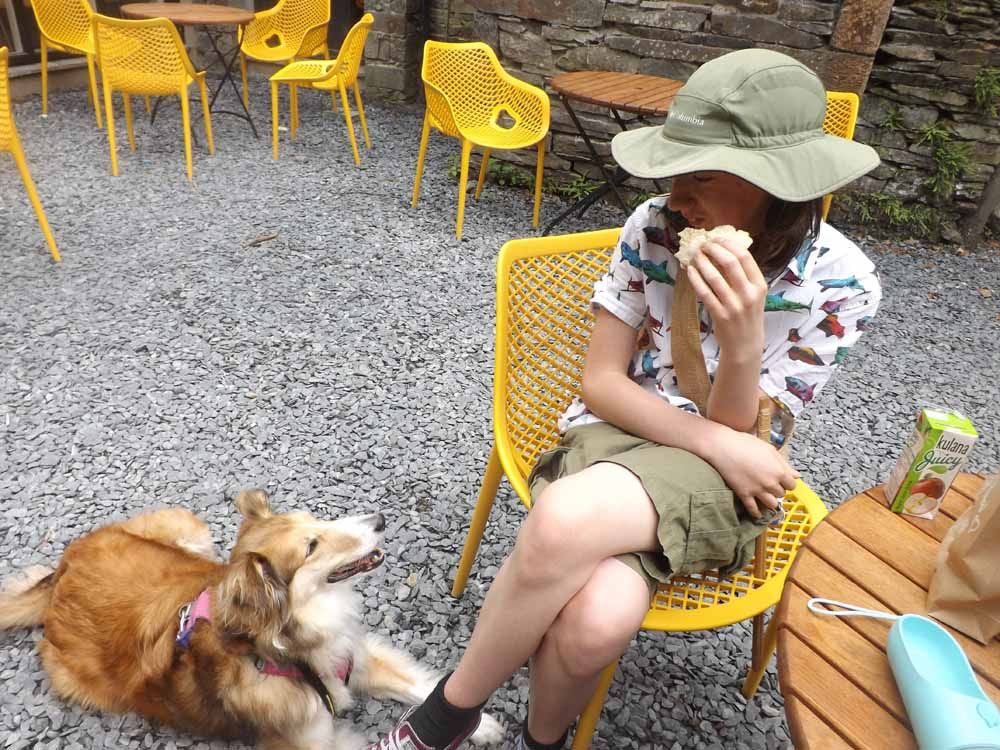 Meena hoping Joe might share his foodPA Real Life/Collect
"The nursery workers were lovely and did their best with Joe, but it became clear he wasn't like the other toddlers in his class," she said.
"As soon as stepped through the doors, he'd spend three or four minutes figuring out where he was going to play and it nearly always involved steering clear of other children."
At first, Emma and Chris just thought Joe was shy but, by the time he was eight in 2013, he was still refusing to socialise so, with the help of Child and Adolescent Mental Health Services (CAMHS), he saw a psychiatrist and was diagnosed with high-functioning autism.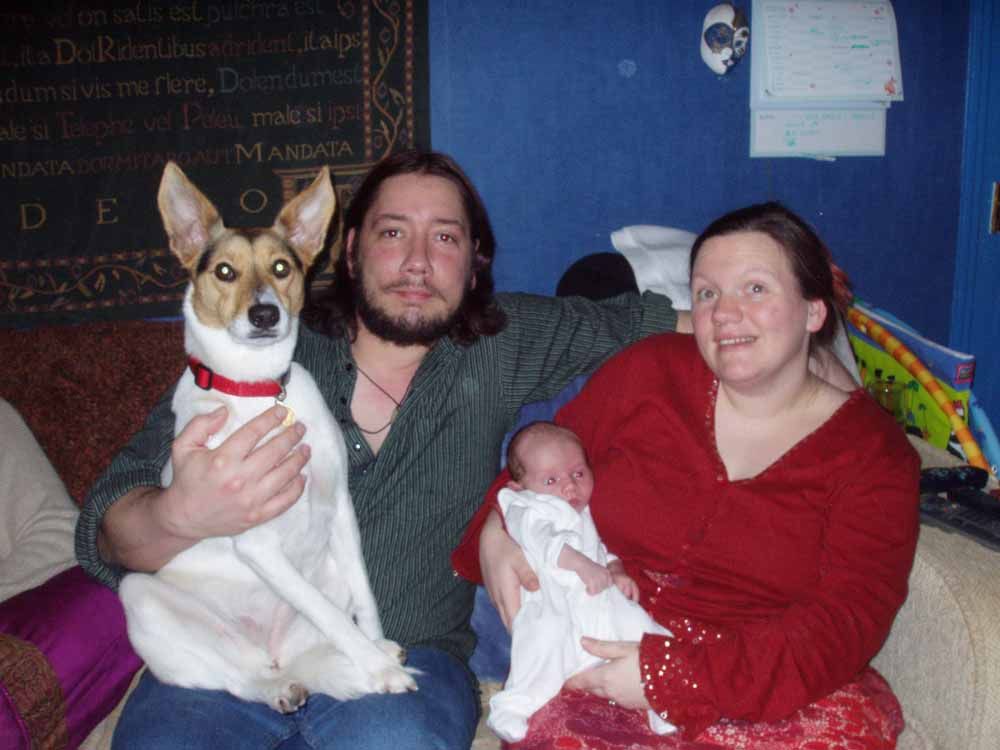 Chris, Emma and baby JoePA Real Life/Collect
"He just didn't want to talk to children his own age. He actively avoided talking to other children as much as he could, although he would stand near them," said Emma.
"I'd ask him why he hadn't spoken to them and he'd say, 'I forgot.' It's quite common in children with autism.
"Luckily, we were referred to CAMHS and after a few play dates with the specialist child psychiatrist at the local youth centre, they were able to say – without doubt – that Joe had high-functioning autism."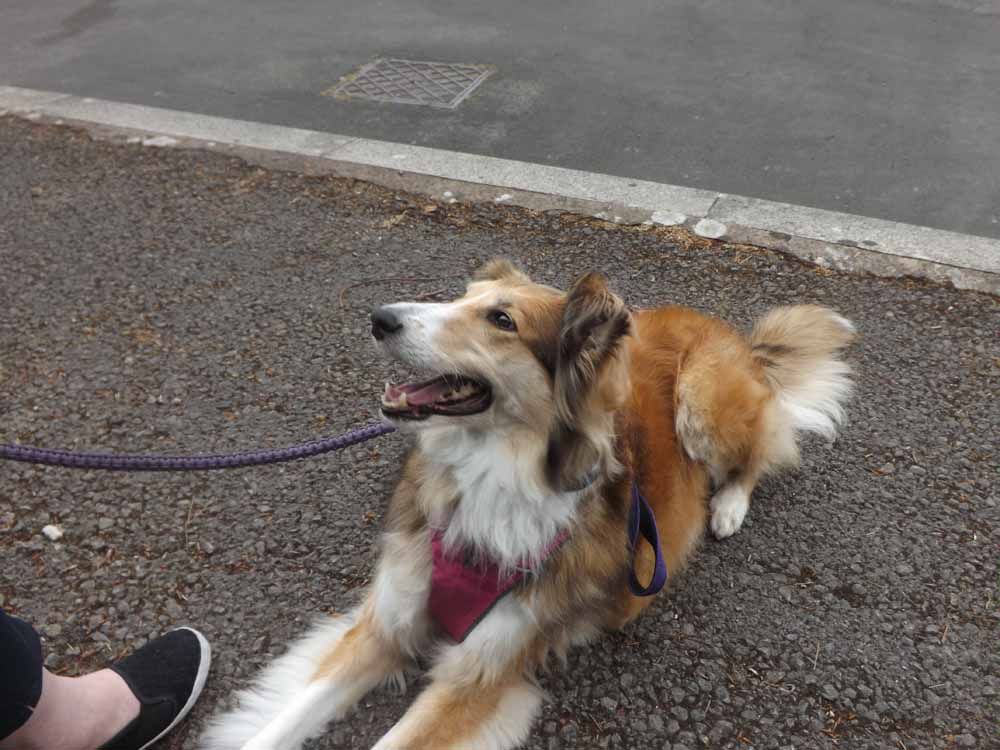 Meena on a walkPA Real Life/Collect
She continued: "The diagnosis wasn't the upsetting part. It didn't change Joe to us, but seeing him assessed on how he interacted with other people, and how much he struggled with it was distressing."
As part of his condition, Joe struggled to communicate how he felt and often became overwhelmed with 'sensory stimuli,' such as noise, which are picked up by sensory receptors mainly concentrated in the hands, feet, lips, mouth, tongue, eyes, ears, nose and skin.
While most people would be able to ignore them, those on the autism spectrum are often over or under sensitive to these stimuli – resulting in sensory overload.
Explaining how Joe's diagnosis helped her to understand his behaviour, Emma said: "It was definitely a learning curve as he got older. What we once thought were temper tantrums were actually sensory overloads and it seemed like he might suffer with them forever.
"A full meltdown could happen anywhere, although the supermarket would be a common place. He'd scream and yell and his legs would be flailing all over the place.
"Other shoppers would look at you as if you were a terrible mother, letting your child behave like that. But what good is telling your child off when they're completely overwhelmed and there's nothing they can do?"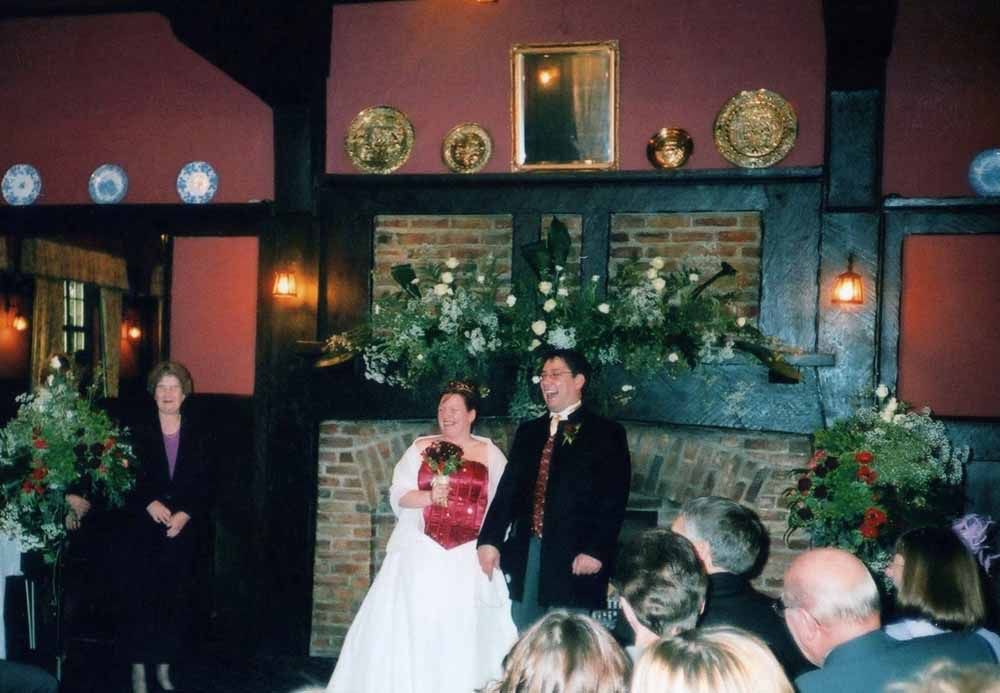 Emma and Chris on their wedding dayPA Real Life/Collect
But the pattern of "meltdowns" which had become part of life for the family – distressing both Joe and his parents – changed dramatically in May 2014, after they adopted Meena.
"We were walking through the kennels and the second dog we saw was Meena. Joe just pointed over and said, 'Her,'" Emma recalled.
Aged four-and-a-half when they adopted her, Meena had been through a difficult time and arrived at the family's home with ripped out fur on her stomach, covered in bite marks and with her pink paw pads half torn off.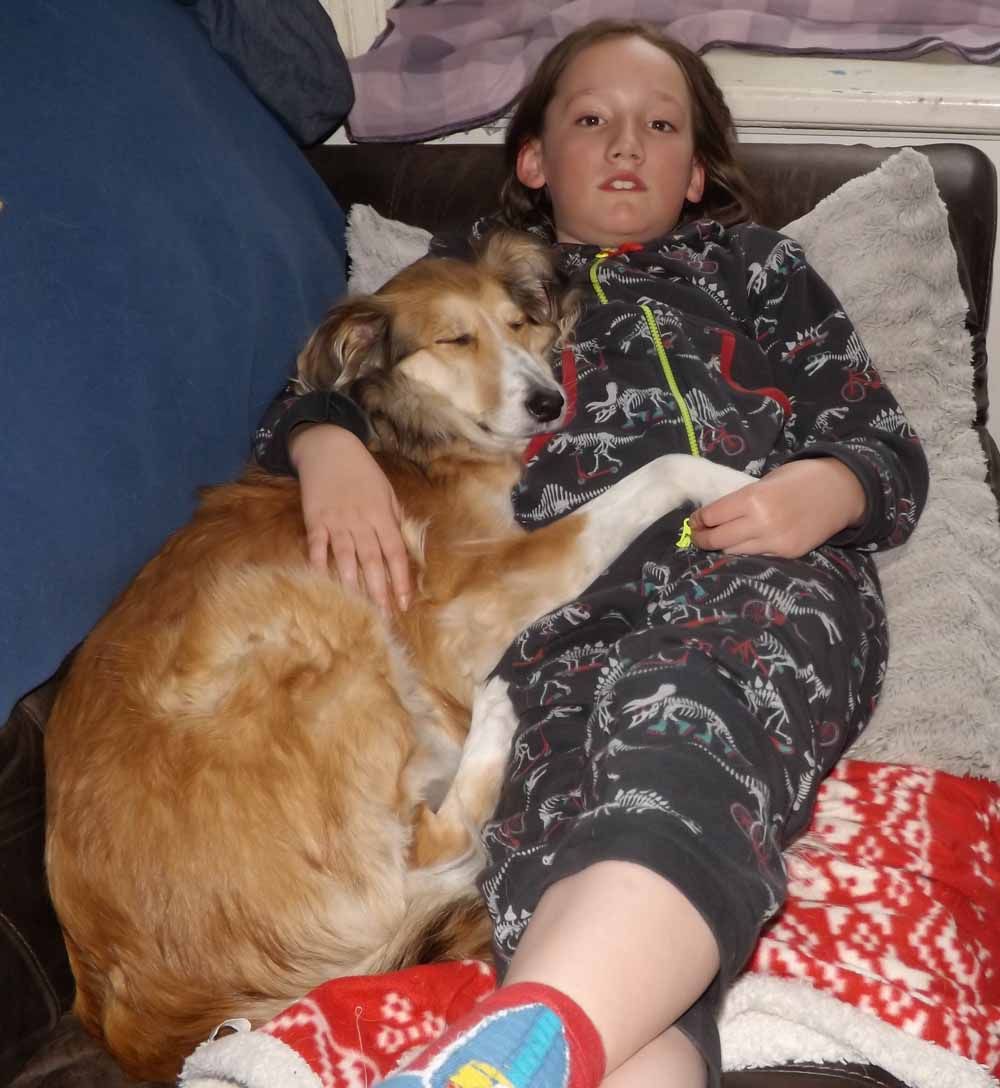 Joe and Meena snuggling on the sofaPA Real Life/Collect
Emma had reservations about adopting her, but took a chance because Joe had been so insistent and she and her husband did their best to help restore her to full health.
Switching her to Natures Menu raw and natural dog food, Emma soon started to see results – in Meena and in Joe.
"Within a week of feeding Meena on this incredible food, we started to see a positive change," she said. "For the first time she was eager to eat at mealtimes, her energy levels increased and she was finally running around and playing with her toys."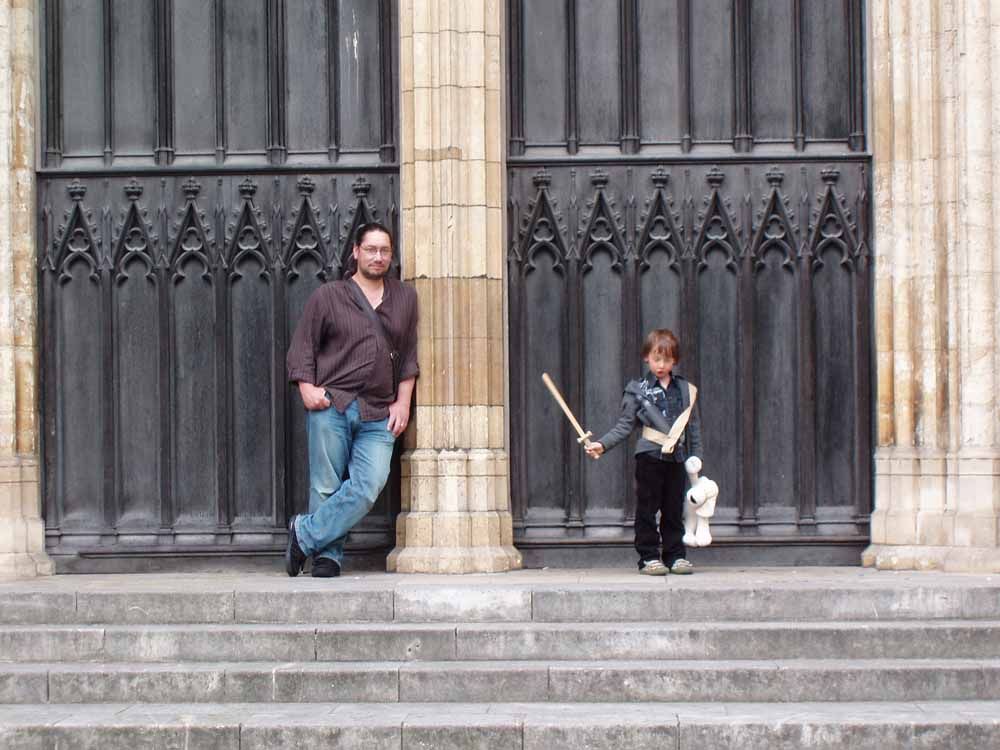 Chris and Joe outside York MinsterPA Real Life/Collect
She added: "And the change in Joe was quite incredible. A few weeks after bringing Meena home, his school actually called to tell us his behaviour had changed. At first I was worried, but then they said to keep it up, because his performance had improved massively – I could hardly believe it."
Now Emma is convinced that Meena can sense when Joe is particularly stressed out and does her best to calm him – insisting they have a special connection that cannot be logically explained.
"It's hard to believe until you see it, but she really is his best friend," Emma added. "Whenever Joe's verging on a meltdown, she will come over and sit on him and offer her support."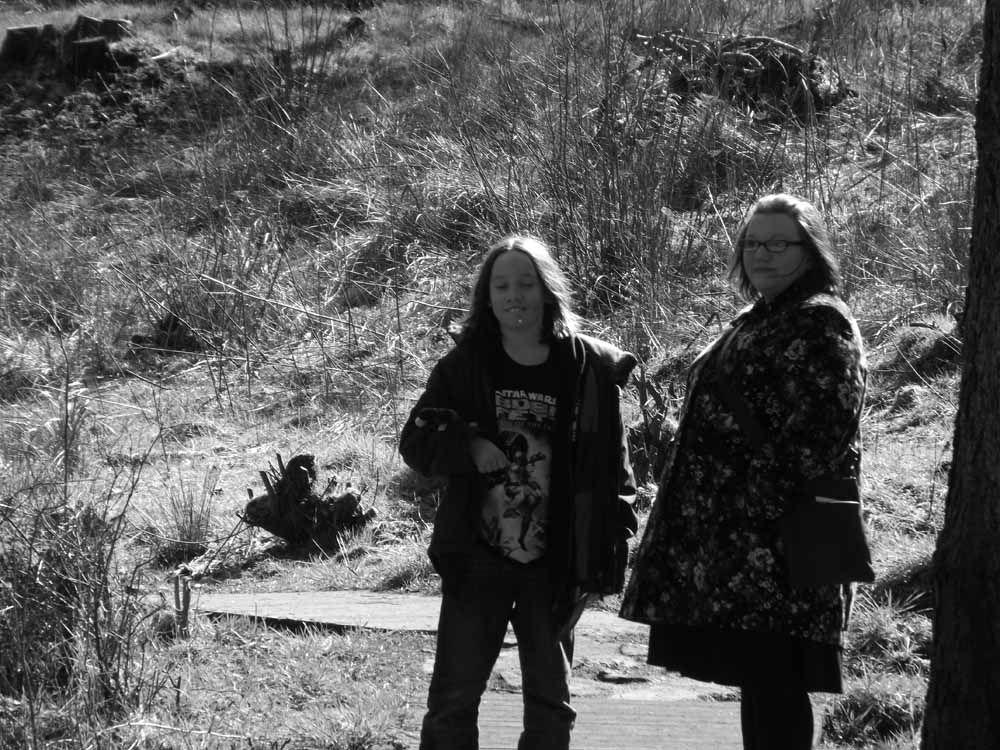 Joe and EmmaPA Real Life/Collect
She continued: "If he's had a particularly bad day – say he's had a mark he isn't happy with in class – then he will come home and take Meena into his room and half an hour later he'll reappear and be back to his usual self. That never would have happened before. She really has halved his meltdowns."
Now preparing for his GCSEs, Joe has even signed up for the Duke of Edinburgh Awards scheme, something Emma swears would never have happened if it was not for Meena.
"I make it very clear to everyone that meets Meena that she is not a therapy dog, she's a pet that has a therapeutic effect on our son," she continued.
"But she really has changed our lives, she provides incredible support and reassurance for Joe – she is undoubtedly the best friend he has ever had."