A realtor, his client and his client's son, all Black, were handcuffed and detained by police in the midst of touring a property.
Roy Thorne, an Army veteran, was house hunting in Wyoming, Michigan with his 15-year-old son Samuel. Realtor Eric Brown was showing them a two-story brick house.

But in the midst of their tour, Samuel Thorne began to notice the house become gradually surrounded by police, many of them armed. His father, Roy Thorne also noticed the property was surrounded.

Evidenced by police body-cam footage, released by the Wyoming Police Department, all three occupants were ordered to come out with their hands up.
The two Black men and the 15-year-old child were handcuffed and placed in three different police vehicles.
All three cooperated with police.
While still handcuffed, Brown informed the officers he was a realtor on a scheduled tour, used an app to open the lockbox allowing them inside the house and showed them his credentials.
Upon receiving this information, the police released all three, informing them a neighbor called 911 to report the Black realtor and his clients for breaking and entering. She accused Brown of being a man who was previously arrested for breaking into the house on July 24.
Several of the officers in the video are shown apologizing to Brown, Thorne and his son Samuel.
A report by local news affiliate Wood8 TV revealed Brown and Thorne are not letting the racial bias go unanswered.
Speaking to Wood8 TVBrown expressed his concern none of the officers thought to check the man who had previously broken into the house was still in police custody, or the car the same individual was driving, a black Mercedes, was still in the police impound lot.
Brown also questioned why all three of them—including a 15-year-old child separated from his father—needed to be handcuffed before having the chance to explain themselves.
According to a statement from the Wyoming Police Department, was part of their protocols.
"While it is unfortunate that innocent individuals were placed in handcuffs, our officers responded reasonably and according to department policy based on the information available to them at the time."
And while Captain Timothy Pols of the Wyoming Police insisted toWood8 TV "there wasn't a racial element" to the incident, Thorne and Brown strongly disagree.
Speaking to the The Washington Post, Thorne addressed the fact there were as many as 40 showings of the house prior to his, all without any police involvement.
He went on to say:
"I don't get how we were treated as a threat when we're clearly not one."
"If we were White, that wouldn't happen."
Brown and Thorne are not alone in believing this was a blatant example of racial bias and racial profiling.
Viewers of the footage on YouTube were equally angered.

@Wood8 TV/YouTube

@Wood8 TV/YouTube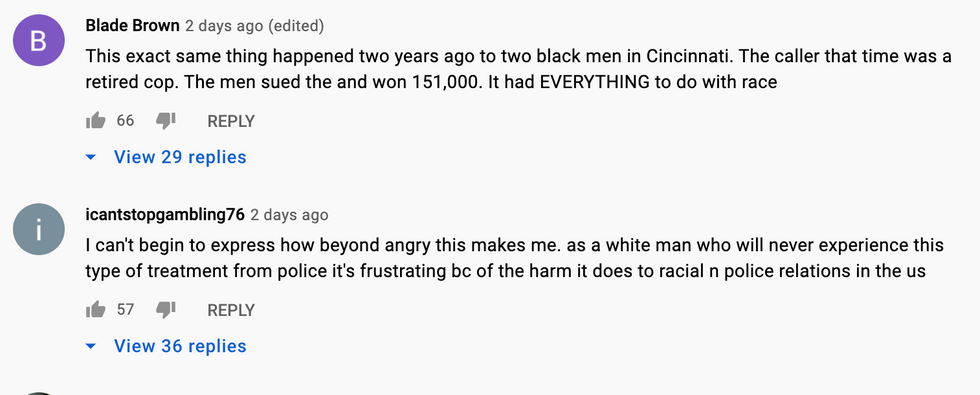 @Wood8 TV/YouTube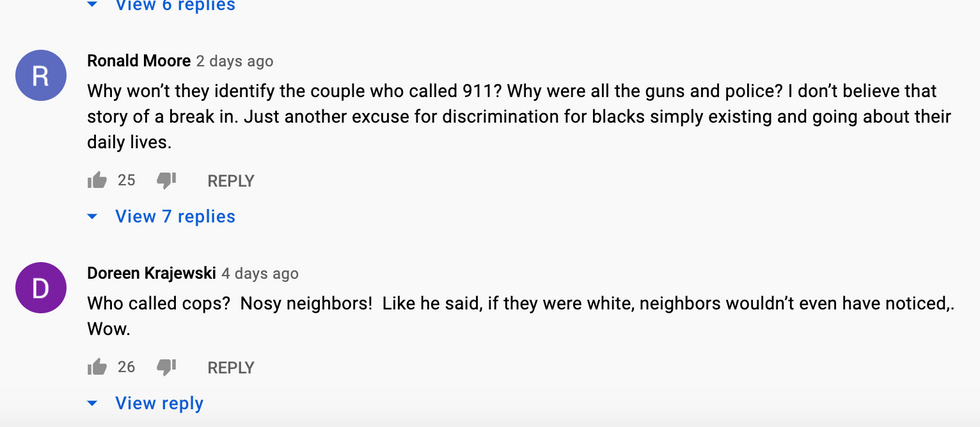 @Wood8 TV/YouTube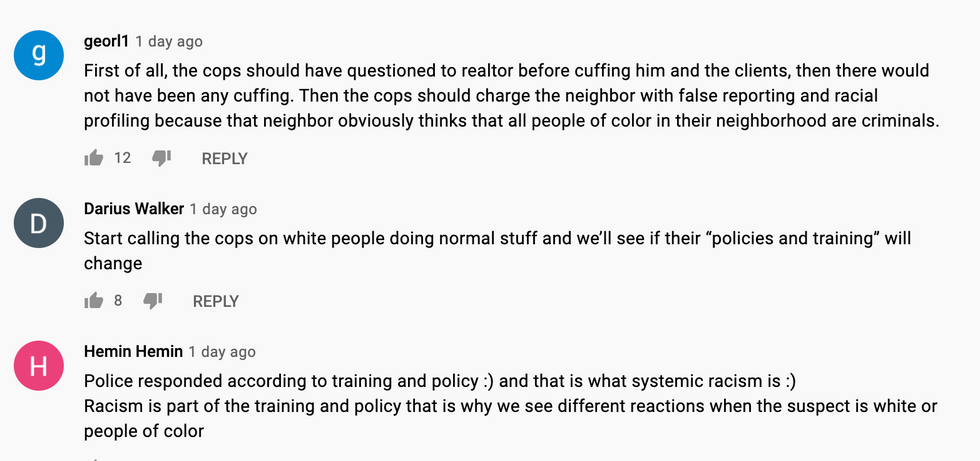 @Wood8 TV/YouTube
According to CNN, Wyoming Police Chief Kimberly Koster invited Brown, Thorne and his son Samuel to speak about the incident, which they are considering, with legal counsel present.
Thorne also told CNN he has a message for the woman who called 9-11.
"...if you see a crime, report a crime. But if you see people—Black people, any minority—don't report people doing normal things."
"You do that, you don't realize that you can change their life or have their life taken, just you making a phone call. In this instance, it could have been three."