At her debut concert of her "Where Do We Go" world tour that launched in Miami, Billie Eilish showed some skin to protest body shaming and the commentary around the clothes she wears.
Though she's unavailable for further comment, Eilish has launched a meaningful conversation about body positivity.
---
At the opening of her Miami concert, Eilish displayed on a large stage screen a video of her removing her own shirt and tank top, to reveal her skin and bra, before sinking down into the water she was standing in.
While this video played, Eilish spoke softly and moodily a dialogue about body positivity.
In the monologue, Eilish said:
"Some people hate what I wear. Some people praise it. Some people use it to shame others. Some people use it to shame me. But I feel you watching always, and nothing I do goes unseen."
Here you can see the video, as well as the transcription of her full monologue:
Billie shows off her body during powerful interlude on the "WHERE DO WE GO? WORLD TOUR" (1/2) https://t.co/4jKl4LXTcF

— Billie Eilish Updates (@Billie Eilish Updates)1583808665.0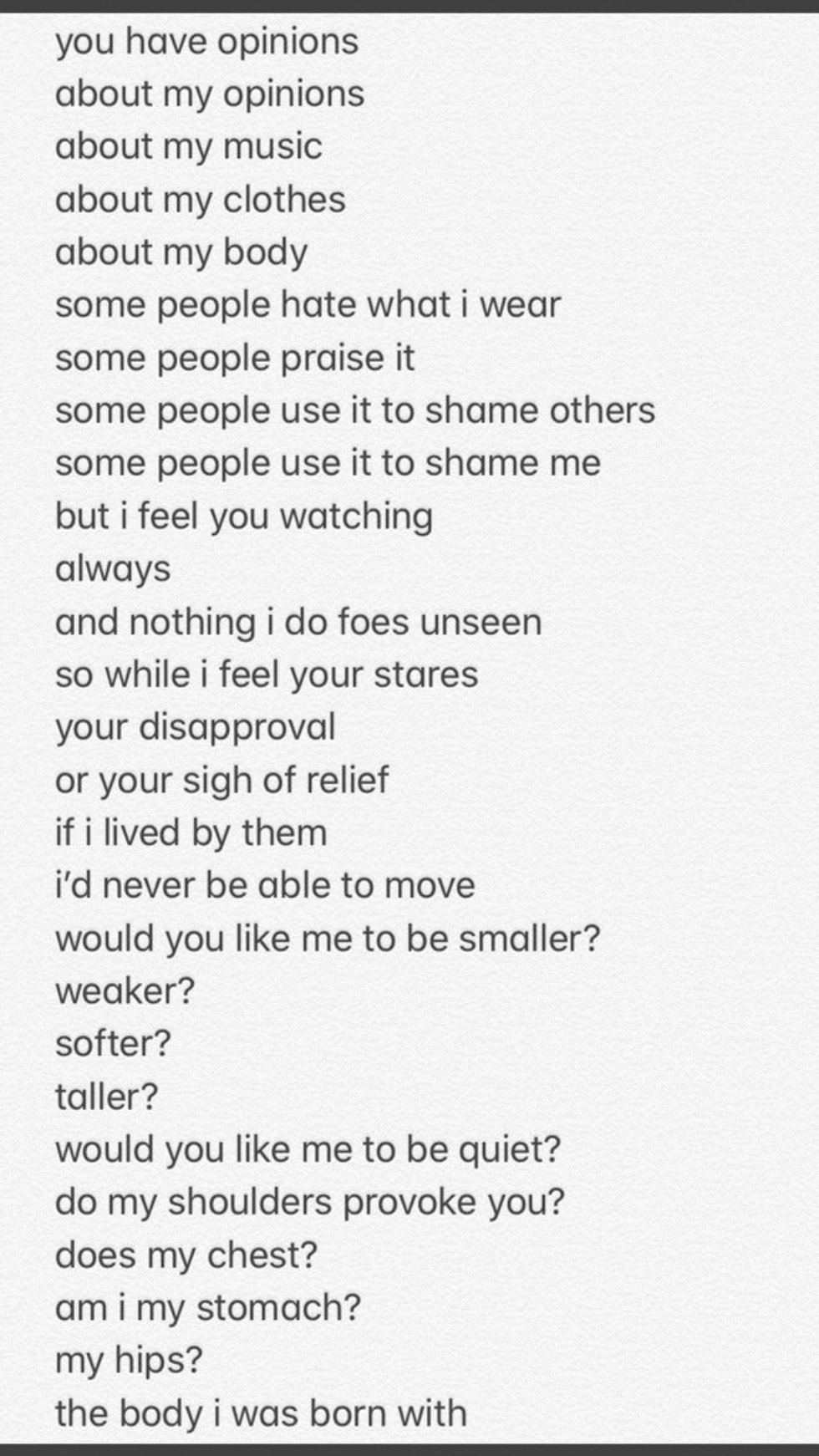 @PopCrave / Twitter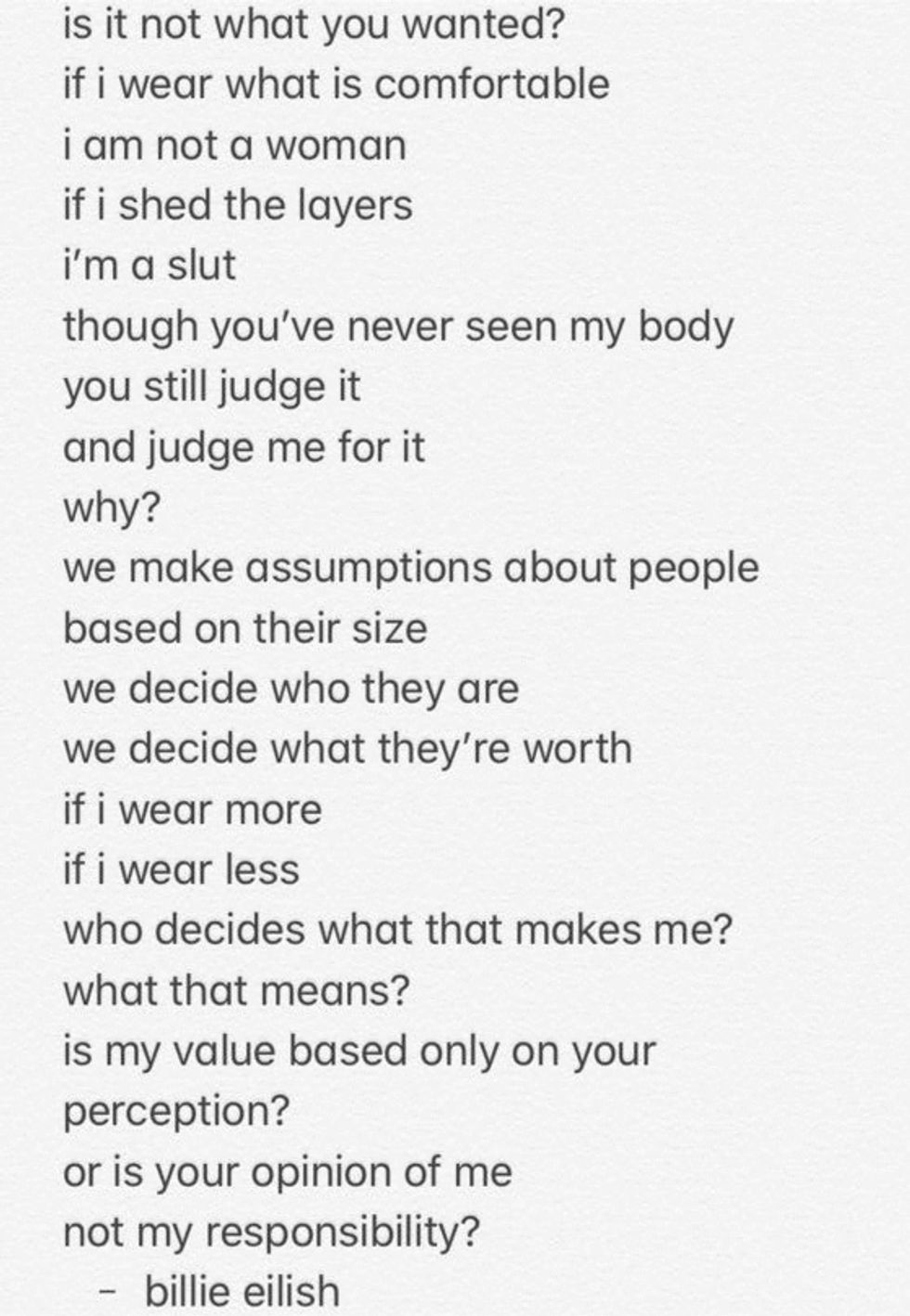 @PopCrave / Twitter
This speaks volumes, since the 18-year-old's rise to fame has been riddled with commentary around her appearance and choice to wear clothes that are too large for her body.

She's reiterated in interview after interview her desire to focus on her music, desiring to keep her body out of the equation.
During an interview with Calvin Klein, she said:
"That's why I wear big baggy clothes: Nobody can have an opinion, because they haven't seen what's underneath."
And later, during an interview with Vogue Australia, she referenced her mystery again, stating:
"I want layers and layers and layers and I want to be mysterious. You don't know what's underneath and you don't know what's on top," she said. "I don't want to give anyone the excuse of judging."
By then opening up to her audience about the issues surrounding her body, Eilish has launched a motivating commentary about body positivity, while still not giving very much of her appearance away.
Eilish's fans have spoken out in volumes about her inspirational message, most stating that this made them love her and her music even more.
@VictoriaPortz She is so brilliant. Hope my grans grow up living their truth. Not swayed by others.

— Keightlin (ArtInMyLeftEye/Siia.Ane) (@Keightlin (ArtInMyLeftEye/Siia.Ane))1583869934.0
@billiefuleilish Powerful message

— intuitionLit (@intuitionLit)1583872214.0
@FigliaDiLilith She just wants to focus on her music, her art, and people keep demanding she conform to whatever st… https://t.co/hEoO3ObdZs

— Lisa Guest (@Lisa Guest)1583860127.0
@FigliaDiLilith @JennyBlighe I was just reading an article about this. Massive respect for her and the way she has… https://t.co/WakCy9lCSH

— Whim (@Whim)1583863904.0
Whether Eilish will comment about this in the future or use this in some way for a larger campaign, it's hard to say. But it's wonderful to see an artist using their resources to speak out about such an important subject, just the same.