Benedict Cumberbatch may play a valiant hero onscreen, but the British actor is just as gallant offscreen. The Marvel star supported feminism by vowing to turn down future roles if a female costar isn't offered an equal salary.
---
He told the Radio Times Magazine that other actors should follow suit in boycotting projects that offer women lesser salaries than that of their male costars.
It's about implementation. Equal pay and a place at the table are the central tenets of feminism.
Look at your quotas. Ask what women are being paid, and say: 'If she's not paid the same as the men, I'm not doing it.'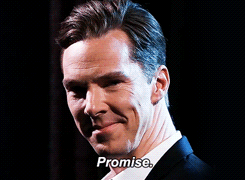 A real hero.
THATS WHAT IM TALKING ABOUT https://t.co/HY45nOhrrD

— Andy (@Andy) 1526151866.0
Hollywood's gender wage gap has been an ongoing controversy making headlines with projects like The Crown, Westworld, and All the Money In the World – in which leading actor Mark Wahlberg pocketed a $5 million paycheck, while in comparison, his costar Michelle Williams made $625,000.
@monckey64 @Philip_Shuford @timothy_fisher Yep! In what world is Mark Wahlberg a bigger talent than Michelle Williams?

— Steven Tsapelas (@Steven Tsapelas) 1526213440.0
Thank you #BenedictCumberbatch for proclaiming your commitment to #equalpay4equalwork. All industries need to have… https://t.co/SrFBIDfOr3

— Cassandra Jones (@Cassandra Jones) 1526160731.0
The Avengers: Infinity War actor hopes to change the wage disparity with his own production company, SunnyMarch, which will focus on empowering women with female-focused stories.

I'm proud that [partner] Adam [Ackland] and I are the only men in our production company; our next project is a female story with a female lens about motherhood, in a time of environmental disaster. If it's centred around my name, to get investors, then we can use that attention for a raft of female projects. Half the audience is female!
People are praising the actor for his latest announcement.
@possumriot @inflect0r Love his Sherlock. Damn fine actor. And what do you know, seems a damn fine human being too. Righteous brother!

— Iam Smart (@Iam Smart) 1526212710.0
Benedict, you're doing amazing sweetie. https://t.co/Fbs3erGUlO

— Mena 💎 (@Mena 💎) 1526151739.0
Nothing but respect for my favorite Superhero ❤❤❤ https://t.co/DWUp5yID3N

— Sara💀🌸 (@Sara💀🌸) 1526151116.0
Dr. Strange may have had a hand in determining the best outcome.
He saw 14 million possible futures and this is the only 1 where everyone wins. https://t.co/4fzXpqWjua

— Steven Tsapelas (@Steven Tsapelas) 1526160787.0
Others emphasized the dignity of fair wages based on one's performance regardless of gender, or who has the bigger box-office clout.
@IndieWire What if his female co-star is making her acting debut ? Is it fair to receive equal pay ?

— Vlad Jaxon (@Vlad Jaxon) 1526149780.0
@raphlumbroso @IndieWire The audience does. The revenue is way bigger if a Hollywood star is headlining the movie.

— Vlad Jaxon (@Vlad Jaxon) 1526150176.0
@vladjaxon @raphlumbroso @IndieWire that concept is so old school now. j law is the highest paid but couldn't draw in audiences

— 🦄 (@🦄) 1526155001.0
There should not be a salary gap based on gender discrimination. They work equally hard if not more. And they shoul… https://t.co/iHSZ3AfNwT

— Shiven Sen Gupta (@Shiven Sen Gupta) 1526114638.0
H/T - Twitter, Indiewire, RadioTimes, VanityFair