With New York City declaring a state of emergency over the rapidly ballooning Monkeypox outbreak, Bravo host Andy Cohen pleaded with his gay audience to stay vigilant.
As of Monday, New York City reported 1,472 Monkeypox cases–with most cases disproportionately affecting gay and bisexual men and other men who have sex with men, although the viral disease can affect anyone.

The number of reported cases in the city is widely believed to be well-underreported, as well as the 5,189 national case count, due to a lack of diagnosis.
On Monday's airing of Watch What Happens Live, the out TV personality explained:

"Monkeypox cases have risen so dramatically in New York City that mayor Eric Adams issued an executive order declaring a state of emergency today."
Touching on what has been considered a "slow and bureaucratic" response by the US government, Cohen continued:

"After what's been an abysmal response from our government so far, I'm hoping this new order will help our leaders actually deal with this threat and pressure the federal government to deploy badly needed resources like vaccines, which have been very hard to come by."
He then addressed fellow members of the LGBTQ community.

"I want to speak to my gay brothers for a minute. We need to take this seriously because this is affecting us at much higher rates than others right now so be aware, get vaccinated if you can, and please—I know it's summer and we all have COVID fatigue—but please be safe."
"Don't take unnecessary risks. I know it's summer, but keep it locked up."
"At the same time," he continued, "I call on everyone in the government and the media to not stigmatize our community, which is already under attack from many who'd rather use us as a scapegoat than help us."
Cohen also addressed heterosexual men who may not believe the outbreak doesn't affect them "this is everyone's problem because as we've learned from very recent history: Unless we act now these things can get a whole lot worse very quickly."
Followers and colleagues thanked Cohen for using his platform to address the current health crisis.

@bravoandy/Instagram

@bravoandy/Instagram

@bravoandy/Instagram

@bravoandy/Instagram

@bravoandy/Instagram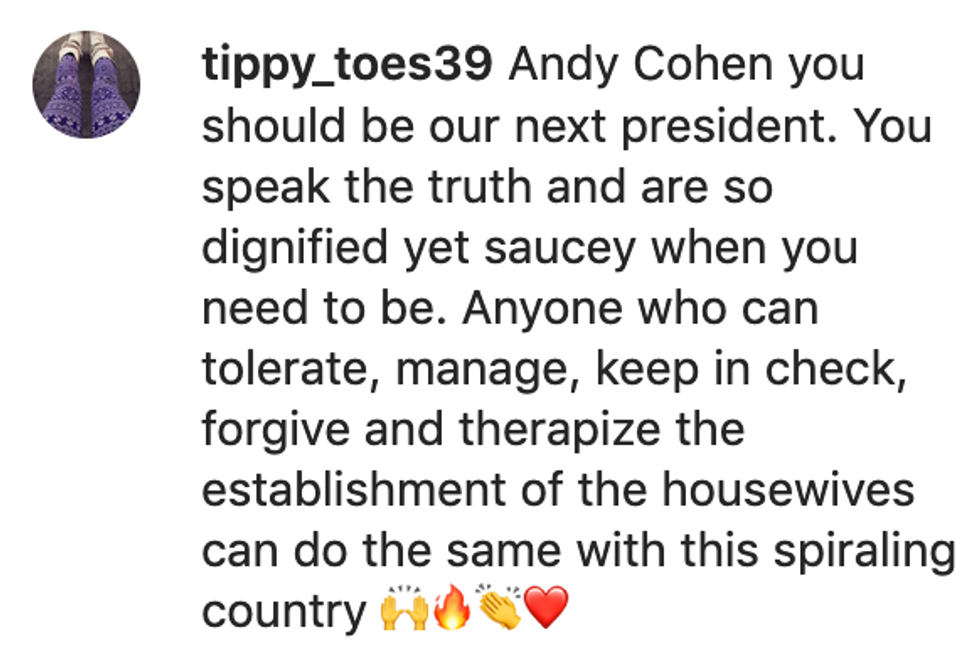 @bravoandy/Instagram

@bravoandy/Instagram

@bravoandy/Instagram
According to the California Department of Public Health, Monkeypox is spread primarily "through direct contact with infectious sores, scabs, or body fluids, including during sex, as well as activities like kissing, hugging, massaging, and cuddling."
The department also stated it can be spread through contact with materials used by an infected person that hasn't been cleaned such as clothing and bedding.

"It can also spread by respiratory secretions during prolonged, close, face-to-face contact," they added.
Monkeypox has continued spreading across other American cities–and not only exclusively among men who have sex with men–and the limited vaccine supply has resulted in long waiting lists and lines at clinics as cases continue to rise.
Leaders of national LGBTQ organizations are frustrated over the federal government's "lack of urgency" towards the Monkeypox outbreak.

Tyler TerMeer, CEO of the San Francisco AIDS Foundation, said:
"We are, once again, in a moment where a lack of urgency and an inadequate response has left our community filled with fear, unanswered questions and valid outrage."
"A moment where we have been abandoned by inaction."
Last week, Dr. Anthony Fauci called the outbreak a "serious problem."
He told CNN that the White House is considering establishing a Monkeypox coordinator role, similar to the COVID job Dr. Ashish Jha has now.
The Monkeypox coordinator role would focus on increasing testing, vaccine distribution, therapeutic treatments, and more.