Waterparks are usually fun places where thrill-seekers can drop down water slides, and the sedentary set can relax in a wave pool.
Unlike the beach, guests can safely enjoy themselves in a controlled environment of a water park without concerns of sharks or rip currents dragging them out to sea.
But even controlled environments have freak accidents.

---
On Sunday, a man-made wave operated by a machine malfunctioned in a wave pool, creating a massive tsunami at Yulong Shuiyun Water Amusement Park in the city of Longjing, China, near the North Korean border.

Forty-four people including children were injured – some with broken ribs – after being taken over by the massive torrent nobody saw coming.

The terrifying video in which people can be heard screaming as their bodies are being slammed into one another was uploaded by the Beijing Times.

WAVE POOL MALFUNCTIONS! Releasing GIANT WAVE! (44 people injured)www.youtube.com
A park employee cited an "accidental breakdown in machinery" as the culprit for the malfunction.

The statement issued from the Longjing city government read:
"According to the initial stages of the investigation, the incident was caused by a power cut that damaged electronic equipment in the tsunami pool control room, which led to the waves in the tsunami pool becoming too big and injuring people."
Thankfully, there were no fatalities.

A local government announcement reported that five of the victims are still being treated at the hospital but remain in stable condition.

Even though nobody died, the accident was far from humorous.

People couldn't help but leave insensitive comments after watching the video, while most were speechless over the magnitude of the rising tide.

@tokyo_0 Malfunction? That looks like the best wave pool ever!

— Krog NoLike (@Krog NoLike) 1564659878.0
@KrogNolike @tokyo_0 It would be bad ass. I would love it only if the pool didnt have a lot of people in it.

— Kenro said so (@Kenro said so) 1564665602.0
@tokyo_0 Ouch.

— Jennifer Gierok (@Jennifer Gierok) 1564663025.0
@BNONews This tsunami training is getting out of control🌊

— Albert Brennaman (@Albert Brennaman) 1564664038.0
@Complex bruh imagine enjoying a regular aged wave machine, then BOOM, real life kick in and you confused asf drift… https://t.co/61n4YlZUmj

— ace 💫 (@ace 💫) 1564677849.0
China has earned a reputation for things that don't always go as planned.
@tokyo_0 From drugs, to motor vehicle drivers, to trains, and now wave pools - nothing in #China is safe. #thatsnotfunny!

— 💪CryptoCommander🔱 (@💪CryptoCommander🔱) 1564653521.0
@CrossfitToddc @tokyo_0 China is in such a rush to have the best and biggest of everything. They said 10 years ago… https://t.co/luPcYsW2ih

— Kenro said so (@Kenro said so) 1564665828.0
@BNONews Quality Chinese Engineering

— Toffee Fever 🇵🇷 (@Toffee Fever 🇵🇷) 1564623447.0
A visit to the beach may be a safer bet.
A childhood fear manifested as a real-life nightmare.
@Complex I remember being frightened as a child being made to go into one of those "wave pools"

— Nick Revell (@Nick Revell) 1564677752.0
@Complex Just when you thought it was safe🤦🏽‍♀️. So awful

— Tarsha (@Tarsha) 1564682614.0
Another Shuiyun Waterpark employee was quoted as saying:
"Online rumors say that a worker wrongly operated the controls, but in reality, it was a problem with the equipment. The park closed for a day for repairs, but the investigation is over and the park will open as usual tomorrow."
The park is considered the biggest of the various attractions offered in Jilin province.

A different amusement park in the Sichuan province in southwest China didn't fare as well. Two people died and 12 others were injured after falling off a slide at Children's Garden in Taiping.
Wishing everyone from Sunday's incident a speedy recovery.

If you're heading to the beach or a waterpark, these toddler floaties, available here, offer an extra measure of safety.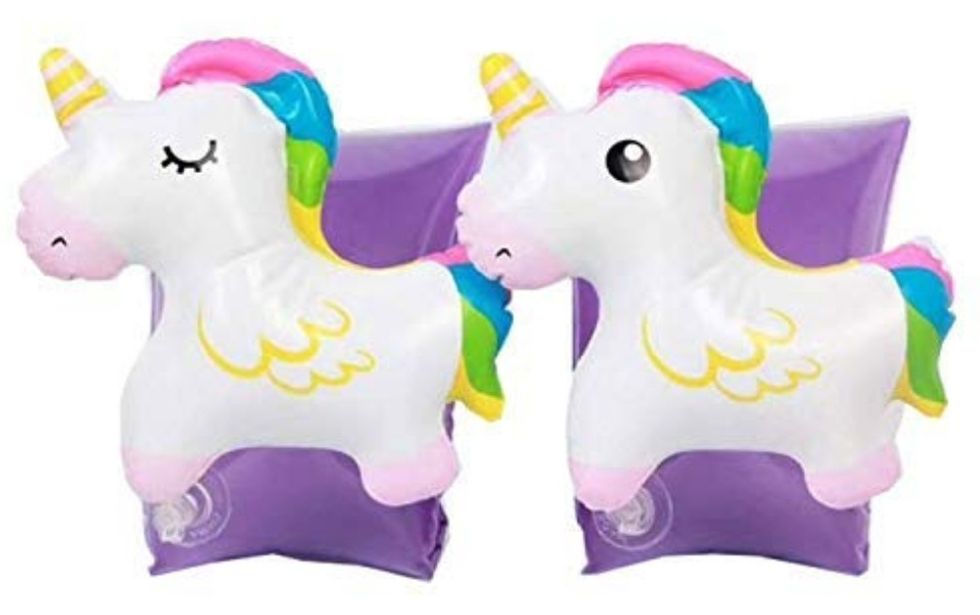 Amazon