If you want to go your whole life without recklessly endangering the lives of other human beings, you can probably succeed.
---
However, this was not the case for a young woman who went viral after posting a Snapchat video that shows her throwing a chair from the balcony of a Toronto condo building.
Let's recount this story in brief snippets:
Someone took a video of a chair being thrown off a #Toronto condo building https://t.co/fylo70gLu0

— blogTO (@blogTO) 1549903017.0
In case you haven't realized this yet: That's DANGEROUS AS HELL, PEOPLE. Please don't do this. You'll end up on the news:
A video showing a woman throwing a chair off a condo balcony above a Toronto highway has gone viral and police say… https://t.co/cv3Rp1P2xL

— NEWS 1130 (@NEWS 1130) 1549946180.0
And everyone will get to see what you did:
This is allegedly a photo of the chair(s) that were tossed off a condo balcony at Maple Leafs Square. Thankfully i… https://t.co/CiBwJQf1VP

— Adrian Ghobrial (@Adrian Ghobrial) 1549910492.0
And everyone will talk about you (in all the wrong ways):
I've seen some dangerously stupid acts captured on video in my time. Mostly, any fallout would be self-inflicted. T… https://t.co/396ZAiDmG5

— Brad Ross (@Brad Ross) 1549904218.0
Just walked past this spot on my way home. Couldn't imagine getting smoked by this thing coming down. Dead for sure. https://t.co/z80kXcijbf

— Mike Bohn (@Mike Bohn) 1549944256.0
.@TorontoPolice would like to speak to this young woman. She's now wanted in a Mischief - Endanger Life investigati… https://t.co/95SSDA1lkL

— Adrian Ghobrial (@Adrian Ghobrial) 1549906545.0
@blogTO Throw this scum bag in jail.

— Aaron Ashmore (@Aaron Ashmore) 1549925431.0
@blogTO She should be charged with attempted murder, throwing a chair onto a highway could have killed someone

— Nikolina (@Nikolina) 1549904060.0
AND THE POLICE WILL IDENTIFY YOU:
BREAKING: @CBCToronto has learned @TorontoPolice have identified "chair girl". They are suggesting she seek legal a… https://t.co/1KW9Slm7px

— Kari Vierimaa (@Kari Vierimaa) 1549989893.0
And you'll (most likely) turn yourself in:
JUST IN: The woman accused of tossing a chair and other items off of the balcony of a downtown condo has turned her… https://t.co/5HTPMaLnn6

— CP24 (@CP24) 1550060765.0
The woman in the video has been identified as 19-year-old Marcella Zoia. She's been charged with three offenses, including mischief and endangering life, mischief and damage to property under $5,000, and common nuisance, according to a Toronto Police Department press release.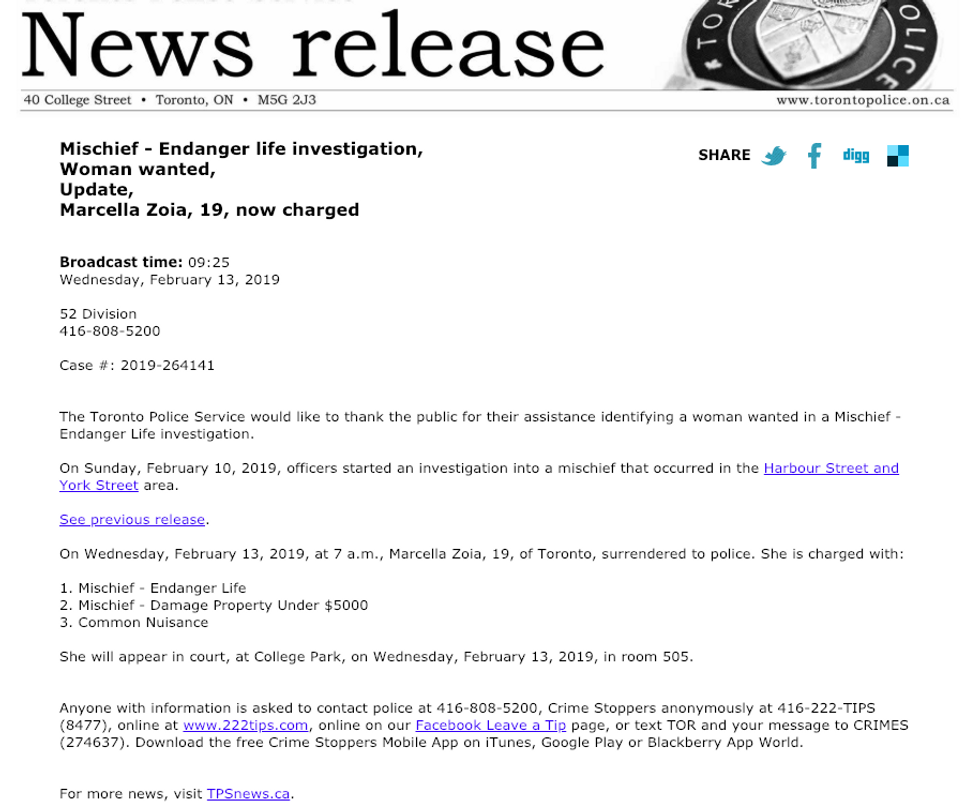 Toronto Police Department
Don't be like Marcella, everyone. Do better.