Relationships, no matter how great they are, can be put under some strain when it comes time to combine lifestyles. Experts often talk about how love and compatibility are two different things, and how both are needed for a healthy relationship.
One woman is finding this out in real-time thanks to her boyfriend's unusual and pungent sleeping preferences.
Her story was featured on Judgie's Podcast.
@judgiespod

Nest Life Best Life #CloseYourRings #aita #relationships #fyp #foryou #storytime #reddit_tiktok
The story starts when she was invited to spend the night at her boyfriend's place for the first time. She explained that her partner seemed nervous about inviting her, and eventually explained that he doesn't sleep on a mattress.

He also doesn't sleep on the couch, in a hammock, or in a recliner.
Instead, the 25-year-old has a pile of clothes and towels that he keeps on the floor where a bed would normally be. He sleeps in a "nest" of those items.
She wrote:
"I was amazed to see in his bedroom there is no bed. Instead, there's a huge pile of clothes and towels in the middle of the room. He showed me how he does it, and he kind of curls up into a ball in the middle and piles some of the clothes and towels on top of him. That's how he sleeps."
Her boyfriend explained that he had never had a guest in his "nest" before and was hesitant to invite her over because of it. Being a good sport and trying not to be judgmental, she did attempt to join him in it. But that's when things got worse.

On top of being incredibly uncomfortable, the nest also smelled bad. Eventually, she moved to the couch, an option her boyfriend had given her to begin with.
In the morning, her boyfriend "confronted" her by demanding to know:
"Why do you hate my nest?"
The woman was honest and told him she found it unusual and uncomfortable, and that it smelled bad.
The boyfriend, annoyed, explained that he doesn't wash the clothes or towels in that pile because he doesn't actually wear them. They are clothes and towels specifically to use in the pile and he doesn't feel like they need to be washed since they're just "nesting material."
The pair soon realized they were at an impasse.
He is adamant that if they move in together she needs to accept his nest. She will not budge on sleeping in a bed, or the fact that he should be washing the bedding, whatever it is.
He told her he would rather never sleep again than give up his nest of never-washed clothes. She suggested a two-bedroom apartment so that he could sleep in his pile and she could sleep on a bed. He took offense and now the two aren't speaking.
She wrote asking for help with the obvious incompatibility when it comes to their sleeping arrangement.
Mostly, people were stunned.

TikTok/Screenshot

TikTok/Screenshot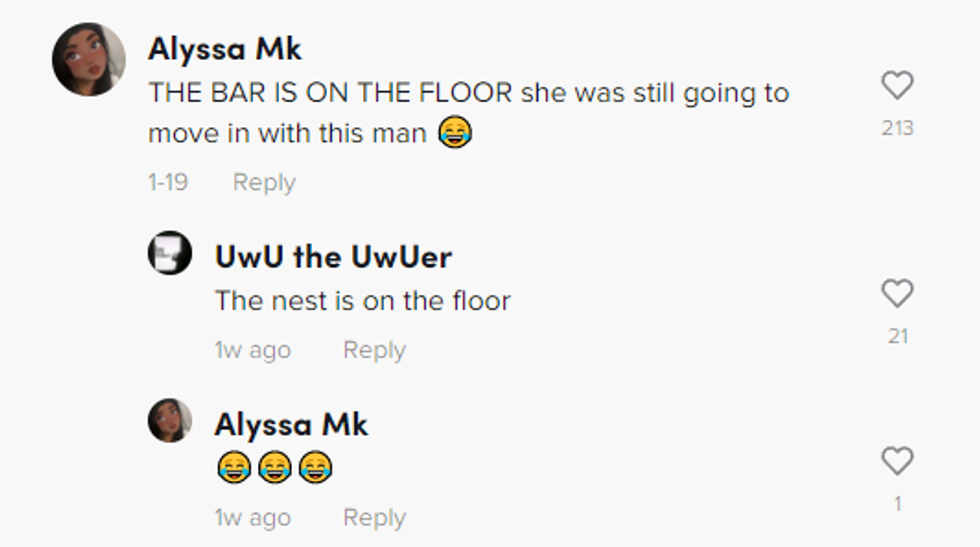 TikTok/Screenshot

TikTok/Screenshot

TikTok/Screenshot

TikTok/Screenshot
But others offered some insight.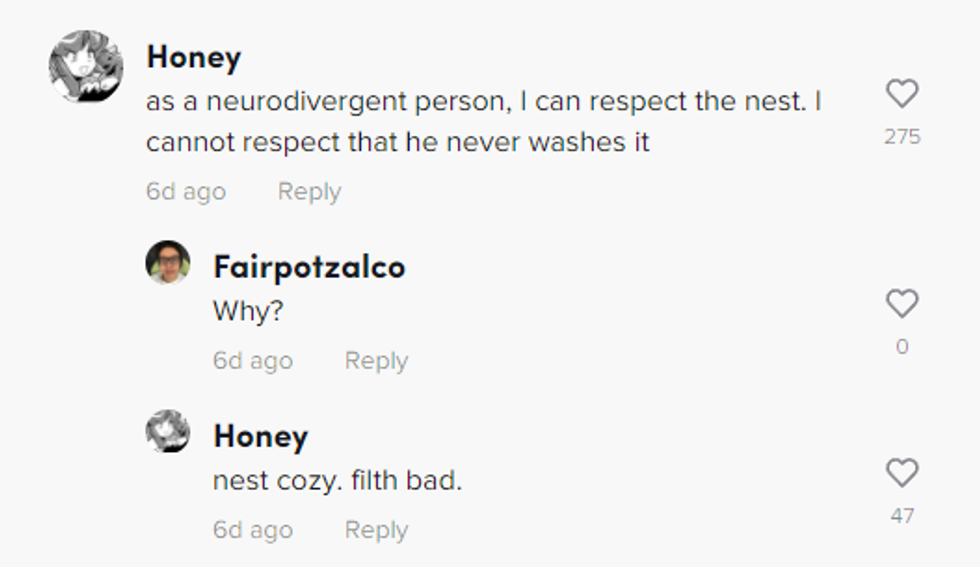 TikTok/Screenshot

TikTok/Screenshot

TikTok/Screenshot

TikTok/Screenshot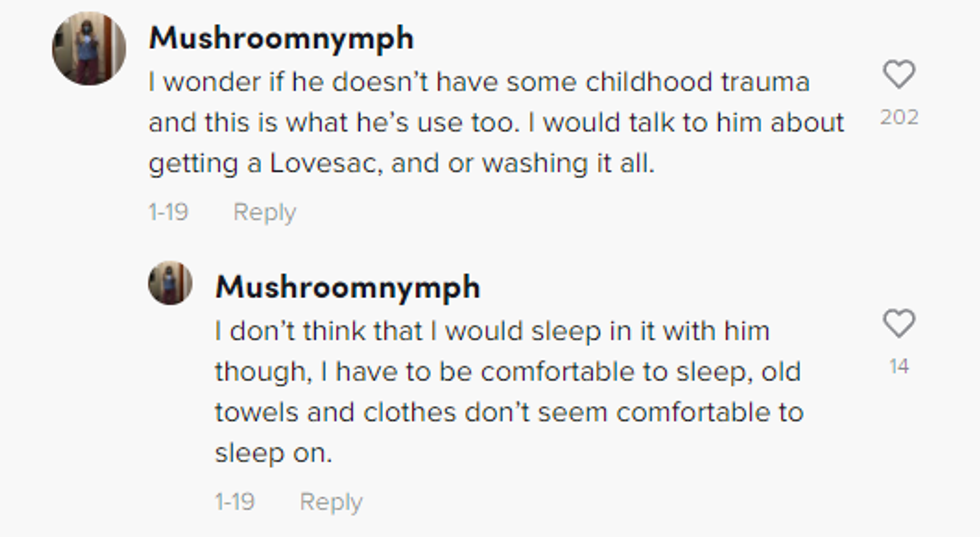 TikTok/Screenshot

TikTok/Screenshot

TikTok/Screenshot
We may never know for sure if this is trauma, laziness, or straight up bro-havior, but we hope that everyone involved gets exactly what they need in order to sleep in comfort and hygiene.