Donald Trump Jr.'s appearance on The View to promote his new book Triggered: How the Left Thrives on Hate and Wants to Silence Us on Thursday was tense to say the least.
---
Whether it was Meghan McCain demanding an apology from Trump Jr. for his dad's behavior, Trump Jr. accusing Joy Behar of wearing blackface, or the panel of hosts criticizing Trump Jr. for naming the alleged Ukraine whistleblower on Twitter, there was no shortage of chaos on set.
Watch the video here.
But the drama surrounding Trump Jr.'s appearance trickled off-screen as well, as moderator Whoopi Goldberg had to chastise the audience during commercial breaks for being too vocal.
Goldberg reportedly told the crowd, according to The Hollywood Reporter:
"The booing is f**king us up. It's messing with everyone's mic. You can grimace and all that. All we hear is booing."
Audience members are explicitly told before the show that there is "no booing, no yelling out."Trump Jr. and girlfriend Kimberly Guilfoyle, a former Fox New host, were reportedly accompanied by a group of around 15 people who sat in the front row and loudly cheered Trump Jr.'s talking points, adding to the cacophony of noise during the interview.
Some of those Trump supporters also asked pointed, controversial questions during the commercial breaks, seemingly to rile up the more liberal co-hosts, particularly Goldberg.
One woman took Goldberg to task over comments she made over a decade ago about Roman Polanski's sexual assault of a minor. The same woman was also reportedly asked to stop using her cellphone by the show's staff. According to People, she was overheard telling another audience member as they were leaving the taping:
"I definitely riled her up. She was so upset."
Another man in a Trump hat asked "Who killed [Jeffery] Epstein?" during a commercial break towards the end of the show.
McCain, who was visibly uncomfortable with Trump and Guilfoyle being on the show, also had issues with the same man, telling him at one point:
"If you can let me speak, I would appreciate it."
One of the only on-camera moments that caught Goldberg's frustration with the audience was when, at one point, she could be heard saying, over the chorus of booing and cheering:
"Children, children, children! Stop yourselves!"
Fittingly, Trump Jr. took the opportunity after the show to brag about how he had "triggered" the women of The View, tweeting:
"I don't think I've enjoyed an interview this much in my life. Guess you could say that I just #Triggered The View!!!"
Guilfoyle echoed those sentiments, adding she is "proud" to stand with the Trumps.
But not everyone agreed with their assessment.

But with The View notoriously ripe with tense moments of discord all on its own, without the help of having one of the most divisive people in America on the show, did we really expect anything less?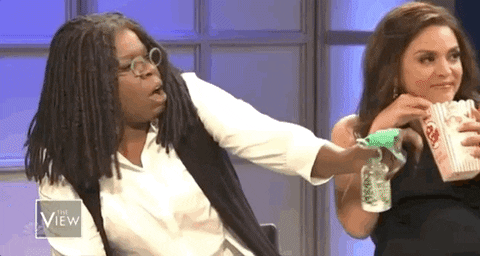 Giphy
The book Figgered: My Dad Is Bigger Than Your Dad is available here.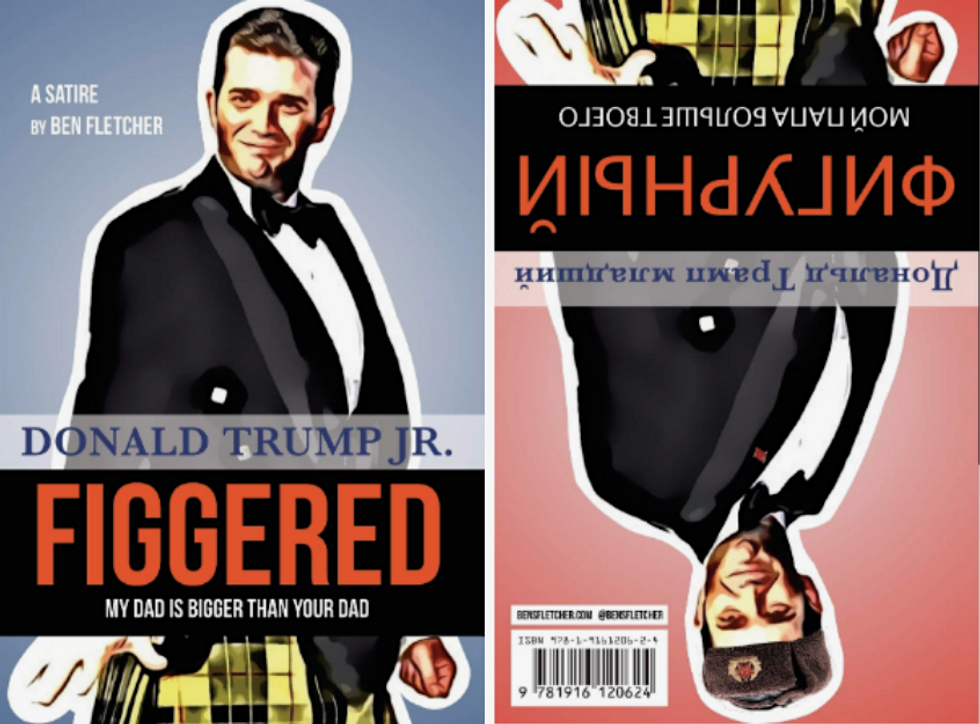 Amazon