A viral video showing Russian authorities in Moscow appearing to demand the cellphones of civilians in order to screen their photos and text messages has sparked major concern.
Anya Vasileva, a journalist based in the area, said in a Telegram post that police officers near a popular Russian toy store in Lubyanka Square in the nation's cosmopolitan capital were stopping pedestrians and checking their cellphones.
If people refused to cooperate with the police, they were allegedly not allowed to pass.
The video, showing two men looking on as their devices are being screened, was shared on TikTok and has been viewed more than 2.4 million times since its posting on the platform on Sunday.
Vasileva asked the police why they were searching phones but they declined to answer after seeing her credentials.

"I came up and asked them on what grounds they are doing this. The police checked my press card and declined to comment," she said.
"I remind you, that phones are protected by end-to-end encryption. It is illegal for the police to order you to show them your phone's contents!"
Without context, social media users were skeptical if the video was legitimate after seeing other pedestrians casually strolling past the occupied police.


@inesadnoire/TikTok

@inesadnoire/TikTok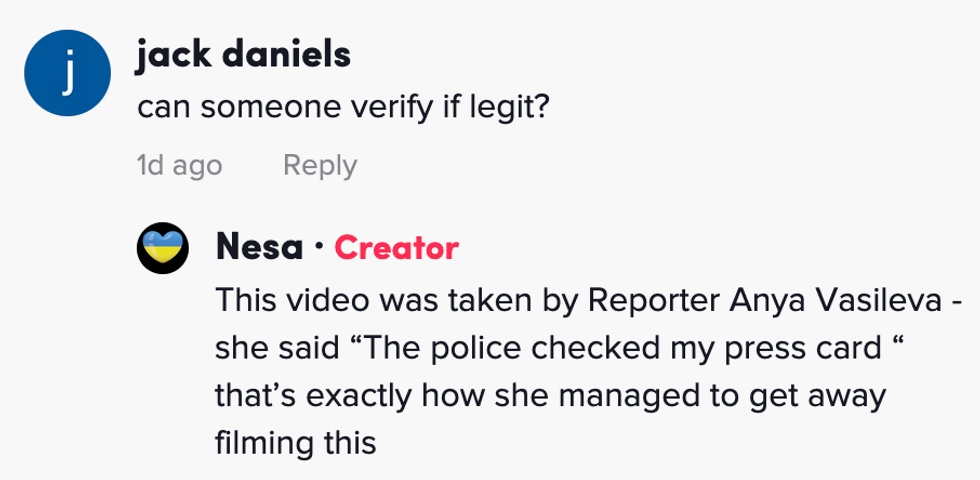 @inesadnoire/TikTok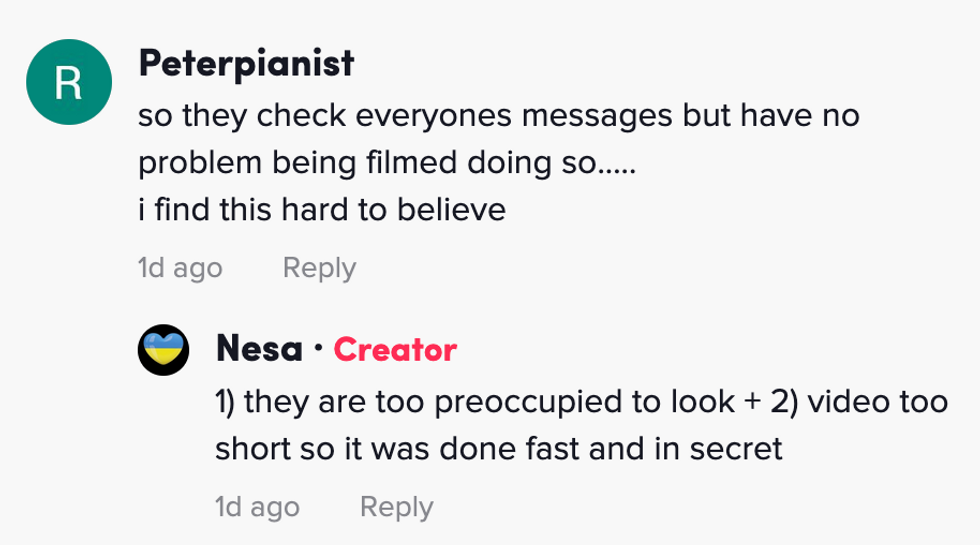 @inesadnoire/TikTok
Business Insider noted that according to the Library of Congress, Russian authorities could "access communications on a citizen's personal phone, tablet, or computer without a warrant."

This comes after Russian President Vladimir Putin instituted a new law that targets "criminal liability" for anyone who shares "false information about the activities of the armed forces (AF) of the Russian Federation, for 'discrediting' the Armed Forces, and 'calls to prevent their use,'" according to Russian media outlet Kommersant.
The new law would also punish those who support sanctions against Russia and those who call for Putin to end the attack on Ukraine.

Penalties for such actions can include serving up to 15 years in prison and fines of up to 5 million rubles ($45,000).

Many expressed their fears about the apparent public invasion of privacy.

@inesadnoire/TikTok

@inesadnoire/TikTok

@inesadnoire/TikTok

@inesadnoire/TikTok

@inesadnoire/TikTok

@inesadnoire/TikTok

@inesadnoire/TikTok

@inesadnoire/TikTok
According to the Associated Press, the Russian Parliament's Lower and Upper Houses approved the draft to punish people with "false information" and Putin signed it into law later in the day.
The Speaker of the Lower House, Vyacheslav Volodin told the media outlet:
"It is possible that by tomorrow, its rules will force those lied and made statements discrediting our armed forces to bear very grave punishment."
"I want everyone to understand, and for society to understand, that we are doing this to protect our soldiers and officers, and to protect the truth."
Thousands of Russian citizens have been gathering in major cities to protest against the war in Ukraine and risked arrest in a country where such demonstrations are illegal.
The monitoring group OVD-Info reported that Russian police detained 4,640 protesters in 65 Russian cities over the weekend.
Since Russia invaded Ukraine on February 25, more than 13,000 Russians in 147 cities have been detained at anti-war rallies, according to NPR.
The Investigative Committee of Russia—the country's main federal investigating authority–issued a warning to protestors late last month, saying people could be held criminally liable for participating in mass protests.
The Committee blamed social media for "spreading calls to participate in mass riots and rallies associated with the tense foreign policy situation."