Former Twitter executives testified before Congress and revealed that the White House tried to remove a contentious tweet posted by model, author, and TV personality, Chrissy Teigen.
The tweet in question referred to former Republican President Donald Trump as a "p*ssy a** b*tch."
Wednesday's hearing in front of the House Oversight Committee was titled, "Protecting Speech from Government Interference and Social Media Bias, Part 1: Twitter's Role in Suppressing the Biden Laptop Story."
The title referred to a 2020 New York Post article claiming to have discovered a "smoking gun" correspondence tied to then Democratic Presidential nominee Joe Biden and his son Hunter.
CNBC suggested the congressional hearing drew from a common Republican complaint of unsubstantiated bias against conservatives regarding content moderation policies on various social media platforms.
The former Twitter executives appearing before the Committee were chief legal officer Vijaya Gadde, former deputy general counsel James Baker, former Twitter policy official Annika Collier Navaroli, and former global head of trust and safety Yoel Roth.
At one point in the meeting, Democratic Representative Gerald Connolly of Virginia asked Navaroli about a 2019 case involving the Trump Administration sending Twitter specific instructions to evaluate and remove a tweet.

You can watch a portion of the hearing in the clip below.
Warning: NSFW language.

Navaroli confirmed that the White House sent a special request to remove Teigen's disparaging tweet.
She said that the White House:
"wanted it to come down because it was a derogatory statement directed towards the president."
Navaroli later explained to Democratic Representative Maxwell Frost of Florida that the administration's request to evaluate Teigen's tweet fell under the abusive language policy–specifically the insults policy.
Twitter did not take action on the tweet that Trump wanted to be removed.

Teigen's PAB tweet was in response to Trump complaining about Teigen's "boring" husband, musician John Legend, and "his filthy mouthed wife" for not taking action helping to pass the Criminal Justice Reform law.
By that point, Trump had blocked Teigen on Twitter.

Teigen was at a loss for words when her resurfaced tweet was verbalized before Congress.

But that didn't prevent her from responding with: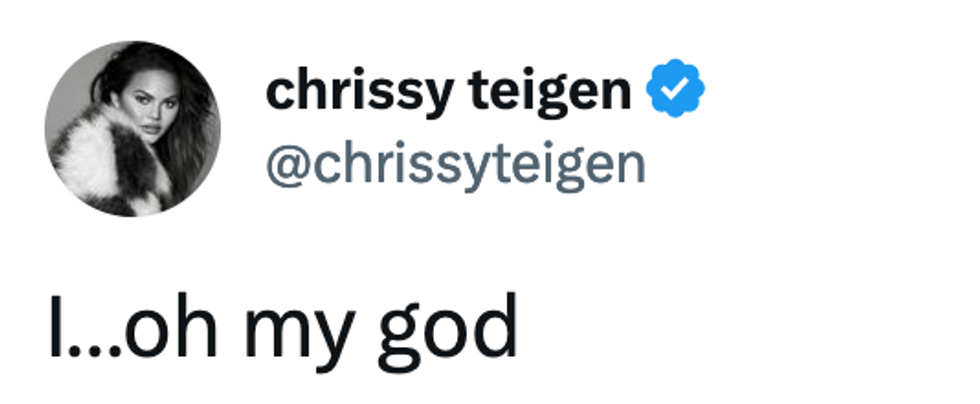 @chrissyteigen/Twitter
Twitter got a kick out of seeing her PAB tweet making a comeback.
Twitter's new owner Elon Musk made a big deal out of exposing the "Twitter Files," outraged that Joe Biden's campaign would ask Twitter to suppress the Hunter Biden story.
Well, contrary to Musk's pronouncements, Biden was not president in 2020, Trump was. And this new revelation that the Trump administration pressured Twitter to remove a mean tweet is getting conspicuously little attention from the self-proclaimed first amendment champion.
I'm sure Musk's outraged tweet over a sitting administration pressuring a social media company to delete a tweet critical of the sitting president will come any minute now...
Any...minute...