Souvenirs from Star Wars: Galaxy's Edge – the new themed expansion added to Disneyland in Anaheim, CA, and Disney's Hollywood Studios in Orlando, FL – may be out of this world, but they do not translate well in our reality.
The soda bottles available for purchase inside the immersive world convincingly fit into the desert landscape of the Black Spire Outpost from the fictional planet of Batuu, but the very real U.S. Transportation Security Administration sees them as threats.
The Transportation Security Administration (TSA) has now officially banned these soda bottles.

Unless you are boarding a Star Speeder 1000 for your galactic cruise bound for Tatooine, good luck smuggling in your Disney souvenir bottles on your flight home.
---
Disney Imagineers – the geniuses behind the creations of some of the most innovative and magical experiences and attractions for Disney – went out on a limb to make sure guests visiting Galaxy's Edge are transported to another world.
To achieve this, everything from food to merchandise had to be authentic to their storytelling.
The souvenir beverage containers are round bottles resembling thermal detonators – the fictional grenade-like weapons used by bounty hunters, and the labels are rendered in Aurebesh – the writing system used in the Star Wars galaxy.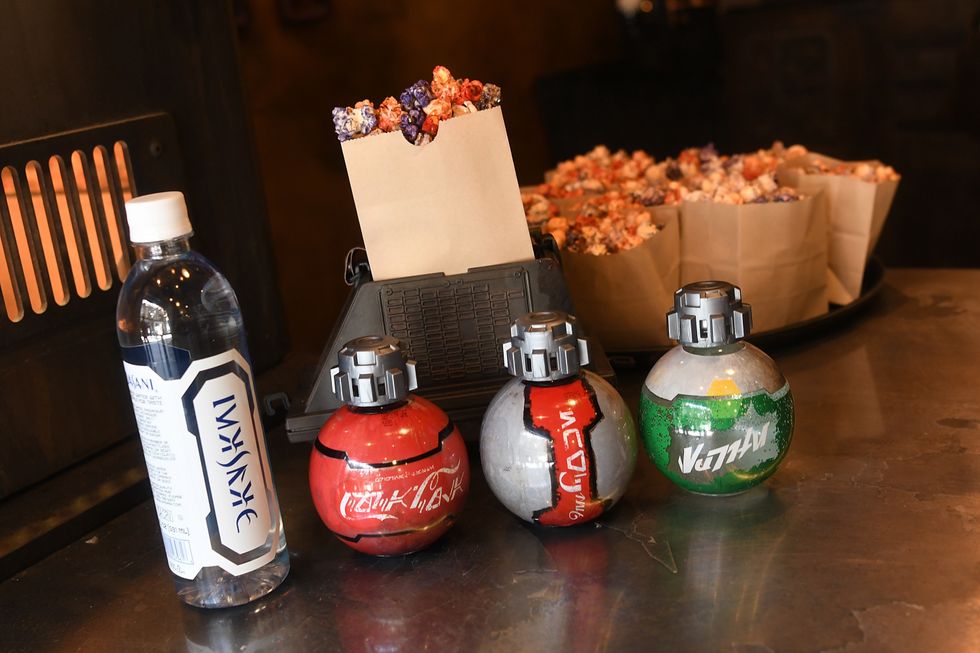 Star Wars: Galaxy's Edge Walt Disney World Resort OpeningGerardo Mora/Getty Images
Airports, however, are not taking any chances in allowing passengers to bring the unique items in their carry-ons or checked baggage.
TSA spokesperson Jim Gregory told the Orange County Register that the bottles look like replica explosives.
"Replica items are not allowed on aircraft."
@AskTSA I know these look dodgy, but can they be packed in suitcase? Thanks https://t.co/4uILLMX3eL

— Ash Best (@Ash Best) 1565692125.0
@DarkAshNet Thanks for asking! Replica and inert explosives aren't allowed in either carry-on or checked bags.

— AskTSA (@AskTSA) 1565716564.0
Gregory added that the souvenirs could confuse TSA screeners at airport security checkpoints.
"It could create concern that it's the real thing."
The TSA has now banned these thermal detinator souvenir soda bottles from Disney's Star Wars: Galaxy's Edge park. I… https://t.co/GOPYVPzisM

— Anthony Quintano (@Anthony Quintano) 1566951952.0
I feel Very Safe™ knowing that differentiating between grenades and soda bottles is too hard for TSA https://t.co/6Wd5u3r6FO

— Beau (@Beau) 1566951291.0
Someone suggested a workaround, but it seems the TSA still does not approve.
Can confirm empty Galaxy's edge soda bottles are good in carryons if you just separate the top and bottom. 🤷‍♀️

— Kristen Belle (@Kristen Belle) 1566993829.0
@Mbarsch17 Even with a normal bottle cap, this item is still considered a replica and is not allowed in carry-on or… https://t.co/S3VPUmcZYk

— AskTSA (@AskTSA) 1566950532.0
Frustrated travelers have legitimate questions.

@AskTSA @Mbarsch17 What about these baseball shaped bottles which are the SAME BOTTLE with a different wrapper? Is… https://t.co/2c478LUjee

— Theme Park Review (@Theme Park Review) 1566956269.0
@AskTSA @DarkAshNet If a TSA agent genuinely believes that these bottles could be real explosives (or that they are… https://t.co/Vcah851mxg

— Chris (@Chris) 1566960256.0
@AskTSA @DarkAshNet This is a soda bottle shaped vaguely like a prop from a 36 year old movie. What explosive can i… https://t.co/YuI0zRM7RY

— murphquake (@murphquake) 1566949650.0
@AskTSA @DarkAshNet Can I travel with this packet of replica santa grenades in december? https://t.co/09VZOn7Bfv

— The Hopfot (@The Hopfot) 1566955128.0
Those wanting to bring home a keepsake commemorating their visit are upset over TSA's new restrictions.
@AskTSA @DarkAshNet FFS, TSA. That's asinine. Quit being so lazy, and stop with the security theater.

— Rick (@Rick) 1566953740.0
@AskTSA @DarkAshNet The completely MORONIC part of the TSA's response. Collector's Edition Beverage bottle in the s… https://t.co/e54oiF1pwn

— Karl Johnson (@Karl Johnson) 1566968196.0
@AskTSA @DarkAshNet You are aware explosives come in regular soda bottle shapes too right? Just ban all the things… https://t.co/eFhQRH8Noa

— AniAko (@AniAko) 1566998570.0
However, Popsugar confirmed that the customized lightsabers and astromech droids available for purchase inside Galaxy's Edge have not been banned.
While some passengers shared they have successfully traveled with the controversial keepsakes without incident, those not wanting to risk being flagged can ship them home via FedEx or UPS.
@AskTSA @DarkAshNet So toy lightsabers are banned too? I mean, they could burn through the bottom if someone uses… https://t.co/qOxNyv7Cfy

— KingLouisII (@KingLouisII) 1566981485.0
The bottle's unique design was a collaboration between Coca-Cola, Imagineering and Lucasfilm.
According to The OCR, Coca-Cola and Disney are both listed on the patent for the Galaxy's Edge bottle cap.
Coca-Cola and Disney have a long partnership dating back to the opening of Disneyland's Refreshment Corner on Main Street, U.S.A. in 1955.

Galaxy's Edge is a 14-acre land which opened in Disneyland on May 31, and Florida's version is currently open for previews and will officially welcome guests on August 29.