Pennsylvania's Bloomsburg Fair—which avoided cancellation unlike many other state fairs in the wake of the pandemic—received backlash after it was revealed an event during the Fireman's Relief Carnival featured a man impersonating Dr. Rachel Levine in an extremely transphobic dunk tank event.
Dr. Levine—who is the Pennsylvania Secretary of Health and one of the few openly transgender officials in government—became renowned throughout Pennsylvania for her role in addressing the state's response to the pandemic.
The fair's official page posted—but later removed—offensive images of a man impersonating Dr. Levine.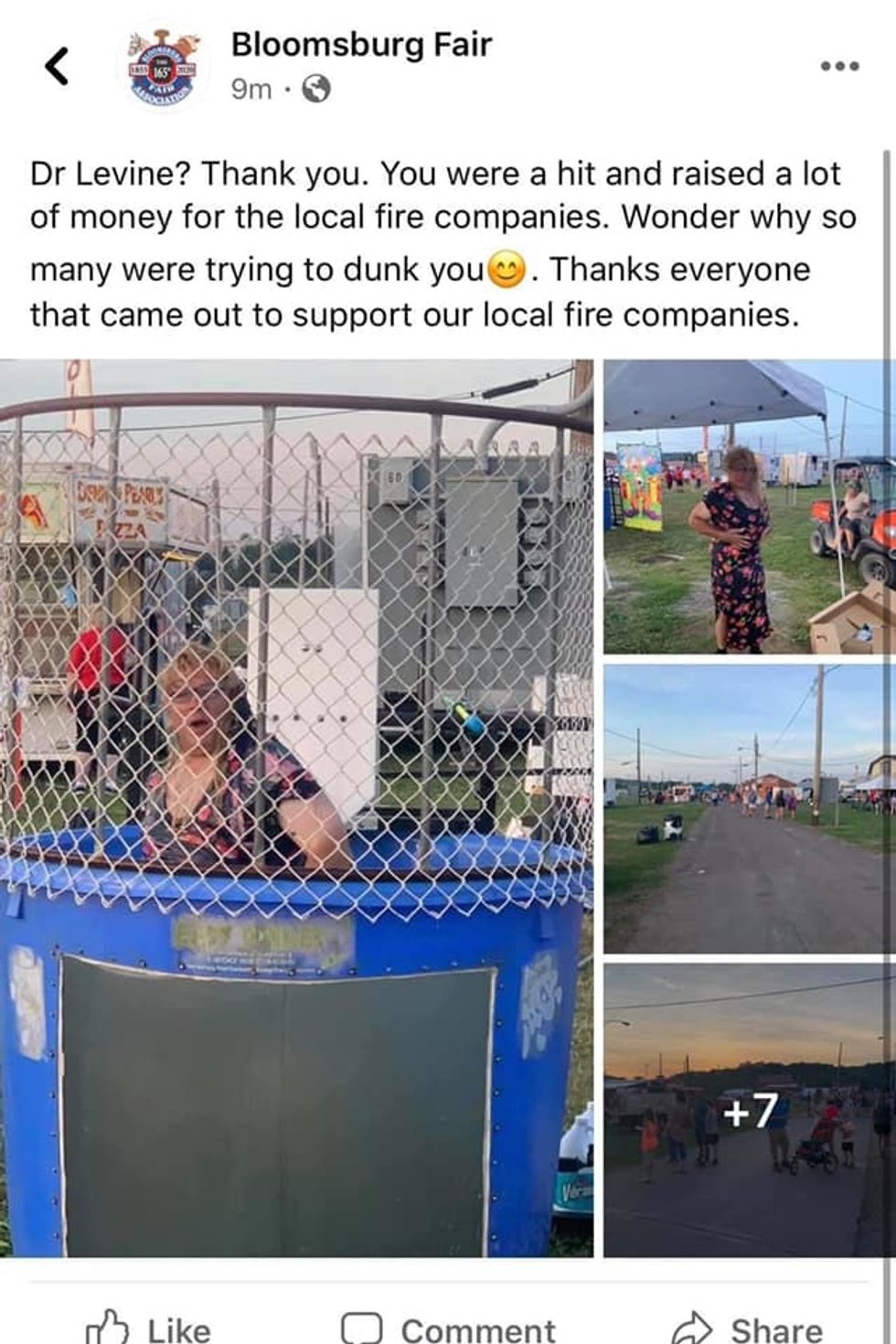 Alex Kijek/Facebook
Now people are calling for the Bloomsburg Fair to answer for their transphobia.
Pennsylvania Governor Tom Wolf called the fair's faux pas "vile" and said that "hate has no place in Pennsylvania, even in the smallest transphobic joke, action or social media post."
"Dr. Levine is a distinguished and accomplished public servant. She is committed to keeping Pennsylvanians safe and healthy, even those who direct hate-fueled attacks at her. I'm proud of the work she has done in her five years serving Pennsylvanians, and her success at leading our commonwealth during the COVID-19 crisis is a testament to her intelligence and work ethic."
Dr. Levine herself also reacted to the transphobic post.
"My only reaction is that I am going to stay, no matter what happens, laser-focused on protecting the public health in Pennsylvania."
"I am going to do absolutely everything I can to achieve that whether people agree with me or if they don't agree with me. Their health is still important to me."
The Bloomsburg Fair deleted the post and released a statement claiming they didn't intend to mock anyone's gender identity.
Rafael Álvarez Febo, executive director of the Pennsylvania Commission on LGBTQ Affairs, responded:
"The leadership of the Bloomsburg Fair knew they were catering to Transphobic sentiments when they chose to impersonate Dr. Levine."
"Marginalized communities know when we are being targeted and will not be gas-lit into thinking this was just about Dr. Levine's position as Secretary of Health."
"In times of crisis and pain LGBTQ individuals are united in pushing back against Transphobia of any kind."
"Commissioners believe that the health and safety of Pennsylvanians should not be undermined due to these toxic and personal attacks."
The post points to a larger underlying problem. People think a low-level of transphobia is acceptable.
Whether or not they fully apolgize, Dr. Levine is guaranteeing their health and safety during a global pandemic anyway.
When they go low, she'll go high.