A tourist was criticized online for her actions with a tiger while she took selfies. This led to a lot of people online to voice different opinions on the situation and on tigers.
The woman, named Waraschaya Akkarachaiyapas shared the videos and photos to her Facebook page of herself at a tiger zoo in Thailand.
In addition to video, Akkarachaiyapas shared a photo of herself with a tiger lying on the ground, and grabbing his testicles.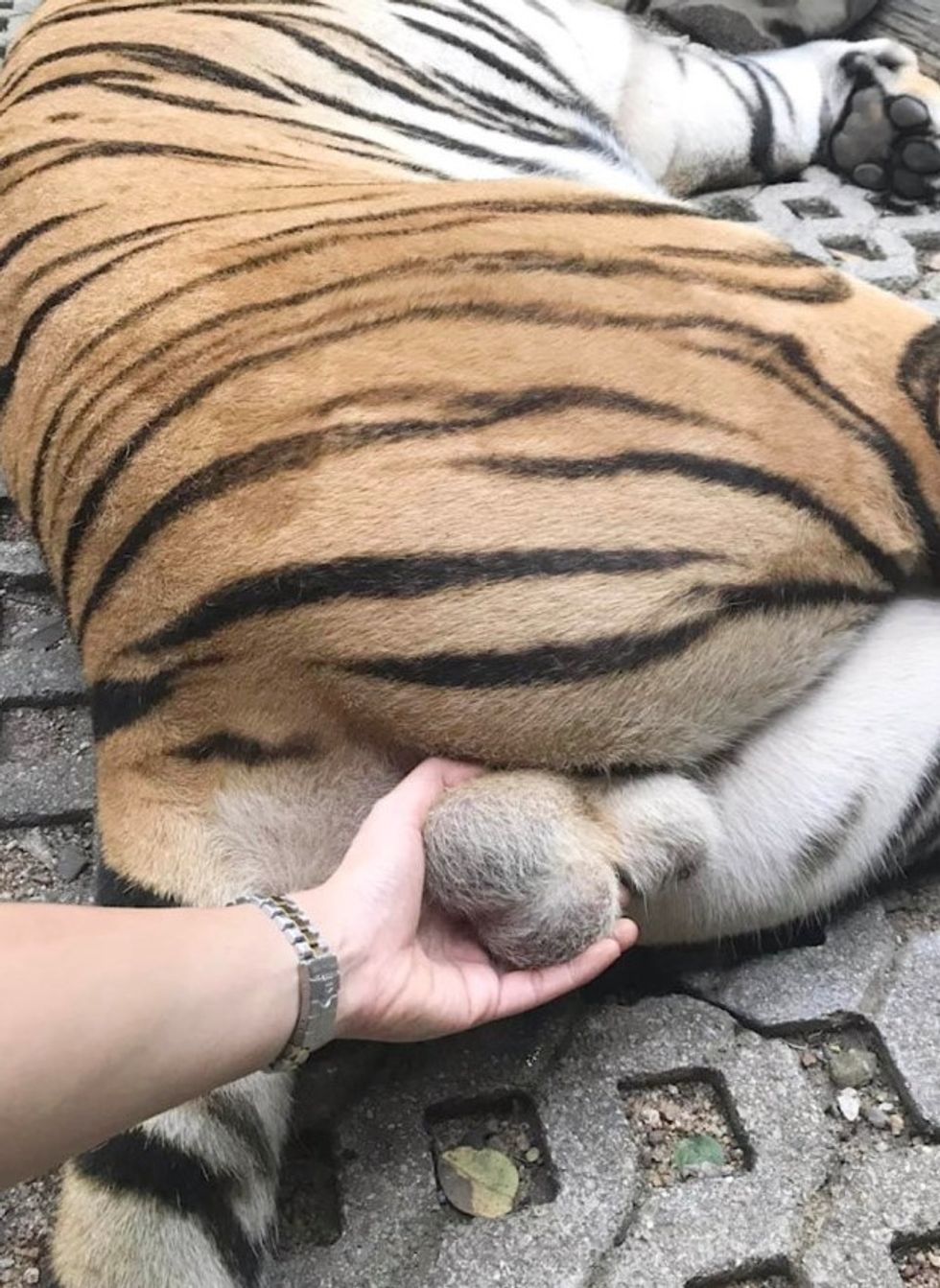 Waraschaya Akkarachaiyapas / Facebook
The image was widely circulated by animal activists and criticized for her treatment of the tiger. Some felt the animal had been humiliated. Others felt it was dangerous.
Whatever the case, you have to wonder why she thought this would be a good idea.
this mad weird https://t.co/jR9ognKMnF

— ern (@ern) 1598963032.0
Nah the outrage is more why are people in 2020 still paying for pictures with drugged animals? Never me https://t.co/nkgvEBYLYB

— phoebe (@phoebe) 1598993864.0
Why would you wanna do that https://t.co/zuPBVF9RG3

— Barbara Wadsworth (@Barbara Wadsworth) 1598971087.0
@ladbible Unsure of why people are kicking off about her touching his balls when it's quite clear that the 'docile'… https://t.co/sWd1bn4Mx2

— Ratbag 🌈🏳️‍🌈 (@Ratbag 🌈🏳️‍🌈) 1598962557.0
Shortly after the pic went viral, the Tiger Kingdom Zoo responded to the incident to assure that everyone was safe.
Head zookeeper, Priom Cahntama told the New York Post,
"We do not allow tourists to grab the tigers' testicles but they are allowed to touch any part of the animal's body as long as our specialists are present."
While this is all well and good for the accusations that she was endangering herself, it doesn't bode well for previous accusations against the zoo.
Last year, the zoo was accused of sedating the animals to make it easier for tourists to take their selfies.
In the United States, such accusations eventually led to a ban of civilians being in direct contact with tigers and other big cats in New York, Mississippi, Arizona, and Kansas.
The sensitive nature of the accusation makes it very important for animal rights, but also the perfect joke fodder.
@nypost That is not how the rhyme goes. It's by his TOE! By. The. TOE. Catch a tiger by his TOOOOE.

— Wally Komodo (@Wally Komodo) 1598969687.0
Hey all you cruel cats and kittens: Ballsy tourist grabs tiger by the testicles for zoo selfie --- via… https://t.co/NYosKaOVLn

— Tom Durante (@Tom Durante) 1598969319.0
@leemonty5 @MailOnline https://t.co/jGxFMllepI

— Steven Hampson 🖖 (@Steven Hampson 🖖) 1598968881.0
Akkarachaiyapas has since protected her Instagram account and defended herself by saying she is an animal lover. The photo has also been removed from her Facebook page.
The Tiger Kingdom Zoo has also said that tourists are no longer allowed to touch that part of the tiger going forward.